After a hard day's work as an electrical maintenance supervisor, Jaman Ashadul, 41, laid down in his dorm, where he surfed the internet and prepared to make a video call to his wife and children back home in Bangladesh.
It was the 17th day of Ramadan, the Muslim fasting month which Jaman along with his other Muslim peers, had been diligently observing.
But on that night, Jaman couldn't remember what he ate when he broke his fast. All he could remember was the pain he felt in his chest.
Like waves crashing onto the shore, the chest pains came suddenly and receded just as quickly. It had been going on for days, but on that night, the pain was especially excruciating.
"I thought it was not serious. I took Panadol and tried to sleep. I hoped everything would be okay in the morning," said Jaman.
He didn't tell anyone about the pain. He got up in the middle of the night and started vomiting. It was then he knew something was terribly wrong.
How he lasted the night with the pain is anyone's guess. Early the next morning, Jaman finally told his friend, who advised him to go to the hospital.
Medical Emergency
When he arrived at the National University Hospital (NUH), Jaman went through tests and doctors found a blockage in one of his heart vessels. Jaman was having a heart attack and needed an emergency operation to save his life.
"I was thinking, 'why do I need an operation? It's only pain. I cannot just take medicine ah?'" said Jaman.
He refused the operation. First, he was scared. Second, he didn't know if his insurance would cover the operation.
The doctors at NUH tried to explain how the operation would go, but it was too technical for Jaman to understand, even though he could speak English.
That was when the doctors knew they needed some sort of help. They needed someone who could explain technical terms to Jaman in his native language of Bengali and to advise him on insurance coverage. The doctors required someone Jaman could trust.
Migrant Workers' Centre Steps In
Dr Jonathan Chan was on duty when he heard his cardiologist colleague trying to convince Jaman to go through the emergency operation.
"He sounded like he was having difficulty trying to convince the patient. It's actually not uncommon to have foreign workers being reluctant to go for treatment because of the fear of repatriation or that their treatment wouldn't be paid for," said Dr Chan.
The Migrant Workers' Centre (MWC) came to Dr Chan's mind. He recalled hearing about the organisation, which was set up to look out for the needs of migrant workers in Singapore.
"I called the MWC, and they got back to me with a Bengali translator quite quickly," he said.
The MWC officer who helped to translate whatever the doctors needed was Ishrat Khan, a native Bengali speaker.
Over the phone, she helped to accurately translate to Jaman his condition and the procedure he had to go through. Jaman's fear of having an open-heart surgery was unfounded.
He merely required a wire to be navigated along his vein from the wrist to the blockage where a tiny balloon would be inflated to unclog his blood vessel.
Another concern Jaman had was how he would pay for the hospital bill as he couldn't afford such an expensive operation.
Ishrat assured Jaman that his insurance would cover his hospital and operation bill. She knew that in Singapore, employers must buy and maintain medical insurance coverage of at least $15,000 per year for each migrant worker.
It was only after Ishrat had spoken to him that Jaman agreed to the life-saving operation.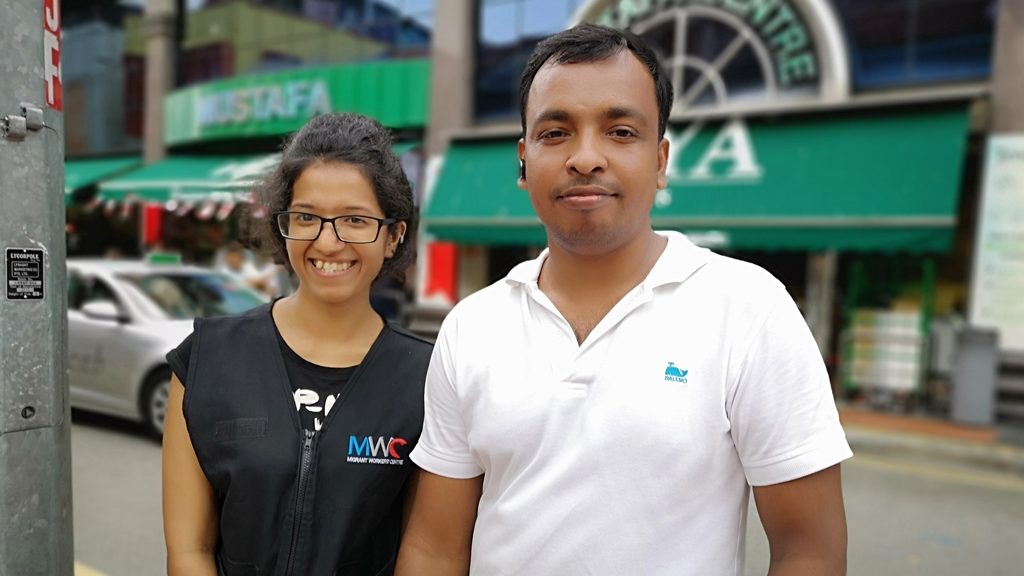 Months Later
Today, three months after his operation, Jaman is out and about again. Jaman is fit as a fiddle although doctors have encouraged him to cut down on smoking and eat healthily, which he admits can sometimes be difficult.
He is currently on a few medications for his heart condition, with one he must take every day for the rest of his life.
Jaman met Ishrat from MWC for the first time recently to thank her for explaining the technical terms to him.
"I am originally from Bangladesh. I've been in Singapore for 16 years. I decided to work with MWC because I like the work they do, and it gives me a chance to help countrymen from my native land. Especially when cases are concluded positively, like in Jaman's case, I feel that I have made an impact and contributed to some good in this world," said Ishrat.