In any given month, KONE Senior Technician Norman Hassan (pictured above) and his team of seven lift technicians are responsible for conducting preventive maintenance on some 480 lifts located in skyscraping office buildings, swanky condominiums and posh hotels in central Singapore.
To help the technicians keep tabs on the work assignments, KONE has issued each of them with a smartphone loaded with its proprietary KONE Field Mobility Tool. The mobile application packs all assignment details into an app that's as simple to use as Facebook.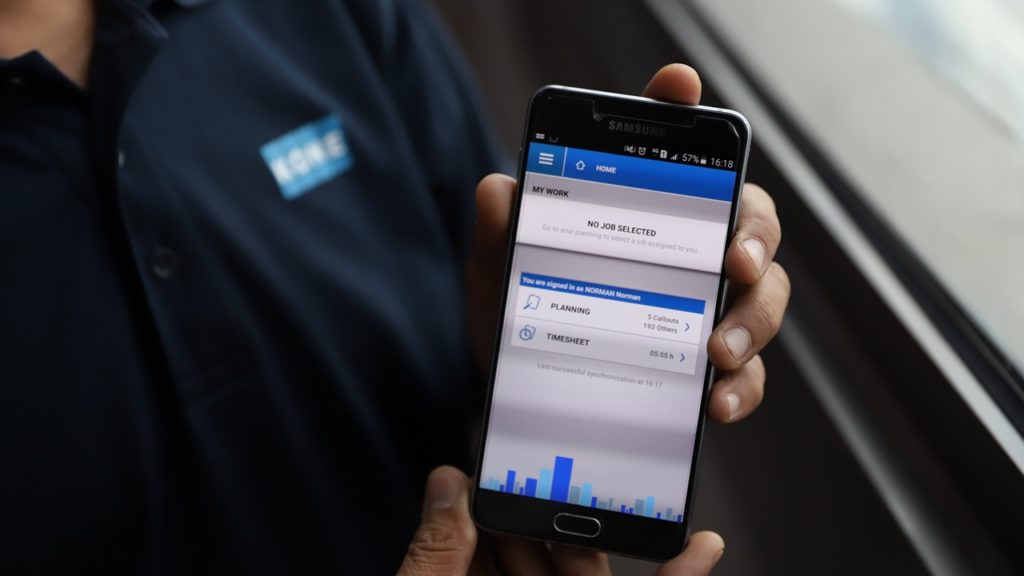 "The app gives us all the necessary information at our fingertips. We will have addresses, caller names, job numbers for our timesheets, and even details such as the lift's maintenance history at our fingertips," said 20-year veteran Norman. He is also one of KONE's 'Troubleshooters', attending to more complicated lift fixes.
Highlighting the key benefits of the digital tool, Norman said: "The key difference is that it replaces the need to carry physical documents. In the past, we logged everything in printed documents that we had to lug around. This can be very inconvenient when it rains. As the system also allows us to view a lift's past maintenance history, it is very useful for us technicians to troubleshoot when things go wrong because we have the data on hand in real time.
"This helps us save time because we no longer need to check back with our colleagues on the past work done on the lift. It can be a very useful friend at work, and it is like my very own 'lift Google' because I can search all the necessary information to get the work done."
Supervisors Benefit Too
While the KONE Field Mobility Tool helps technicians keep track of their work, supervisors like Maintenance Manager Sherman Lim (pictured below) have also benefitted from the real-time data available through the system.
Responsible for customer service, team management and ultimately ensuring that lift maintenance and repair takes place on schedule, Sherman has his own version of the digital tool, called the KONE Supervisor Mobility Tool.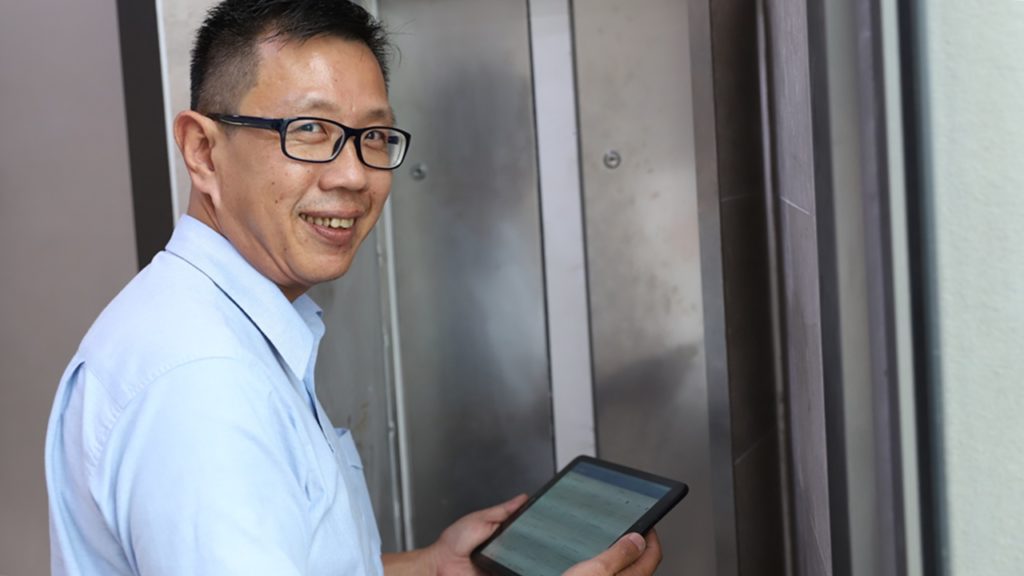 "We used to have to carry our laptops wherever we went. That was neither convenient nor useful as we had to spend time with logins and searching through folders. With the KONE Supervisor Mobility Tool in our tablets, one simple login lets me pull up information instantly on the type of lift, its specifications and how it has been performing. This takes away nearly 80 per cent of what I had to do in terms of having to memorise information and jot down notes.
"It also looks more professional in front of the customer because should they have a query, a few taps bring up the necessary information," shared Sherman.
Adapting To Change
While the technicians all received training on using the digital tool, adapting to it took some getting used to. Norman shared that there had been some discomfort amongst the technicians over the app's ability to track their whereabouts through GPS.
"However, I shared that this could be viewed as a safety feature because it will be able to alert others to our location should we be in danger. Also, if we were to leave the phone idle for two to three hours, it will sound an alarm. I see this as a positive work health and safety benefit," added Norman.
As a branch official with the Singapore Industrial and Services Employees' Union, he has helped many of his colleagues get used to using the app.
"As time goes by and lift technology changes, I will have to continue upgrading myself. With proper knowledge, the new lifts are actually easier to work with than the older lifts which are actually more difficult and complicated. I feel very proud to be part of a company that is always innovating and developing new technology," said Norman.
Sherman added: "I may be 52, but I am still constantly hungry for new knowledge. My 6-year-old daughter is picking things so quickly and if I don't keep up, I will lag behind and there may come a point where I may not be able to answer her questions. This is a challenge for myself to pick up the skills and stay relevant."