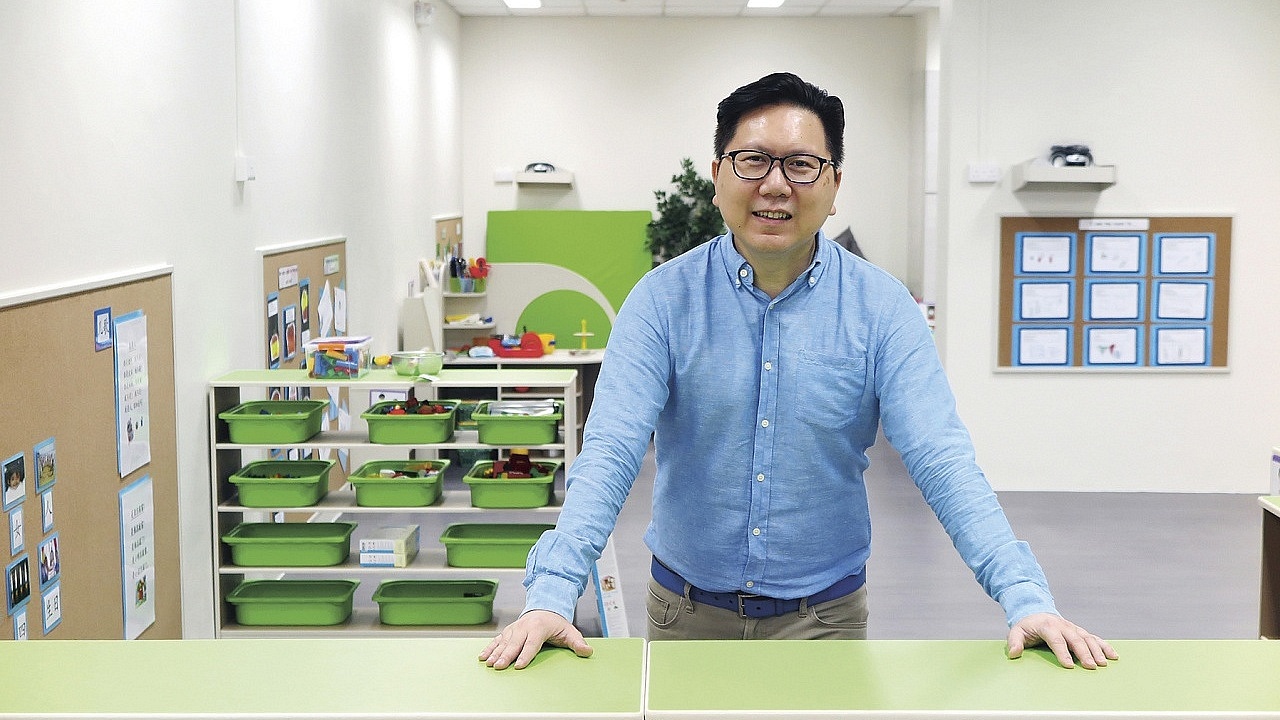 Photo Credit: Shukry Rashid
A mid-career switch is never easy, especially when you have to venture into uncharted territory with nothing but your desire for something new. But for 52-year-old Wayne Lin, it was an extra challenge as a male entering the preschool environment after having been in an Information Technology (IT) job for 12 years.
The job change happened in the midst of a global recession in 2009, when many of his colleagues were retrenched in the IT sector.
"In IT, every three to six months, things would change. I felt it was high time to make a career switch," he said.
He took up a Professional Conversion Programme with the then Workforce Development Agency – now Workforce Singapore – and has never looked back since.
One third of his pay was cut when he became a trainee teacher for My First Skool (MFS) while undertaking a Diploma in Early Childhood and Care.
He said: "It was a huge shift. In a corporate environment, I would be in the office reading 20 to 30 emails a day. Early Childhood Education (ECE) was very different – I had to be very hands-on by interacting with children and their parents."
Challenges
His challenges did not stop there. Being in an industry dominated by females, he had many stares and curious looks, especially from parents.
He shared: "Fortunately, the parents were very supportive when I built a rapport with them and when they found out that I interacted well with their children."
Female teachers, on the other hand, were not receptive to his presence initially, with many of them under the impression that he was someone from headquarters out to observe them.
"In a day's operation, everyone is busy. They were also apprehensive to give me any work to do, which made me feel uneasy as I had nothing to do," added Wayne.
A month into his job, Wayne felt like quitting. His principal saw how distraught he was and decided to mentor him. He would sit down with his principal for at least an hour every day to seek clarifications on various matters. However, this made other teachers feel like he was reporting on them to his principal.
He said: "My principal told me not to be affected by what other people said about me. She also said that I can do the job and that I was suitable. What she said was very encouraging."
He persevered throughout his traineeship, and 13 months later, he graduated and became an English Teacher for MFS. In 2013, he was nominated by his principal to take on a Specialist Diploma in Early Childhood.
Doing An Important Job
He is glad that he persevered. In February 2017, he was appointed as acting principal in an MFS in Sengkang after he graduated with a Masters of Science in Early Childhood.
He said that the only disadvantage for male preschool teachers is that they cannot do routine care of children such as bathing and toileting – a role kept for female teachers and centre attendants.
His advice to males interested in the sector: "Come with an open heart, persevere and be positive. Come in knowing that you are providing children with a head start in a lifelong journey and that you are committed to a noble and important job in developing their future."