The joy and emotions that one feels when graduating is often not limited to just the graduate themselves.
For the student, it is a sense of accomplishment, often accompanied by anxious anticipation of what is to follow. For their loved ones, it is sense of pride and joy.
So, when Swee Kian Yang, 48, graduated with his diploma soon after his youngest daughter completed hers, he got to experience all these emotions concurrently – as both a student and a parent.
A Missed Opportunity
Stepping up on stage to accept a diploma was something Kian Yang did not get to experience over 30 years ago when he first entered a local polytechnic.
"I was actually a poly drop-out. I was a little playful back then and at that point in time, I just did not want to become an engineer," he said.
After his 'O' levels, he managed to secure a spot in an engineering course in a local polytechnic which he did not complete.
Kian Yang was the oldest of two siblings. He described himself as an average student.
Things seemed to be going well till one day, he became uncertain if mechanical engineering was the course he wanted to pursue.
He decided to enlist for his national service while he pondered his next step. But by the time he completed his two years of service, he felt that the option for him to go back to school was no longer viable.
His family's finances were tight and his parents had to put his younger sister through university.
He explained: "At that point, it would have been very hard for my parents to send me back to school.
"I thought about it – my parents gave me the chance [to study], and I didn't grab it. I thought I would help lighten the financial burden on my parents by coming out to work instead."
After a couple of short-stint jobs, Kian Yang joined Singapore Press Holdings' (SPH) print production team sometime in 2000.
It is an organisation he still works for as an assistant pre-press foreman. On top of that, he also volunteers as a union leader with the Creative Media and Publishing Union.
The Learning Motivation
Deep down, Kian Yang regrets not completing his diploma in the early nineties.
As such, when he first joined the workforce, he made a conscious effort to elevate his learning credentials. From the attainment of his Higher National ITE Certificate (Higher Nitec) in digital print, to his fundamental accounting certification from the Association of Chartered Certified Accountants (ACCA).
However, his energy for learning withered, and his pursuit of his paper qualifications went on hold for a couple of years.
That was till the day when the NTUC Labour Chief Ng Chee Meng paid SPH a visit.
He recounted: "While he was talking about lifelong learning, he pointed to all of us, asking when the last time was any of us attended a course on our own."
Nobody came forward. And that was when it hit Kian Yang.
"As a union leader, if I wasn't doing it, how was I going to convince others to do so?" he said.
So, at the age of 45 and armed with a new-found sense of purpose, he signed up for a two-and-a-half-year diploma course in business practice at Temasek Polytechnic (TP) – a course that he felt would be most beneficial towards his learning journey.
Challenges and Support
Throughout the duration of his diploma, Kian Yang's journey was fraught with challenges.
For one, he had to travel extensively on the days that he had classes, commuting from his residence in Ang Mo Kio, to his then-workplace in Jurong, down to Tampines for classes, before heading back north of the island to his home.
"I remember falling asleep during one of the first few modules, and also missing out on assignments," he said.
And if that wasn't bad enough, during the time he was studying for his diploma, his shared that his father's health had taken a turn for the worse, and that he required palliative home care.
"But I'm very lucky that my kids independent and are pretty much on their own, and that I've got a very supportive wife," he added.
When Kian Yang told his wife that he wanted to take up this diploma, she did not have to think twice and supported him whole-heartedly. On the home front, she not only managed the household when her husband was not around, she also played a big part in looking after her father-in-law.
"Over the years, she has made a lot of sacrifices, even though she was working and studying for her ACCA as well," he said.
Another leg up that he got was from being in a union. He revealed that he spent no more than a thousand dollars of his own money for his diploma, tapping on the Union Training Assistance Programme (UTAP) to fund the rest of the fees.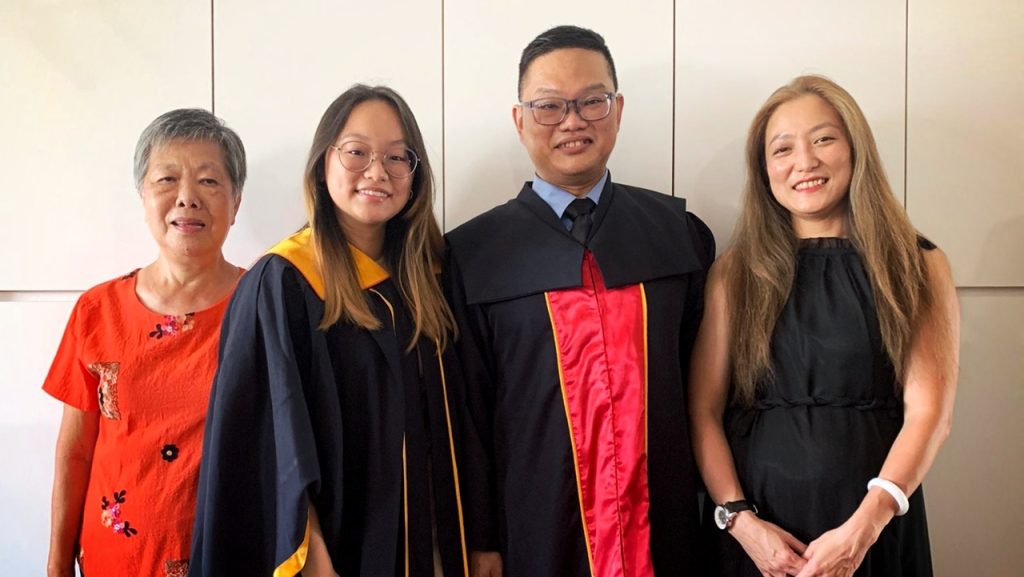 Come Graduation Day
Kian Yang attained his diploma in business practice with merit on 12 May 2022 – shortly after his daughter had received hers.
"I was teasing my daughter the other day. I said, 'We did the diploma together, but I did it better than you!'"
But grades have never been a big focus for him. If fact, to relieve the pressures of studies off his daughters' shoulders, he often tells them not to study too hard now as they would be doing it for the rest of their lives.
While he still plans to further his studies, he currently plans to use his story to motivate others to step up and do the same, regardless of their age.
"If an uncle like me can do it, I don't see why others can't," he concluded.