Why did Lynda Walter become a freelance bowling coach eight years ago?
It wasn't because of her love for the sport. Rather, it was because of her love for her son, Reuben.
Reuben, 21, is diagnosed with down syndrome and has special needs.
When he was 10 years old, Reuben had an interest in bowling but couldn't seem to find the spares and strikes he desperately wanted when he bowled.
"When he started, he was always throwing the ball into the gutter but he was still very excited [whenever he bowled]. Even when he started going for bowling training, he was still always throwing the ball into the gutter. So I felt, maybe I should help him," said Lynda.
She came across a coaching course by the Singapore Bowling Federation, and that set her on the path of becoming a freelance bowling instructor.
The following years saw Lynda coach bowling at schools. She even volunteered for the Special Olympics outreach programme a few years back.
Things seemed fine, but money had always been an issue for Lynda who is a single parent. Besides Reuben, she also has a daughter currently studying at a polytechnic.  
To supplement the family's income, Lynda took up a part-time job as an account assistant.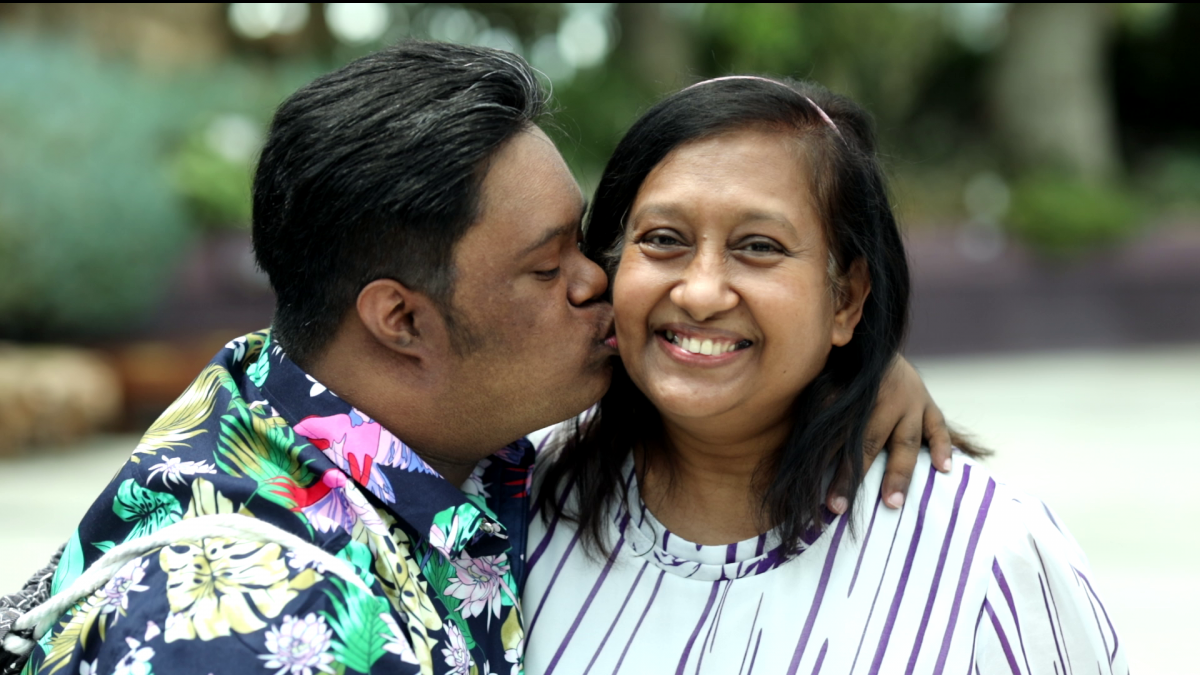 One Strike Too Many
But COVID-19 struck earlier this year.
The pandemic further constricted the family's income flow as Lynda had to stop coaching when schools put co-curricular activities on hold.
Her account assistant work also became few and far between. The situation was further aggravated when Lynda started to suffer from vertigo and couldn't cope with the few projects she had at the part-time job.
"When COVID-19 happened, it was like everything came to a standstill. Everything had to stop," said Lynda.  
Life still had to go on despite the loss of income. Lynda still had bills to pay and debts to clear.
A Lifeline Spared
Lynda recalled when her bank account almost dried out during the circuit breaker.
A blessing came in the form of her NTUC membership with the National Instructors and Coaches Association. As a member, Lynda was twice eligible for the NTUC Care Fund (COVID-19) where she received $300 each time.
"I remember looking at my savings book, and I looked at the amount I was left with [which was barely enough]. Then I realised $300 was credited into my account. I went 'Thank goodness I have 300 to spend!' We needed that money. It was a big relief," recalled Lynda.
On top of that, Lynda was also a beneficiary of the NTUC Care Fund (e-vouchers) – an assistance programme that assists low-income union members to defray their cost of necessities and their children's school expenses.
The biggest relief came when she found out that as a freelance coach, she was eligible for $9,000 from the Government's Self-Employed Person Income Relief Scheme (SIRS).
The money mostly went to her debts and Reuben's enrichment classes. With the money from SIRS, Lynda was also finally able to move to her new four-room flat in August.
"When I became eligible for SIRS, that's when I felt my self-esteem coming back. I could finally return money to people I owed for a long time. These people have been supporting me. So yes, I had some self-esteem back. I felt good about that. Thanks to myself being eligible and getting the help that I needed," she said.
What Now?
As Singapore enters phase three, Lynda is seeing some semblance of normalcy returning. She has started conducting small scale bowling classes although things are far from what they used to be.
Lynda's advice to others is simple, and her hopes for her family, even simpler.
"I would advise for someone who is facing a difficult situation like I did to reach out for help. There are many agencies out there that can help you. Ask for help.  
"As for hopes, I hope that my children and I continue to be together as a family. My son is now an aspiring dancer, an aspiring performing artist. My daughter hopes to one day be a university graduate. She has her aspirations. No matter what, I hope we will all remain together as a family, supporting each other," she said.