I recall coming across a Facebook post some years back. The user was mocking a job advertisement he found online.
Apparently, a company was seeking for a suitable candidate to fill an entry-level position but required someone with three to five years of experience.
While I have always taken those numbers as a sort of "wish list" by any prospective employer, my personal takeaway was that experience is something that is sought after by employers.
Who wouldn't want to hire someone who can hit the ground running? Someone who doesn't need to be handheld for their first three to six months in the firm.
But what about being turned down for being "too experienced"?
That was one of the challenges Philip Kwa, 58, faced when he was retrenched in 2020, soon after the pandemic hit. He had joined the company for just over a year.
The former CEO of an ICT startup shared that potential employers were noticeably wary once they learned of his previous position and background in cyber technology.
Getting Retrenched
Perhaps it was unlucky timing that Philip joined a startup just as the COVID-19 situation started to worsen in Singapore and around the world.
"Because of COVID, the company was not making a lot of money. So we scaled down our operations and I lost my job," he said.
Explaining that it did not make financial sense to let go of the junior staff, he discussed with his overseas counterparts that perhaps it was for the best that he left, so that the company could manage their finances to survive for another year or two.
"I mean naturally, when you scale down operations, you take away the most expensive person, right?" he laughed.
Challenges Getting Employed
During our conversation, Philip struck me as a resourceful individual.
Beyond doing the usual deed of applying for jobs directly himself, he also reached out to other professionals in his field, and he sought help from government agencies such as Workforce Singapore (WSG).
Even then, he felt that his age and experience was actually hindering his success at securing a permanent role.
Philip said that the community of ICT professionals was not that big in Singapore. Having been in the industry for as long as he has, he was all too familiar with the majority of key players.
He recalled: "When I think back about the organisations  I reached out to, I have been told that my skillset did not match what they were looking for. But at the end of the day, they hired someone whom I knew in the industry. He was someone younger, but I know that I am definitely more experienced."
Philip added that his experience as a CEO of a company may have frightened off some employers.
"They would probably think 'would you come down to become a manager or a director at a much lower pay?' I think everyone assumes that if you were a CEO, that your pay must be higher, which is simply not true," he said.
Although his encounter with WSG career coaches did not bear him the fruit that he was hoping for, there was a silver lining.
"WSG does have some arrangements with private institutions. The people from the private institutions who were assigned to me were much more experienced and better able to help me with my search," he said.
He was referring to the SGUnited Jobs and Skills Placement Partners Initiative (SGUJS PP), a scheme aimed at scaling up the placement of local jobseekers into job, traineeship and attachment opportunities.
Though the initiative did line up some opportunities that were more relevant to what Philip wanted, he ultimately took control of his predicament himself.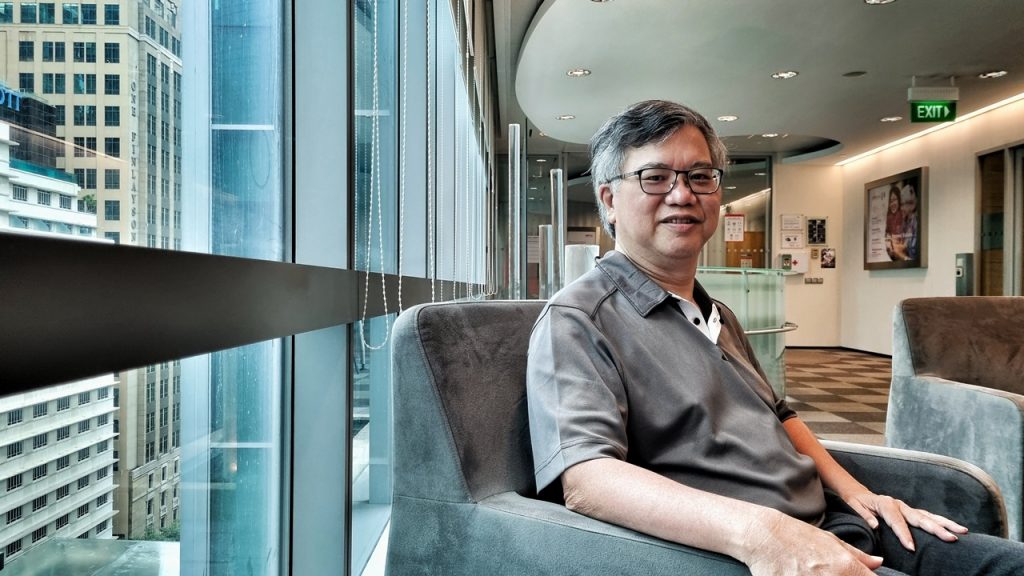 Turning the Situation in His Favour
After consulting with a few of his close friends, both within and outside of his industry, Philip decided that he wanted to focus on helping others, and he wanted to establish his own business.
On how he derived at the idea, he said: "People who were in the industry and who knows me asked why would I want to risk getting another full-time job. They said that I was already in my late 50s and if I were to once again get retrenched, what then?"
Not wanting to leave things to chance, he also looked at backup options to ensure that he will still be able to draw a steady stream of income while setting up his own company.
Today, Philip teaches cyber security as an adjunct lecturer with Singapore Polytechnic, and he is the owner of an ICT consultancy business.
"It is more like advisory kind of work. I advise my clients on their cyber security posture, or even if they want to go for ISO certification, I will advise them on what are the things that they need to do," he explained.
While he is currently running the business on his own, he has a group of friends and fellow professionals whom he works with collaboratively.
"You don't need hundreds of friends. You just need a handful of friends who you can work closely with; people who, if you run into trouble, will be there to help you," he added.
Additionally, Philip volunteers his time with WSG as a career coach, helping others who are in the same predicament of finding employment.
Philip is also the Deputy General Treasurer with Tech Talent Assembly (TTAB), an association for ICT professionals in Singapore.
More Can Be Done
Asking for his opinion on what more could be done to help PMEs, Philip shared two areas which he felt would help address PMEs' concerns – one concerning retrenchment, and the other with job opportunities.
For one, he felt that PMEs, particularly those above 40, should be offered some form of interim financial assistance from the Government should they ever face retrenchment.
Referencing PMEs who are sole bread winners of their families, he said: "If suddenly, you were to lose your job and your income for a period of time, then what? If you do not have savings to fall back on, then you'll be in deep trouble. So an interim monetary assistance to help such folks tide through while they search for another job will be useful."
Secondly, while he realises that the Government is doing what it can to strengthen the Singapore core such as by reviewing the Employment Pass criteria, he felt that more concrete steps need to be taken.
He said: "What needs to be looked at is succession planning [how foreigners can pass on skills and knowledge to locals]. When I was working in the US, it was very difficult to get a work visa. The company had to prove that they could not find anybody [with the relevant skillset]. Even when I was in China, I was given a strict three years to complete my task. I was a specialist, but the intent was to pass knowledge to the locals.
"That is how we can strengthen our Singapore core."