Thidar Tun, 38, connects to our call, explaining she had been preparing lesson materials for the English and Chinese language classes she will be conducting in the evening.
It is one of her self-initiated projects to teach her fellow migrant domestic worker (MDW) friends basic communication skills for when they take part in outreach programmes.
"It is my own project. It is my own interest for those who want to learn a new skill. Most of them are so interested to try for the English and Chinese Mandarin beginner level class.
"I'm doing this to help them with their communication skills when we do outreach on the ground," she said.
Thidar and around 100 volunteers from the Centre for Domestic Employees (CDE) conduct regular visits to areas frequented by MDWs, occurring twice a month. They engage in meaningful conversations with them and distribute flyers from CDE.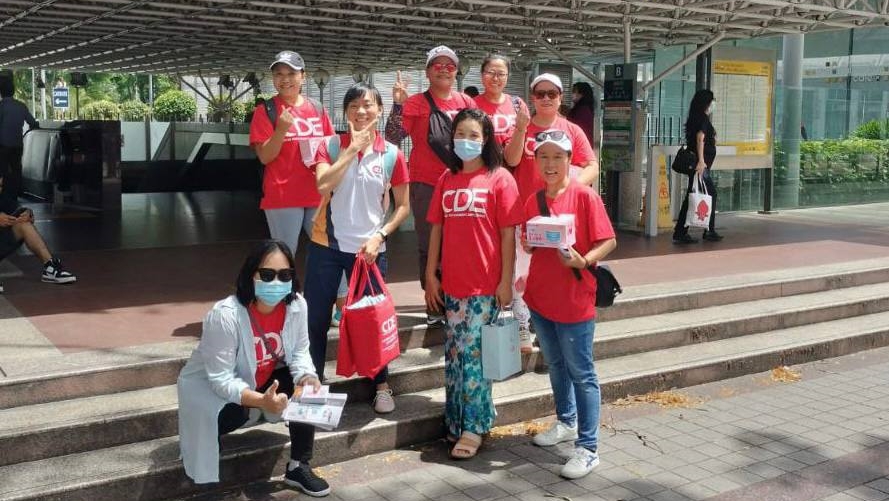 How It Started
Thidar came to Singapore in 2007 to work as an MDW.
It was in Singapore that she learned about CDE and the support they give to MDWs like herself.
She joined CDE in 2019 and shares her experience of growth.
Thidar said: "I feel that joining CDE helped me improve my self-confidence. Being a part of the volunteer network helped a lot with my well-being as I got to know others and improved my relationship with them. I also discovered how to manage and solve problems together (with MDW volunteers). It encouraged me.''
Language Barriers as an MDW
Thidar shared that MDWs often struggle to communicate at their workplace, especially towards the elderly.
Thidar said: "Some elderly don't understand English, so they will only speak Chinese, but some MDWs can't speak Chinese; they only can speak English. So, from the beginning, they will have this kind of complicated communication between the employer and the employee.
"A lot of MDWs don't understand English very well, and when they receive complicated instructions, the employer may become frustrated when they communicate with the MDW at home.''
Lending a Listening Ear
With a background in Psychological First Aid, and fluencies in Burmese, English and Mandarin, Thidar quickly established herself as an asset in providing support to fellow MDWs.
"Twice a month, we do an outreach on the ground. We go to places like Peninsula Plaza, Orchard Road and City Plaza to speak to MDWs. CDE gives us skills on how to communicate because some MDWs may be very shy when they are approached," she said.
What MDWs Need
Thidar believes that MDWs can maintain good work relationships with their employers. All they need is patience and time to communicate.
"We need to be patient. Doesn't matter if the employer is a Singaporean or a foreigner. If we are patient and listen to each other, the employment relationship will improve,'' she said.
Should employers or migrant domestic workers need advice on employment-related matters, please call CDE's 24-hour helpline at 1800 2255 233 (1800-CALL-CDE) or visit the centre's Facebook page at www.facebook.com/cde.singapore to drop them a message.