She left her family behind in the Philippines to give them a better life.
This is the sad reality faced by millions of Filipino women working overseas to provide their loved ones a bright future – yet missing out on the joys and sorrows of being home.
But Graziel Bheth Timtim, a 38-year-old migrant domestic worker, is one of the lucky few that have found a second home in a foreign land. She came to Singapore in 2012 and has been with the same employer since.
The Pehs consider her a part of the family.
"We always try to eat together, chatting with each other in one table. I know that not all helpers eat together with their employers.
"But for me, the bonding is there. I think there's a Chinese proverb that says, 'The more we eat together, the more we live together peacefully,'" Graziel said.
This good relationship Graziel shares with them was built right from the beginning and nurtured over time, mostly through food and music.
Hitting the Right Notes
Lily Phua, the mother of the household, was impressed by Graziel the moment she came to live with them.
"The first thing she did when she came to our house on the first day … She actually brought desserts and snacks from the Philippines to our family as a gift.
"That was a very touching and really heart-warming gesture," Lily said.
It made a big impact on the Pehs, but it was only natural for Graziel to bring gifts when invited to someone's home, a custom she grew up with in her country.
"I just wanted to thank them for choosing me. Of course, there were a lot of applications at the agency. But they chose me.
"It's my way of saying 'thank you' for letting me in their family," she said.
But aside from the goodies, Graziel also brought her musical talent along with her. Jayne Peh, the family's middle child, was especially thrilled.
"I was, and still am, a huge Taylor Swift fan. My dream growing up was, 'I'm going to be Taylor Swift.' And I needed a guitar to be Taylor Swift.
"My dad and I went guitar shopping and Aunty Graziel happened to know how to play the guitar because she was involved in teaching other people in church. I went to her one day and said, 'Will you please teach me?'" Jayne said
They have been jamming together for almost eight years.
"She's even better than me now. Her strumming pattern is better than mine already," Graziel said proudly.

Living in Harmony
By the end of this year, Graziel plans to retire and return to the Philippines. She and her husband want to start their own family, after being away from each other for years.
The Pehs are happy for Graziel, but understandably sad to see her go. But the memories and bond they share is something that they can all hold on to.
Lily said: "I think she has walked with me through a lot of ups and downs in our family's life. A few years ago, when my dad was about to pass away, he was in the hospital, and we wanted to bring him home.
"Graziel just told me, 'Ma'am, let's bring him home, I will take care of him with you.' So that was really one of the very precious moments that I knew I really had a good friend and supporter here with me."
When asked about this incident, Graziel said it was the right thing to do.
"It wasn't a burden because they are really like family to me. Every time I have a problem, they're also always there for me," she said.
This give-and-take mindset is something Graziel strongly believes in. She encourages other domestic workers to do the same.
"I think it's a two-way process for the employer and helper. Once they trust you, you must take good care of [the trust]," she said.
Swan Song
No one will be sadder than Jayne when Graziel says goodbye in a few months. Now 18, she has grown attached to her Aunty who has been a constant in her life since she was eight.
"I am absolutely crushed. Her going home is heart-breaking," Jayne said.
So when Graziel joined U Dazzle, a talent show organised by the Centre for Domestic Employees, Jayne didn't hesitate to support her Auntie.
They performed an original song by Jayne – Graziel sang it while Jayne accompanied with the guitar.
"I was really excited. I think performing with Aunty was like a full-circle thing," said Jayne.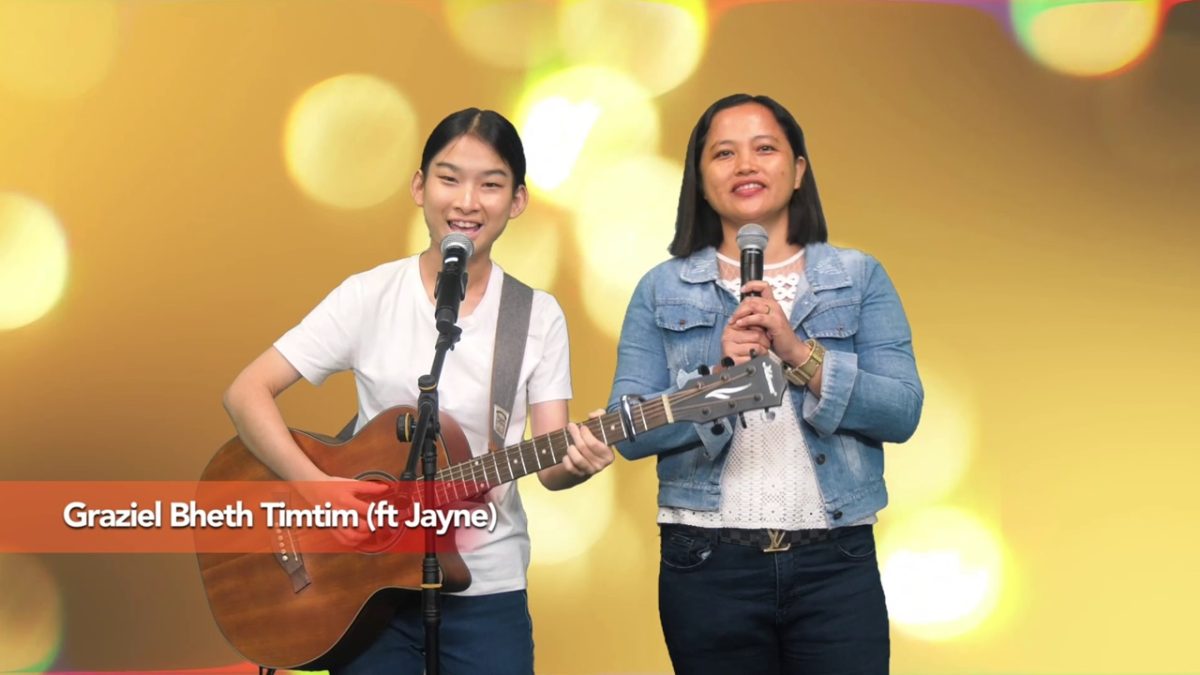 Graziel has nothing but gratitude for the family that took her in. Because of their kindness, leaving her home country to work became a worthwhile experience.
"My family always messages me to thank me because with my help, my brother was able to finish a four-year university course in the Philippines.
"It was difficult, but little by little, as I worked here, I found my purpose," said Graziel.