Playing Diner Dash on my phone prepared me little for the role-swap that was to happen, the day I turned waiter for a day at Lighthouse Bistro.
"Laying" In Wait
Although the bistro only begins service from noon, there is much to be done before opening our doors to the lunch crowd. In fact, preparation usually starts two hours before service.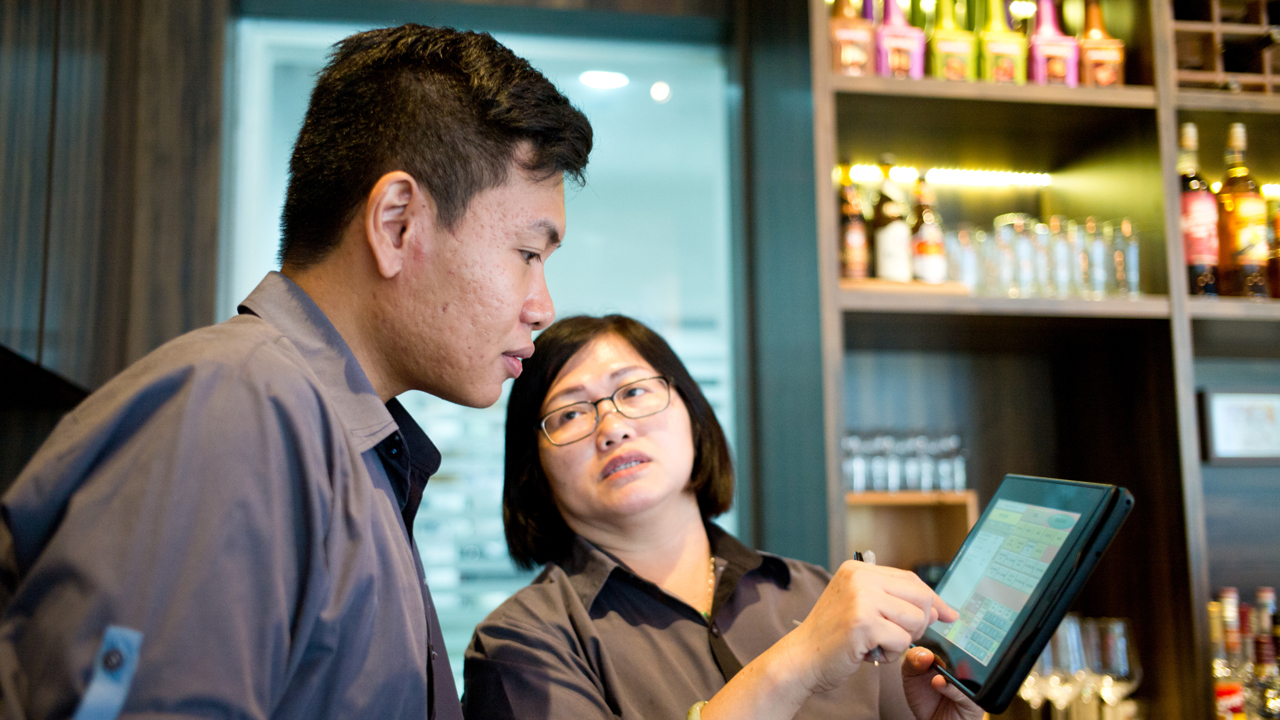 My mentor for the day was 53-year-old senior waitress Eileen Ooi, who has been working at the bistro for the past one-and-a-half years.
The first order of the day, was to set up the tables. The paper mats, cutlery, cups and coasters, and reserved tags all had to be arranged in a specific manner.
Next, to burn a mental image of table numbers and their seats. Menu memorising then followed, so I could roll off recommendations to guests without fumbling.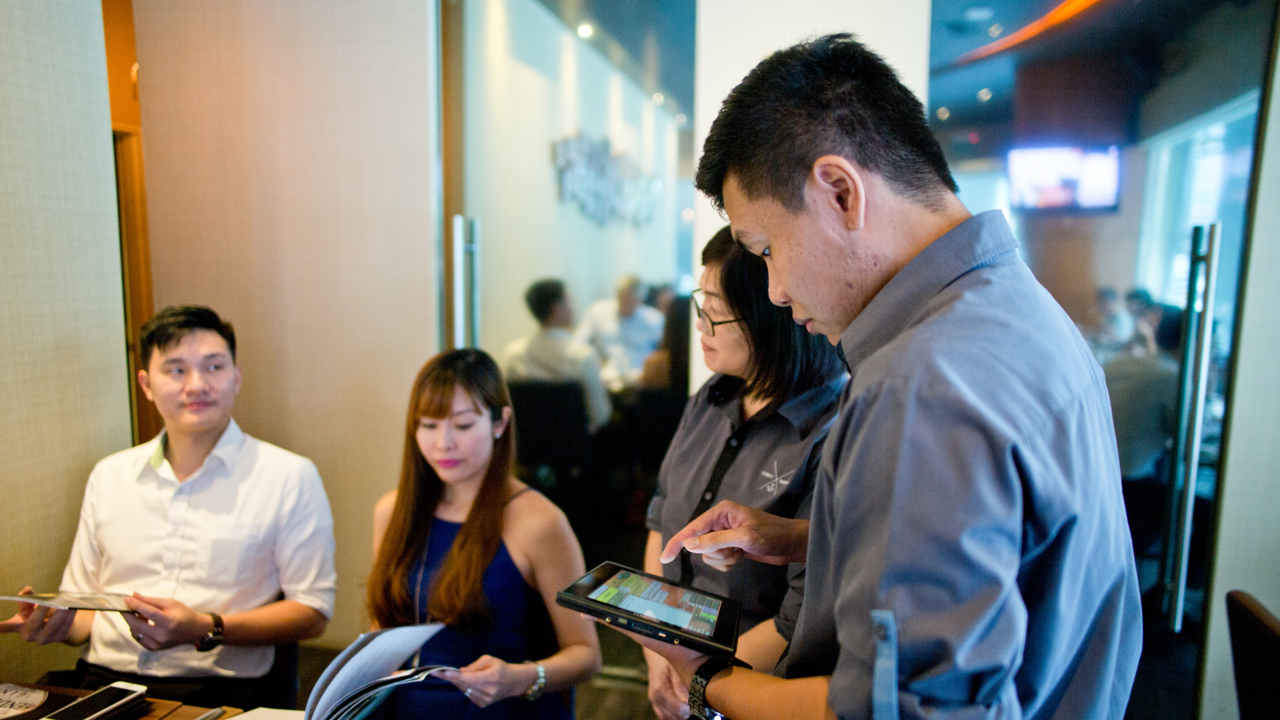 When I saw the tablet, I was secretly happy on how order taking was going to be a breeze, or so I thought.But using the tablet proved to be more difficult than it looks as it took me a while to learn how to key in the correct table numbers, number of diners, identify categories of the dishes, and making sure dishes were separated according to courses.
Mentor to the Rescue
Noon soon arrived, and before I knew it, the restaurant filled up, almost to three quarters full – a happy problem, but definitely a daunting one, especially on my first day at work.
It's the simple things that make a huge difference – after showing the customers to their tables, I asked if they preferred a glass of warm or cold water.
Then came the hardest part – taking orders. Using the tablet was smooth for most part of the day, but when a table of three said their orders too quickly, I was too slow to capture them. Luckily, Eileen was there to remember the orders in her head – a reminder that it takes an alert mind to attend to others. Oh, and a smile too!
I was told that I was not high on the smile factor when serving. But what about being overwhelmed and stressed out?
More to the Job
When all the food was served, I thought I could take a breather. Eileen came up and said: "You see their cups? Go and refill them. Don't wait until they're empty."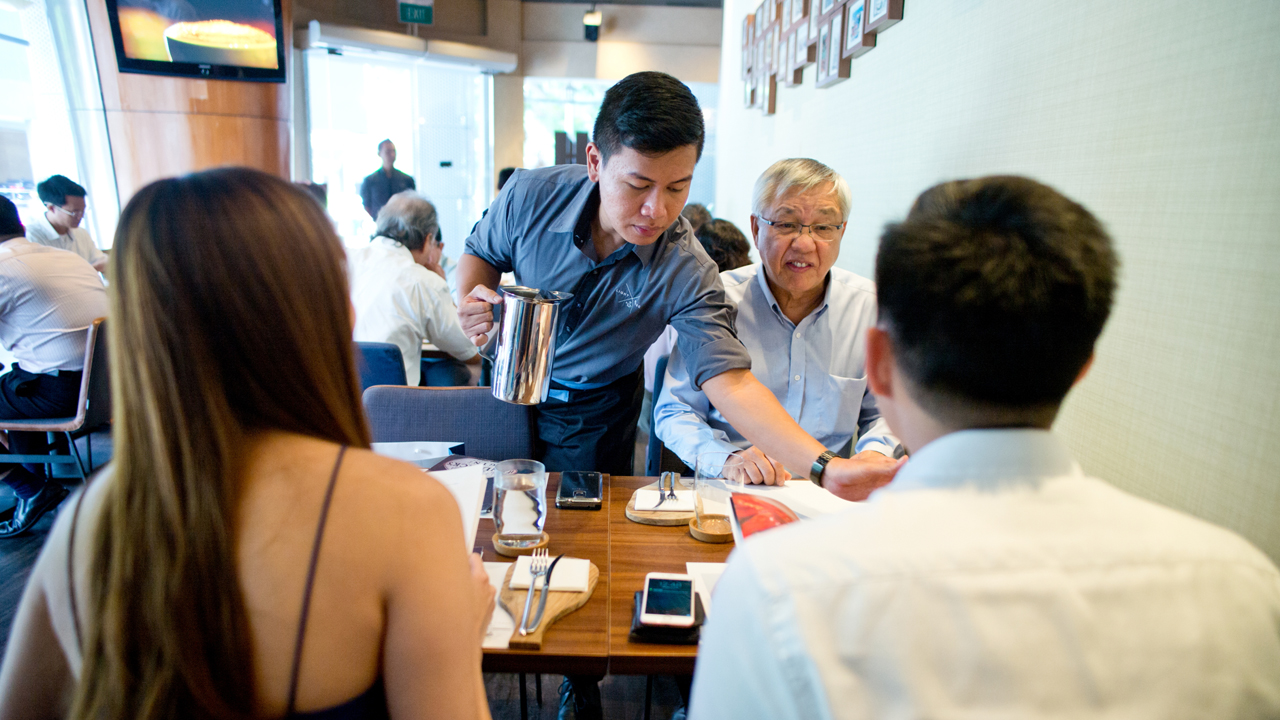 With that all done, I thought hey, not too bad for a waiter on his first day eh.
Eileen came up to me again and gave a friendly prompt: "See if the customers are done with their meals. Don't wait until they have finished them to prepare the next course because the kitchen needs time to get things ready."
With all these things that went on in my head while standing and walking the whole day, I was both physically and mentally exhausted.
At the end of my shift, I realised how much I missed the comfort of my office where I'm not affected by aching legs and back. Serving in their shoes for a day, I developed newfound respect for all our waiters out there. Being a waiter is so much harder than it seems, and yet waiters and waitresses like Eileen make it look like a breeze, always serving with a smile.