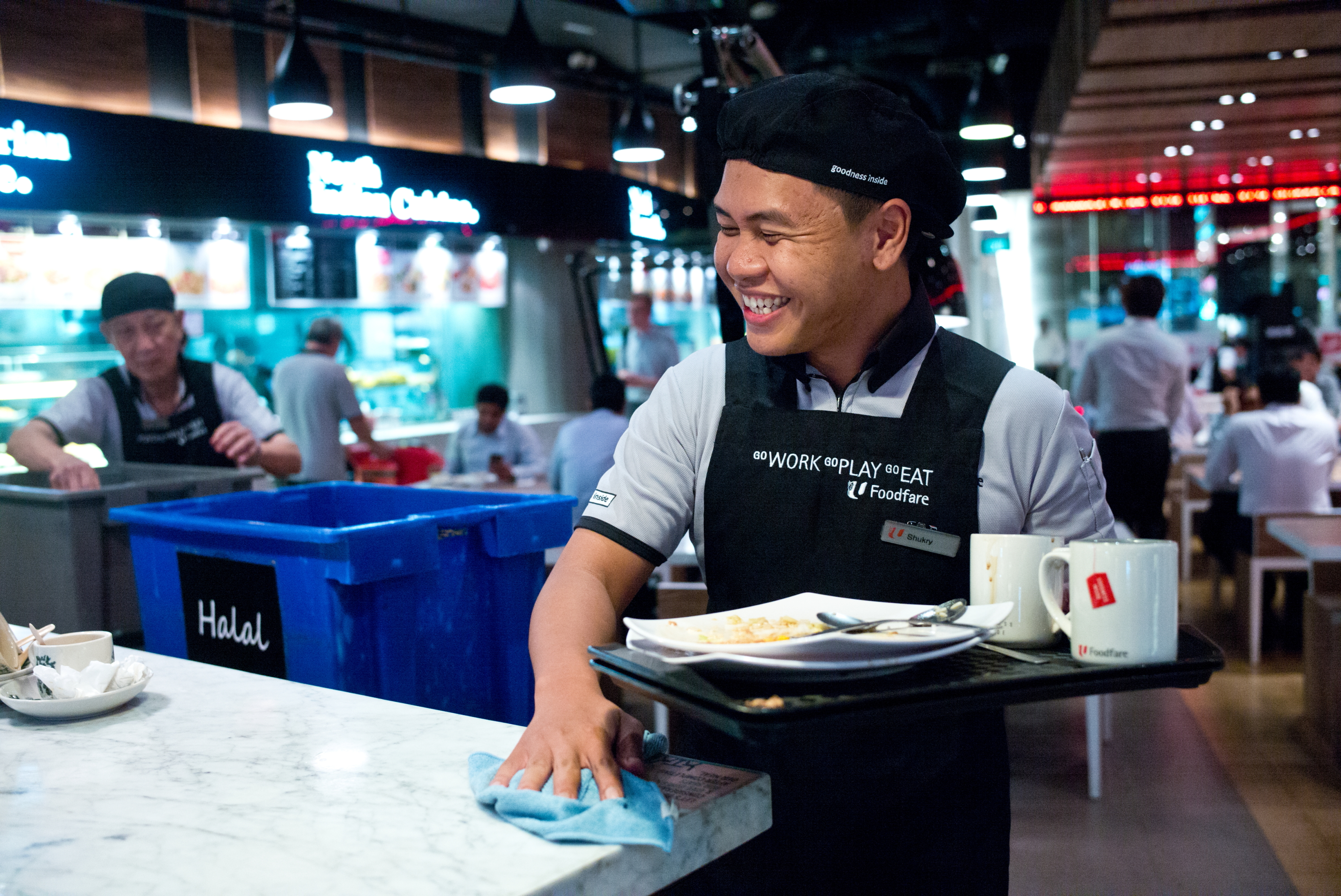 I have always noticed the high number of mature individuals working at food courts, hawker centres, and even fast food outlets. They are fast on their feet, diligent, and I have always admired their will to work at their age.
Their job may seem easy, but believe me, it is not. I can say that because I recently had a chance to taste of what it was like to be in their place when I donned an apron as an NTUC Foodfare cleaner. An equally curious colleague of mine, Chris Seng, decided to join in.
Old But Gold
Chris and I went through a five-minute crash course given by a cleaning supervisor before we stepped out to meet the 2pm lunch crowd at Marina Bay Financial Centre's Foodfare outlet.
"Black trays and white utensils, non-halal. Beige trays, grey and black utensil, halal." – That played in my head on automatic loop each time I had to clear plates from a table.
It requires good eyesight and cognitive functions as we had to clear different types of plates into different bins – something I thought an over-70-year-old worker would have difficulties with. I certainly did!
"You have to do it fast, especially during lunch period," said 74-year-old cleaner Wee Teck Wee while he demonstrated what he meant.
"If we don't clear the plates quickly and leave the place dirty or cluttered with leftovers, people won't want to eat here," he added.
Such are the lengths these food court cleaners go through so that you can have a fast and comfortable lunch break.
On my shift, most patrons left their used plates on the table for cleaners to clear. Throughout my day, not a single person said "thank you" to me for clearing their plates.
Apart from clearing plates, these cleaners also step in to clean up if someone should happen to spill food on the floor to avoid further mishaps or even injuries to other patrons.
Saying "Thank You"
Mr Wee has been a cleaner with Foodfare for the past three years. Before becoming a cleaner, he was a bus inspector for 30 years.
"Do you get a lot of appreciation here?" I asked. "Not that much," he replied, "It depends on the individual customer actually."
He recalled a time last year when a customer asked him about his job, and how his day had been. This random act from a total stranger meant a lot to him.
I realised they don't need much, just some acknowledgement for their hard work and a little bit of appreciation.
Mr Wee currently receives a basic salary of $1,100 a month. He said he receives a red packet containing $100 from NTUC Foodfare every Chinese New Year.
"It may not be much to many people, but it means a lot to cleaners like us," he said.
My experience as a food court cleaner also made me realise how workers like Mr Wee are easily overlooked. We expect our tables to be clean, our rubbish bins to be cleared and our streets to be safe. But these cannot be achieved without people like Mr Wee, and we owe much to them.
My colleague, Chris Seng, concurred. He said: "After spending some time clearing plates, I've realised that their job is very important even though it seems insignificant to other people. Clearing plates might seem easy but not many people will want to do this.
"The cleaners I met today are happy and take pride in their job as they assure the patrons with a clean environment to come and eat in."