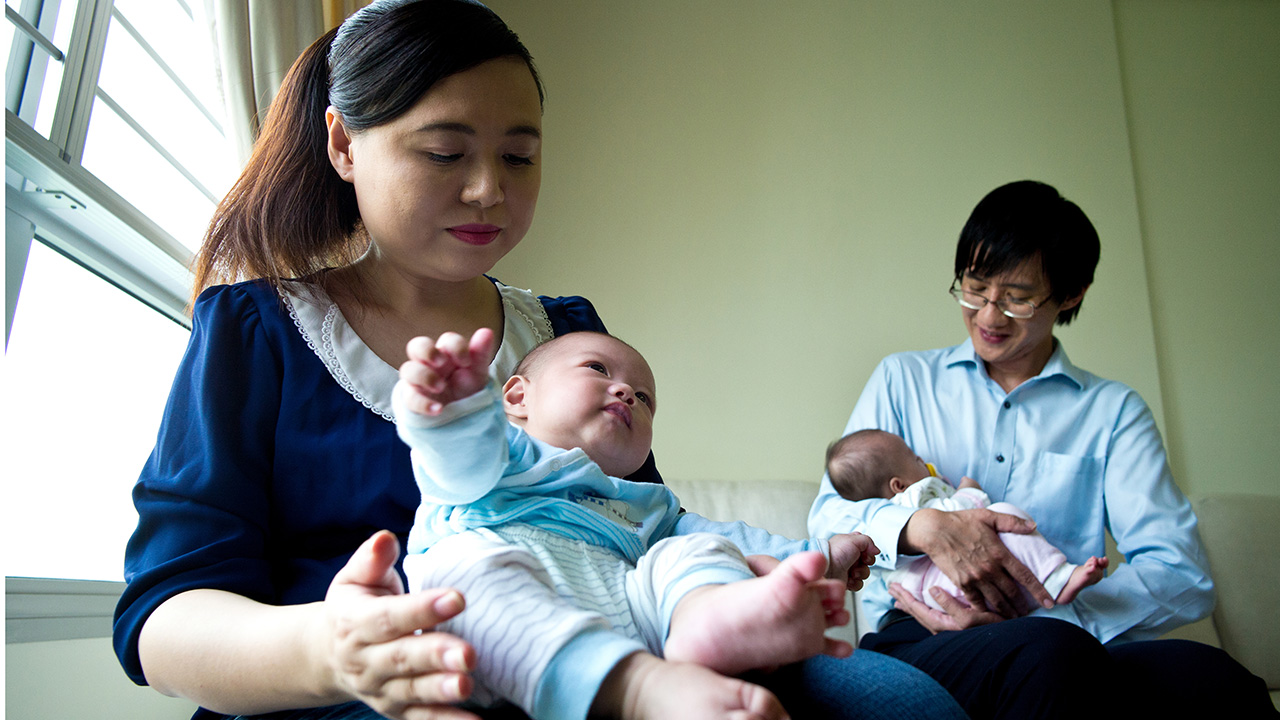 "When we found out that we were carrying twins, I was excited but nervous at the same time," said 42-year-old Goh Tiong Eng with a chuckle. "I didn't know what to expect being a first-time father, what more about having twins."
When the news broke that they were going to become parents after eight years of marriage, and to twins, on top of that, Mr Goh and his wife, 36, were delighted.
Progressive Practices
Mr Goh, who is with UOB, used to work late into the evening because as a senior officer taking care of trade settlements for foreign exchange margin trading. There were a lot of projects that needed his attention, but things had to change when his twins were born.
Thankfully for Mr Goh, his employer had put in place progressive practices for young families like his. UOB was the first few companies to give new fathers two weeks' worth of paternity leave in 2015, a year ahead of the legislation.
"Having to juggle responsibilities at home and work can sometimes be very difficult for new fathers. When I became one, my bosses and supervisors were very supportive. It did definitely relieve some stress on me knowing that they were very understanding," said Mr Goh.
Now, whenever he has to attend to his family's needs, his supervisors do not hesitate to give him time off.
Progressive practices like the ones implemented by UOB are encouraged by the Labour Movement, according to NTUC Progressive Wage Model Director Desmond Choo.
Suggesting that the Labour Movement continues to create platforms to recognise such companies, he said: "By creating that platform, other companies can learn how such practices, like flexible work arrangements, are implemented and how these practices help create a system that allows employees to go on their paternity leave."
Two-Week Paternity Leave
Mr Goh is of the view that the two-week paternity leave that will be made mandatory come January 2017 is a good move by the Government.
"I benefited from the two-week paternity leave when my twins were born. A lot of fathers miss out on many things in their children's life.
"With the paternity leave, fathers will get the chance to participate in their children's life from the beginning. These little things mean a lot to fathers like myself."
Mr Goh also feels the shared parental leave is useful as it gives fathers more time to help to take care of the baby.
Adding to that, Mrs Goh, who is currently a housewife, believes that the role of a new father goes beyond helping to take care of the newborn.
She said: "Women who have just given birth may be susceptible to post-natal depression. That is when she really needs the husband by her side to give support to both her and the child."
Moving forward, the couple hopes that more companies adopt family-friendly practices that will benefit new parents.
"More new parents should be allowed to work from home. I mean, I don't really see this happening a lot in Singapore. So I hope more companies can implement this," said Mr Goh.