The healthcare industry has been identified as a growth sector but it will no longer be "business as usual". We are in a fast-changing world powered by technology, and like other industries, healthcare sector will be transformed. With the launch of the industry transformation map (ITM), we are moving beyond healthcare to health, from hospitals to the community and providing higher-value services through technology – what I call "Healthcare 4.0".
As a healthcarer myself, I have seen transformation at work at a "speed of lightning" especially in the recent years. Robotic technology is now used in the healthcare institutions to process prescriptions and picking of medications, working smarter and faster with almost zero error. Technology reduces such labour-intensive tasks, freeing up healthcarers for higher-value functions, raising productivity and improve delivery of care to patients. On the other hand, healthcarers are concerned about how they will be impacted.
"Will I still have a job?"
"Are my skill sets still relevant?"
"Will I be able to keep up with technology?"
These are real concerns and Healthcare Services Employees' Union (HSEU) and NTUC's Healthcare Cluster are committed to caring for our healthcarers by helping them to stay ahead of change, focusing on 3 key thrusts:
From Plans to Action
NTUC's Healthcare Cluster has actively participated in the formulation of the ITM and the soon-to-be-released Skills Framework. Taking action is key to making the ITM real for healthcarers.
Since 2017, I have been mooting for a Healthcare Academy to equip healthcarers with skills identified in the ITM. The Healthcare Academy, a HSEU initiative, was set up in August this year in collaboration with partners, including the Ministry of Health (MOH), NTUC LearningHub, NTUC's Employment & Employability Institute (e2i) and SkillsFuture Singapore (SSG), to help healthcarers adapt to change, learn skills and transit to emerging jobs seamlessly.
The take-up rate and feedback have been positive. In under 2 months, we have trained 51 healthcarers on mindset change and digital literacy. We will continue to train more healthcarers in the upcoming pilot courses. Chow Wei Ven, Senior Assistant Manager at National University Hospital (NUH), was one of the first few participants who attended the pilot course on "Thriving on Change" in August. She found the course useful as she met healthcare workers from other organisations who shared relatable examples on how they cope with changes. She recommends healthcare workers in managerial positions to attend this course to learn how to lead and embrace changes at their workplace.
Going forward, Healthcare Academy will be expanding its focus to community care and developing training based on the Skills Framework. Learning will also be designed to be flex-time and flex-paced to cater to healthcarers' flex-learning.
If you are keen to find out more on the upcoming programmes under the Healthcare Academy, do drop us an email at hseu@ntuc.org.sg.
From Advocacy to Mobilisation
To prepare for Healthcare 4.0, we need to transform our healthcare workers to Healthcarers 4.0 so as to be resilient, relevant and ready to the changes that are coming. Starting in 2017, HSEU has partnered NTUC's Future Jobs, Skills & Training (FJST) capability to understand jobs and skills trends through discussions with industry partners. These findings will help our workers on the ground better understand how their jobs are impacted and what they can do to move into emerging roles before being hit by the tsunami of changes.
If you refer to the infographic below, you will see that several groups of healthcare workers will be impacted by industry changes and digitalisation.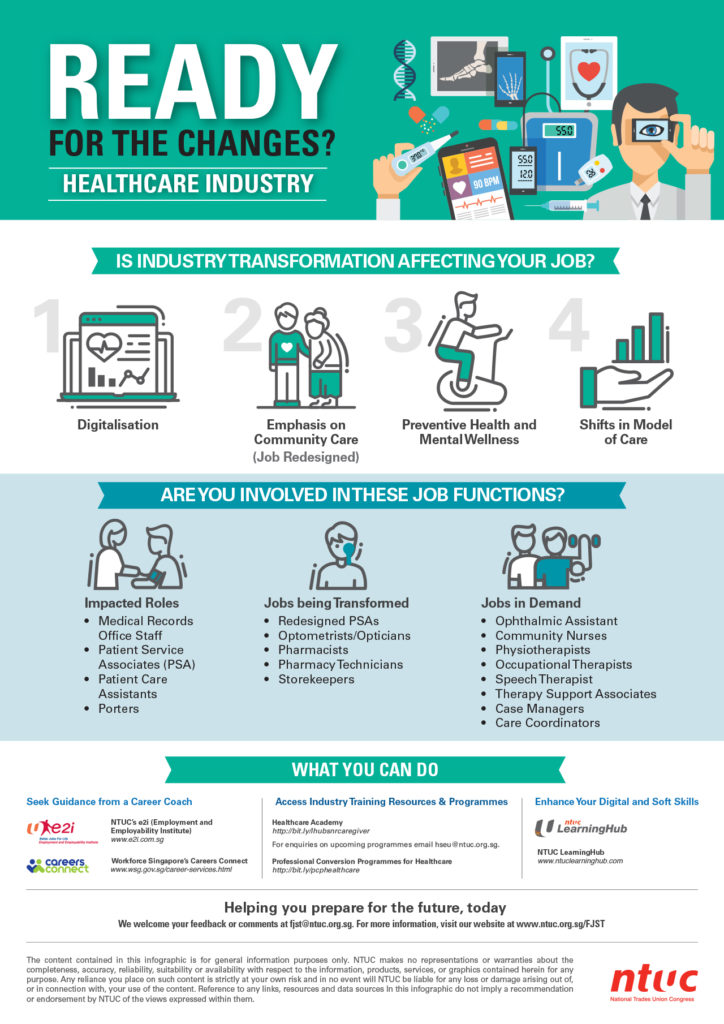 There is a growing emphasis on community care to manage the ageing population in Singapore. There is also a shift in focus from healthcare to preventive health and mental wellness to encourage Singaporeans to keep healthy. Business models and processes are also changing as part of the industry transformation.
These are positive changes. Workers will have the opportunities to readily tap on programmes and resources or move into emerging job functions. Requisite training will help them to stay ahead of change.
From Training to Progression
Healthcare 4.0 presents opportunities for better jobs and pay for healthcarers. 40-year-old Suba D/O Kumaran is an example of a healthcarer who is now in a transformed job. She joined Tan Tock Seng Hospital at the tender age of 16 as a Clinic Assistant, performing mainly non-clinical duties. Today, she can perform electrocardiogram (ECG) for heartbeat activity and even carry out 4 other value added services – she can even train new staff in measuring patients' eye pressure and eyesight! To her, the sky is the limit.
It is heartening to know that our management partners are committed to transform jobs and help our workers be future-ready. This is also evident in the Collective Agreements (CAs) that we sign with our partners. In the past, training was not strongly emphasised in the CAs. Now, it is quite common to have explicit training clauses that reflect the management partners' commitment to work with the union to enhance the skills of their employees.
As stakeholders, we must continue to keep abreast with industry transformation and leverage on the collective wisdom of partners to help healthcarers embrace change, ride the wave of transformation, tap on opportunities and remain employed and employable
This is a post by NTUC Central Committee Member and President of Healthcare Services Employees' Union, K. Thanaletchimi. Any extracts should be attributed back to the author. 15 October 2018.