I think that most of us can agree that food delivery has been a godsend especially after the Government started progressively reinstating stricter COVID-19 safe management measures since late April this year.
This is why when images of delivery riders – along with taxi drivers – eating by roadsides and out of their vehicles surfaced online, many netizens expressed their sympathy towards these groups of essential workers.
But the word caught on and soon, rest areas dedicated to both delivery riders and point-to-point drivers started sprouting out all over the island faster than we can say, "Two packets of ba chor mee kay hiam jio."
These rest areas can be found at food halls and well-ventilated community centres decked out with chairs and tables for the comfort of the users.
I thought it was a good initiative. My editor thought it was a good initiative. So, I was sent to visit a couple of these locations to gather the riders' feedback on the programme.
But there was just one problem.
Where were all the riders?
Visiting the Rest Areas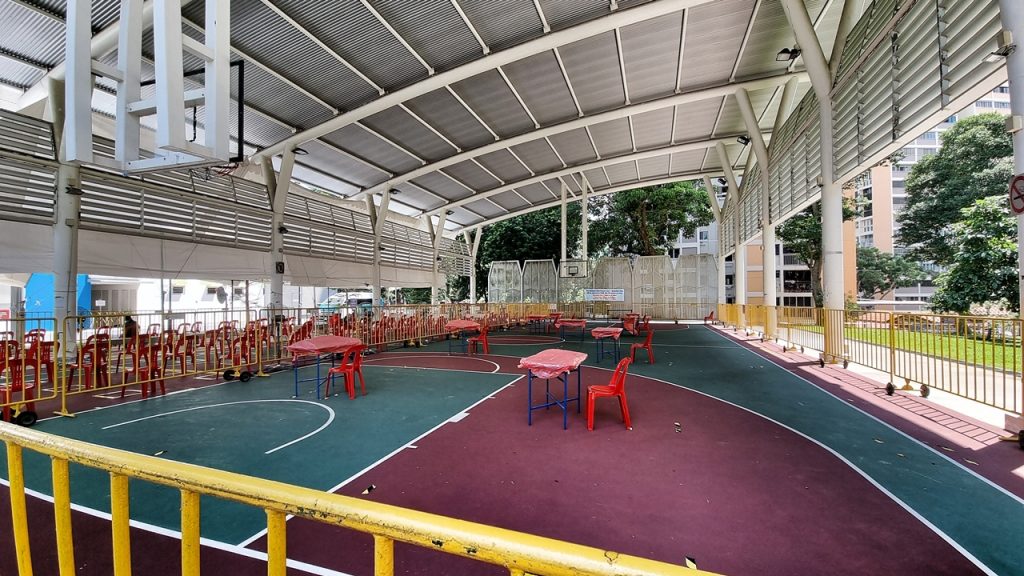 My search for delivery riders making use of these rest areas brought me to four different locations around the island. They were Radin Mas Community Centre (CC), ACE the Place CC, the Food Republic at Causeway Point, and Malaysia Boleh and Foodfare at AMK Hub.
To my dismay, location after location came out short – with not a single rider in sight.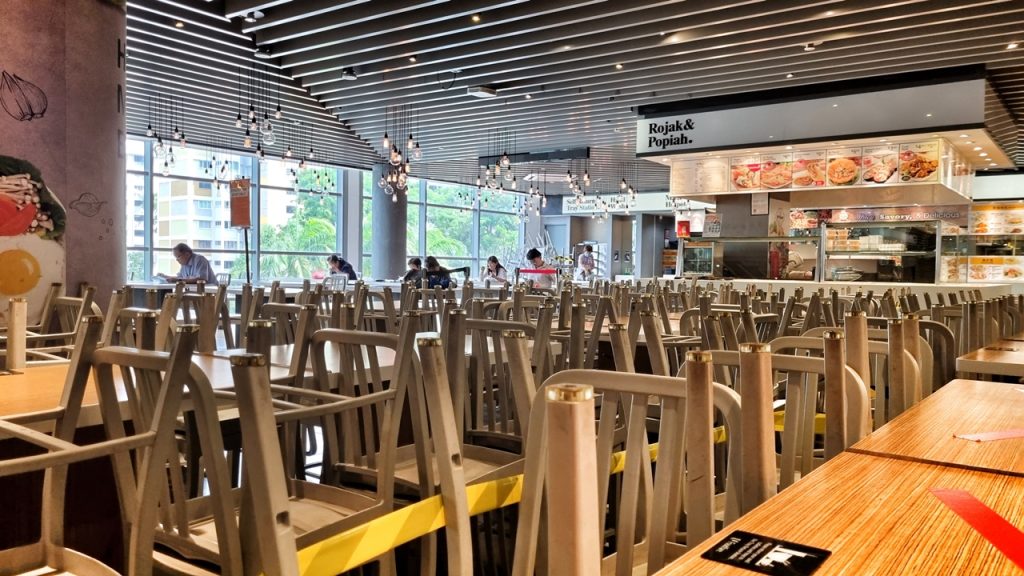 Was my timing off? Or was it simply bad luck?
In the end, I realised that it was easier for me to find these riders resting at makeshift bike parking areas behind malls and F&B eateries, or the front of shopping malls waiting for their next delivery.
It Is a Good Initiative But…
After spending the day talking to as many riders as I could, I found that three out of 10 of those who I spoke to did not know about these rest areas.
Those who knew about these rest spots learned about them through social media, WhatsApp groups and word of mouth.
More surprisingly, almost all the riders that I met who knew about the rest areas told me that they have never used these areas, and would probably never use them.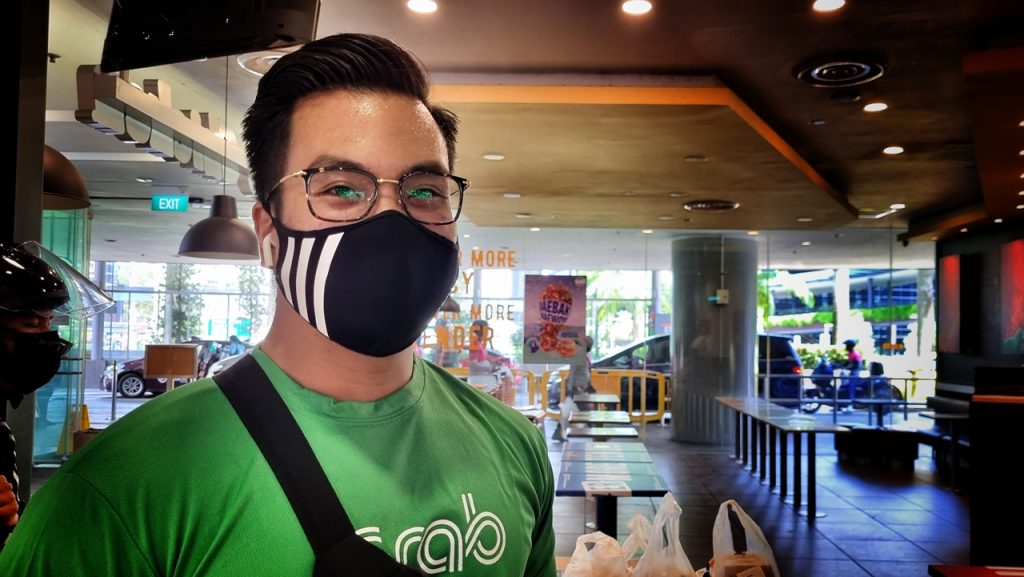 "I do deliveries around this area, and my house is just over there," said Mr Loh, a 23-year-old Grab delivery rider, as he pointed towards the HDB blocks a few hundred metres away from Causeway Point.
"If I am tired, I will just head back."
Mr Abdul Karim, a 63-year-old Grab delivery rider, told me that many riders in this line do not usually eat proper meals when they are out doing deliveries – a sentiment shared by several riders interviewed.
"If I am hungry, I will just get a curry puff, eat and go," he said.
However, despite them not using the facility, most were appreciative of the effort.
"I think it is good for riders who really want to rest and eat in peace. But for me, I don't need [the rest area]," said a Foodpanda delivery rider who declined to be photographed.
Another food delivery rider revealed that he would not want to leave his bike unattended for too long to sit at a place for a meal.
"Who will want to pay for parking to sit and eat?" he said with a laugh.
Room for Improvement
Many of these riders, be it on bikes or e-bikes, would rather use whatever spare time they have to quickly catch up with their fellow riders over a quick drink or smoke out in the open.
When visiting these rest areas, I also found that some did not have visible signages to indicate that they were for delivery riders' use, while some others did not even have any signage, to begin with.
Perhaps not enough riders know of these rest areas that have been set aside for them. Or it could simply be that this is not an initiative many of them see as beneficial.
But seeing how this is initiative will probably last till the Government eases the current safe management measures, it is probably good for those who need a proper place to have their meals until then.
List of Rest Areas (updated as of 25 May 2021)
Central
AMK Hub Foodcourts (Foodfare @ Level 3 & Malaysia Boleh @ B2)
Hwi Yoh CC
Kampong Glam CC
Leng Kee CC
Blk 48A Lower Delta (Pavilion beside NTUC FairPrice)
Marymount CC
Sheltered MPH next to Radin Mas CC
Swing-by @ Thomson Plaza Koufu food court
Suntec City: Food Republic and Big Appetite
Telok Blangah CC (10am – 8pm)
Tekka Centre Outdoor Community Hall
Tiong Bahru CC
Toa Payoh East CC (10am – 8pm)
Toa Payoh West 142A Toa Payoh Lor 2
North-East
Downtown East (L2 Event Square, beside Starbucks)
Elias CC
Eunos CC (10am – 8pm)
Kaki Bukit Community Centre (10am – 6pm)
Pasir Ris East CC (10am – 8pm)
Rivervale CC (12 – 8pm)
Punggol Field 269A Coffeeshop
Punggol Plaza Koufu foodcourt
Punggol Walk 308C Foodgle coffeeshop
Sengkang CC: Riders Lounge 11am – 6pm
Tampines Changkat CC
Tampines N4 Neighbourhood Centre (Blk 475)
Tampines St 12 Blk 145 Void Deck
Tampines St 33 Blk 316 Multi-Purpose Hall (MPH)
Tampines St 82 842A MPH
South-East
Braddell Heights CC MPH
Geylang Serai CC (10am-8pm)
Heartbeat@Bedok (11 Bedok North St 1)
Kampong Kembangan CC
Kampong Ubi CC
Marine Parade CC
South-West
Boon Lay CC Hardcourt
The Frontier CC, Pioneer
Gek Poh Shopping Centre Koufu
Jurong Point Foodcourts (Cantine @ B1, Kopitiam @ Level 3 and Malaysia Boleh @ Level 3)
Jurong Green CC
Jurong Central Basketball Court (10am – 8pm)
Jurong Spring Blk 535 Jurong West St 52 Void Deck(12-2pm, 6-8pm)
493 Jurong West Ave 1 Tahoe Garden
494 Jurong West Ave 1 Meet up at 494
496 Jurong West Ave 1 Xin Fa Li Coffeeshop
Taman Jurong CC Basketball Court (10am – 8pm)
Yuhua Block 260 Jurong East 24 Void Deck(12-2pm, 6-8pm)
North-West
ACE The Place CC 120 Woodlands Ave 1(10am – 6pm)
Bao Logistics – 2 Yishun Industrial St1 #07-09. Pls Whatsapp before going over
Bukit Panjang CC
Keat Hong CC – Beside CC, Blk 340
Sembawang CC
Woodlands CC Level 2
Yew Tee Square Kopitiam Foodcourt
Zhenghua CC Level 2 (slot basis)
CapitaLand malls have set up designated meal areas for mall frontline staff and delivery riders.
Malls by Frasers Property have set up designated dining areas for delivery riders.
The list of participating malls are:
Bedok Point: #02-30/31
Causeway Point: Food Republic (#04-01/02/03/04) & Bagus (#07-03)
Century Square: The Food Market by Food Junction (#03-19)
Changi City Point: Kopitiam (#02-01/02)
Eastpoint Mall: Malaysia Boleh (#04-04)
Hougang Mall: Mei Shi Mei Ke by Kopitiam (#04-11)
Northpoint City: Bagus (#02-101/102/103, South Wing) & Kopitiam (#B2-12, North Wing)
The Centrepoint: (B2, beside Just Darts)
Tampines 1: Kopitiam (#05-05/06/07)
Tiong Bahru Plaza: Kopitiam (#03-101)
Waterway Point: The Cove (B2)
White Sands: Cookhouse By Koufu (#03-01/02)