This article first appeared on NTUC LearningHub, an NTUC social enterprise.
In the face of disruptive changes such as digitalisation and automation, job roles and processes are fast changing. Under the S$4.5 billion Industry Transformation Programme, 23 Industry Transformation Maps (ITM) were developed to help industries adapt and grow in the evolving economic landscape. To help organisations cope with changes, NTUC LearningHub partnered Kotter International to deliver Change Leadership & Management masterclasses in Singapore.
Patrick Tay, NTUC Assistant Secretary-General, paid a visit to one of their first few Masterclasses.
We also took the chance to interview him on his take on change leadership and management in the age of disruption and transformation.
Who is John Kotter? Why Is He A Leader In Change Leadership & Management?
Before picking Patrick's brains on Change Leadership & Management, it is important to be acquainted with Dr. John Kotter and his lifelong research on change and transformation.
Dr. John Kotter set out in 1972 to answer the question: What makes transformational change efforts succeed or fail? Over the decades, he studied hundreds of organisations. His empirical research revealed eight common elements that are universally present across all successful transformations. The Kotter 8-Step Process for Leading Change was born, followed by Kotter International to translate the research to impact.
Kotter works with organisations to help them overcome the barriers to leading complex change. With decades of real-world research honed in the field alongside partners, Kotter International expertly guides and converts the energy of an organisation's greatest asset— its people— into action, momentum and results.
 "If you cannot describe your vision to someone in five minutes and get their interest, you have more work to do in this phase of a transformation process."– John Kotter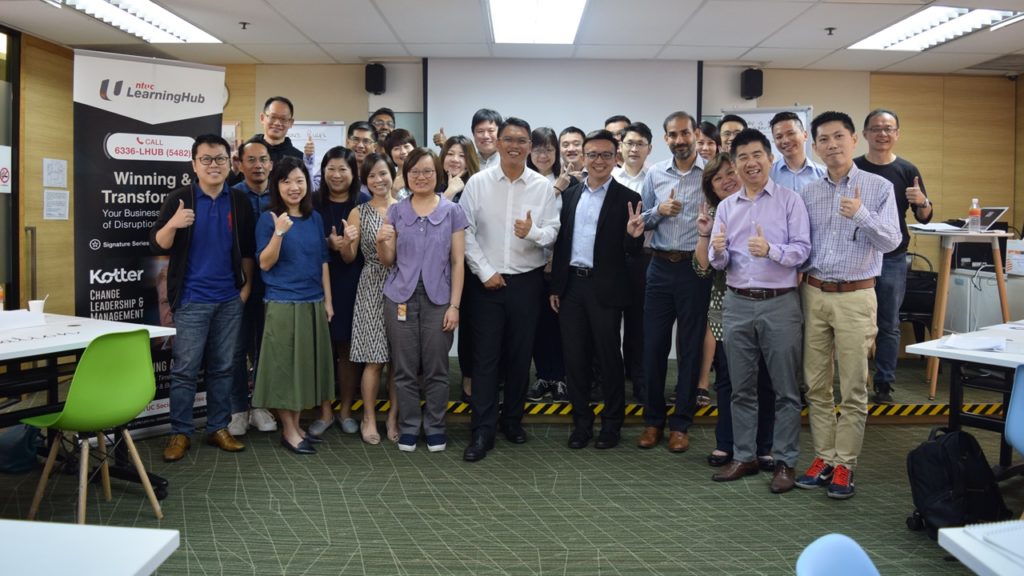 Patrick Tay Visits the John Kotter Change Leadership & Management Masterclass
Patrick highlighted some of the potential challenges faced by organisations who are looking to or in the process of introducing transformations. He also shared useful tips on how to garner both internal and external stakeholder support to implement transformation successfully.
Here's what he had to say about the topic:
What are some of the key challenges faced by organisations in today's fast-changing business world? Do you think they are prepared for these challenges, especially small and medium-sized enterprises (SMEs)?
Patrick Tay: Technology, digitalisation, disruption, robotisation, artificial intelligence and the internet of things are taking all sectors by storm. The key difference between this 4th Industrial Revolution and the previous ones is the speed and pace of change. It is imperative for all organisations and their people to be prepared for these changes which are going to impact all organisations, especially our SMEs.
Will introducing skillsets such as change management be crucial in enabling organisations to adapt nimbly to changes?
Yes, because in a volatile, uncertain, complex, and ambiguous (VUCA) operating environment, only organisations that remain agile and adaptable can negotiate, navigate and ride the waves of change better.
How do you envision the various tripartite partners working together to prepare organisations and their employees for change and transformation?
Each of the tripartite partners has a respective role to play. The Government must provide the help, support, eco-system and funding for the training. Unions and workers must stay positive and be proactive when it comes to embracing training and lifelong learning. Last, but not the least, employers must do their part to encourage and motivate their workers through various interventions and support mechanisms to make regular learning, training and upgrading key initiatives.
How do you think the partnership between NTUC LearningHub and Kotter International will fit into the Labour Movement's plans to help organisations and their employees adapt and grow?
This is a great starting point. Such best-in-class training will help build the capabilities of organisations to lead and manage change and transformation so that the training needs and morale of every employee are well taken care of.
A Preview Of John Kotter's Knowledge At The Keynote Seminar
To help employees adapt and transform their skill sets, NTUC LearningHub invited 200 participants, ranging from corporate multinational companies, SMEs, government agencies and NTUC social enterprises to the John Kotter Change Leadership & Management Keynote Seminar at the NTUC Centre.
At the seminar, Mr. Gaurav Gupta, Affiliate, Kotter International, guided participants through Kotter's 8-step process and four key leadership principles. Our participants also took away insightful learnings on how organisations can successfully create synergy and engagement among their employees to support change and transformation.
As everyone previewed the knowledge of a world-renowned change and leadership expert, here is what some of them had to say about the seminar.
Want to know more about our Masterclasses? Visit http://bit.ly/JohnKotter or talk to the friendly Course Consultants at NTUC LearningHub. To browse more of NTUC LearningHub's training programmes and articles, visit www.ntuclearninghub.com or connect with them on Facebook, Twitter, Instagram and LinkedIn.