One of the sectors closest to my heart is the healthcare sector.
In my years as the Executive Secretary and later, as Adviser, of the Healthcare Services Employees' Union (HSEU), I have had the privilege of working closely together with our brothers and sisters in the healthcare sector in advancing industrial relations and working conditions for our healthcare workers.
While the sector has evolved with time, one thing has remained constant – the fact that our healthcare workers are tireless and dedicated to giving the best care to their patients. For the many healthcare workers whom I have met and interacted with, their job is not just a job, it is a calling – and we need more of such healthcare workers.
More Healthcare Job Opportunities
Our population is rapidly ageing. By 2030, it is projected that there will be 960,000 Singapore residents aged 65 years and above. This is almost double the number in 2015. With a higher demand for healthcare, especially, aged care services, the Ministry of Health (MOH) has projected a need for an additional 9,000 healthcare workers over the next three years for new facilities and services in public and aged care settings.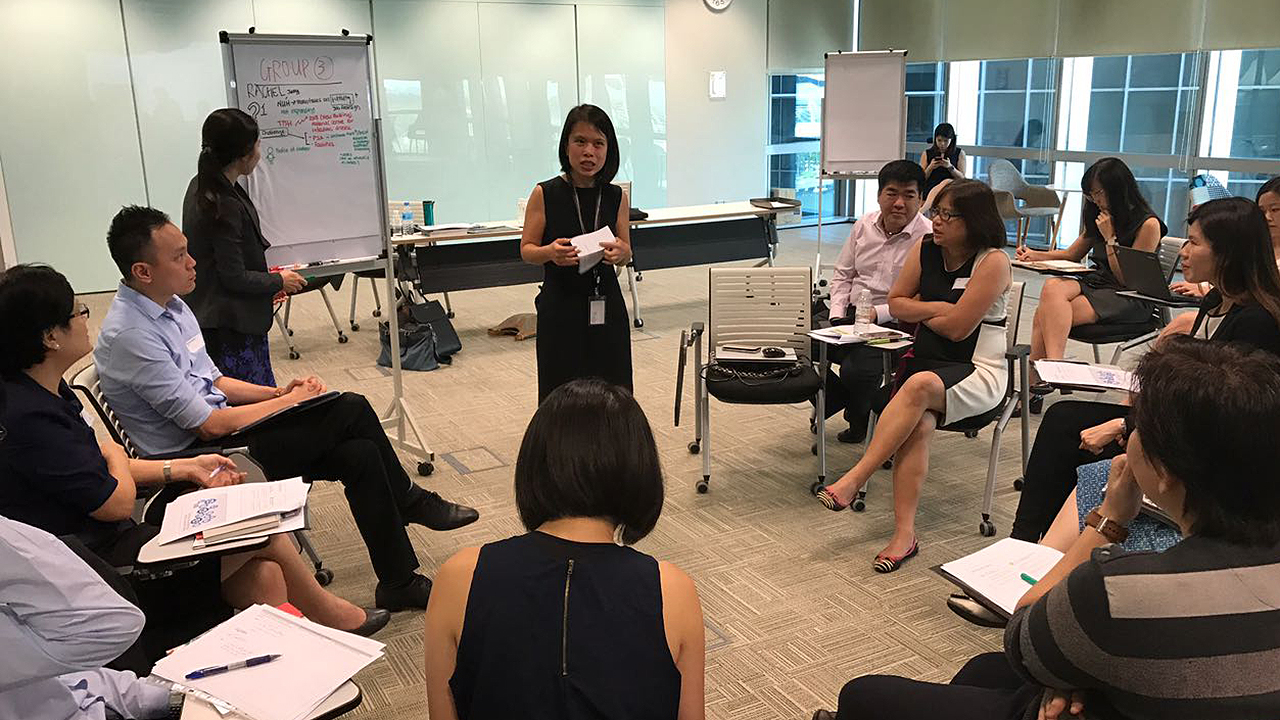 In a pilot study of the Healthcare sector undertaken by the Future Jobs, Skills & Training Capability at NTUC (some findings of which are set out in the infographic at the end of this post), we found that public and aged care healthcare employers are hiring and looking to fill a variety of positions ranging from nurses to allied health professionals, counsellors, patient care assistants and operating theatre technicians. Employers are also looking to hire individuals into roles that support institutions' operations such as IT, procurement, facility management, security and cooks.
Through the study, we also found that there is an increasing use of mobile apps and platforms to match care providers to patients to enable ageing-in-place, which gives rise to freelance opportunities for healthcare workers. These freelance opportunities include the provision of medical services by medical doctors, nurses and allied health professionals, as well as caregiving services provided by caregivers, medical escorts and confinement nannies. This is a valuable insight that we obtained when we validated some of the information on projected manpower needs, with the Labour Movement's U FSE (Freelancers and Self-Employed Unit).
Manpower Fit
While there are job opportunities available, the right fit is the key.
The challenge to hiring remains the biggest piece of the puzzle. Common bugbears of the industry are competitiveness of salaries and shift hours. Over the years, efforts have been made to raise wages for healthcare workers. By 2014, wages of lower wage public healthcare workers were raised by about 15% with the introduction of the progressive wage model from 2012. Through HSEU and MOH's efforts, nursing salaries were further increased in 2014 and 2015, and career advancement opportunities were enhanced with the introduction of the Assistant Nurse Clinician role. There are also on-going efforts to implement more flexible work arrangements for nurses.  To attract more locals to join the sector, we need to continue to enhance the working environment.
Future of Healthcare
Healthcare technology may be one of the possible solutions to raise productivity in the sector and allow freeing up of resources to address the hiring bugbears of the sector. Electronic records can cut down on paperwork while robotics and artificial intelligence can reduce manual and repetitive work e.g. automated pharmacies, porters, cleaners and rehabilitation tools with machine learning which can adjust the exercises according to the patient's needs. Remote monitoring technology would also enable patients to be cared for from their homes. Advanced data analytics can help to enhance safety and optimise resources, design efficient work flows thereby alleviating waiting time for patients. Predictive analytics can help to further individualise recommendations on patients' treatment and outcome. Through implementation of productivity measures, workers can spend less time on routine and mundane work and more time on the more complex and high touch aspects of their work – which puts their talents to best use. Through our study, we have also found that as the way of work is changing and will continue to change, employers are increasingly looking for employees who not only possess the right set of technical skills but also possess strong communication skills, systems thinking skills, digital skills, a learning mindset and the ability to manage change.
Joining the Healthcare Sector
Work has started to prepare our workforce for the future of healthcare as mentioned in the Ministry's Healthcare Manpower Plan 2020 and I am excited about the future developments of the sector. MOH has set up the Future Nursing Career Review Committee in April 2016 to develop a future-ready nursing workforce with three strategic areas of focus, namely Care, Community and Competency. Collaboration is also underway with SkillsFuture Singapore (SSG) to develop a Skills Framework for the healthcare sector to support healthcare workers in their professional and career development.
Scholarships are available to attract more students into nursing and allied health training programmes and grow the talent pipeline for the sector. There are also programmes for mid-career entrants to join the industry such as the Professional Conversion Programmes, Traineeship Programmes and Senior Management Associate Schemes. Refresher programmes are also in place for former nurses who are looking at re-joining nursing practice. Through the Labour Movement, there are a variety of productivity and transformative initiatives available to enable workers to acquire the necessary skills to enter the healthcare sector and for those within to upskill through training programmes, productivity projects and jobs fairs.
In the upcoming Jobs Connect@ West Coast GRC & Pioneer SMC spanning 30 June 2017 to 1 July 2017, co-organised by NTUC's e2i (Employment and Employability Institute), JurongHealth Campus will be at the job fair on 30 June 2017 looking to hire Patient Service Associates, Patient Care Assistants, Security Officers, Commis/Cooks, Logistics Associates, Staff Nurses, Senior/Enrolled Nurses, Radiography Assistants, Medical Social Workers and more. Do join us at the job fair to talk to JurongHealth Campus to learn more about working in the healthcare sector and the meaningful work undertaken by our healthcare workers.
To all our healthcare workers and the prospective ones to come, I convey my deepest appreciation for your service and contribution in caring for us:
"To know even one life has breathed easier because you have lived. This is to have succeeded."
― Ralph Waldo Emerson
Patrick Tay
This is a post by NTUC Assistant Secretary-General and Director, Future Jobs, Skills and Training Department, Patrick Tay. Any extracts should be attributed back to the author. 29 June 2017.