This is a blog post by NTUC Assistant Secretary-General, Melvin Yong. Any extracts should be attributed back to the author. 5 March 2020.
Earlier today in Parliament, I spoke during the Ministry of Health's (MOH) Committee of Supply Debate to call on the Government to do more to reduce the attrition of our healthcare workers, particularly nurses, by addressing the issues that they face at their workplaces.
Our healthcare workers have been working tirelessly since the onset of the COVID-19 outbreak to combat the spread of the virus. Many have suspended vacations and put in extra hours. I commend all healthcare workers – nurses, doctors, medics, and more – for putting your lives on the line to serve Singapore.
I am also heartened by the many community initiatives that have sprung up to recognise the hard work of our frontline workers during this trying time.
Why Are Nurses Leaving the Industry?
About 850 local nurses leave our public healthcare sector yearly, for a variety of reasons. According to MOH, some leave due to family commitments, further studies, or a desire to change their work environments. Worryingly, they tend to be experienced nurses who have a long career runway ahead of them. In the past five years, nurses who have left the public healthcare sector have an average of seven years in service.
Despite best efforts to attract them back to nursing, only around 400 return to practice annually.
With our ageing population, our healthcare system will require more healthcare facilities, and consequently more workers, especially nurses. We therefore need to ramp up our recruitment efforts while concurrently reduce attrition, by addressing the reasons why some leave service.
Ramp Up Recruitment of Healthcare Workers
First, we need to recruit more healthcare workers and bring in more local talents. While I appreciate the Ministry's "Care To Go Beyond" Campaign, which profiles the work of nurses to attract locals into the industry, more needs to be done.
Perhaps MOH could consider recruiting more mid-career nurses in their 50s and place them in wards that are suitable for them. Wan Sok Meng, a Staff Nurse at the National University Hospital (NUH), is one such example. At 59 years old, Sok Meng finally achieved her childhood ambition of becoming a nurse.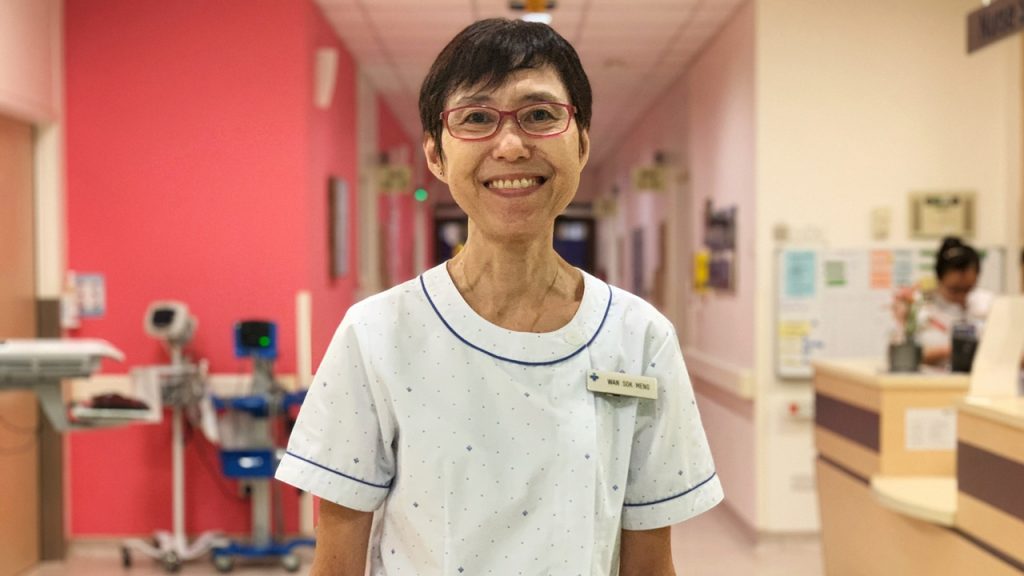 Currently 62 years old, Sok Meng first started working as a dental surgery assistant in 1975. However, it had always been her childhood dream to become a nurse someday, and she seized the opportunity to transition into nursing by enrolling in the Diploma in Nursing Professional Conversion Programme in 2015. Her journey in becoming a Staff Nurse was not always smooth, as Sok Meng had to learn at the same pace of her younger classmates, but she persevered and graduated in 2017.
"No matter how difficult my job gets, I get a deep sense of satisfaction at the end of the day when my patients recover and smile at me as they leave the hospital," said Sok Meng as she recounted why she loves the profession.
I encourage MOH to look at recruiting more mid-career healthcare workers like Sok Meng, as they will be great assets to our healthcare system.
Improve Retention
Beyond recruitment, we need also to retain more healthcare workers. 54-year-old Rahimah Bahri, who works as a Nurse Manager in NUH, is truly an inspiration.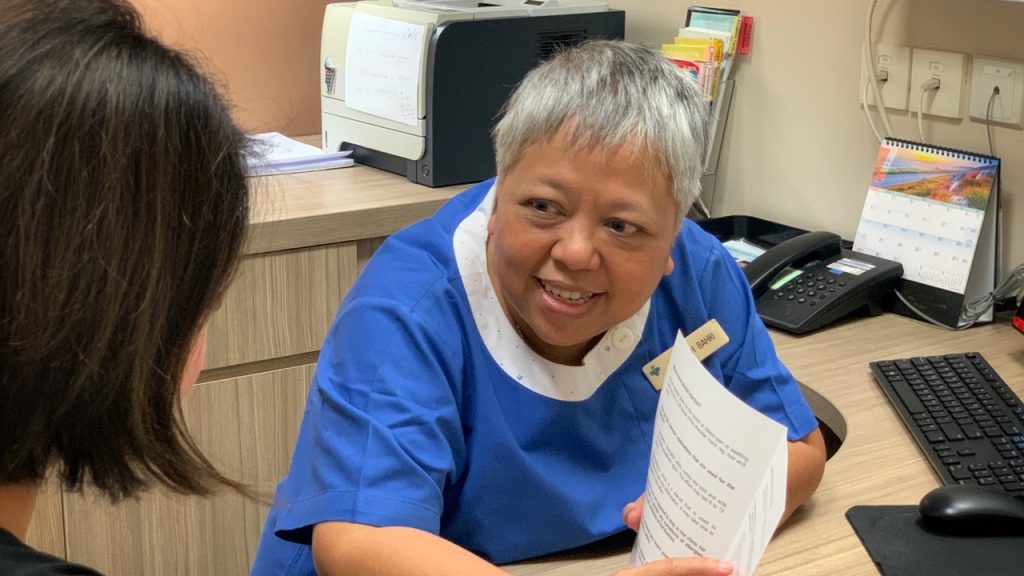 Rahimah joined the nursing profession fresh out of school in 1985 when she was 19. In her long career as a nurse, she has seen many challenges thrown her way, including the Severe Acute Respiratory Syndrome (SARS) crisis in 2003, and her personal battle with breast cancer in 2009. Through it all, Rahimah never once thought of leaving the profession.
"As long as I am able to continue working as a nurse, I will continue to do so. Even if I am past my retirement age!" says Rahimah, whose passion for her work shines through in my conversation with her.
However, Rahimah acknowledges that some of her colleagues do leave because of the high workload and perceived slow progression in the nursing industry. We should do more to address such feedback and incentivise more nurses to remain in the profession.
Encourage Returnship
Lastly, we must encourage more to return to nursing.
From my dialogue with nurses, I found that some do not return because they feel that their skills are out of touch.
To address this, the Healthcare Services Employees' Union (HSEU) is in partnership talks with Homage Singapore, a technology platform that matches licensed and trained care professionals to those in need of care, to explore providing nurses and caregivers who resign with opportunities to freelance as a care professional and keep their skills relevant. The Union is also discussing how to provide training to these nurses through its Healthcare Academy. This potential partnership will help nurses and care workers continuously apply their nursing and caregiving skills, even after they have left formal employment, so that they do not feel daunted if they wish to return to nursing.
We also need to consider potential changes to job fit as the life stages of our nurses change. Some are unable to work shift hours, nor wish to return to high-intensity clinical wards. Nur Aisyah Binte Mohd Ghazali, who works as a Clinical Instructor in Ng Teng Fong General Hospital (NTFGH), is one such example.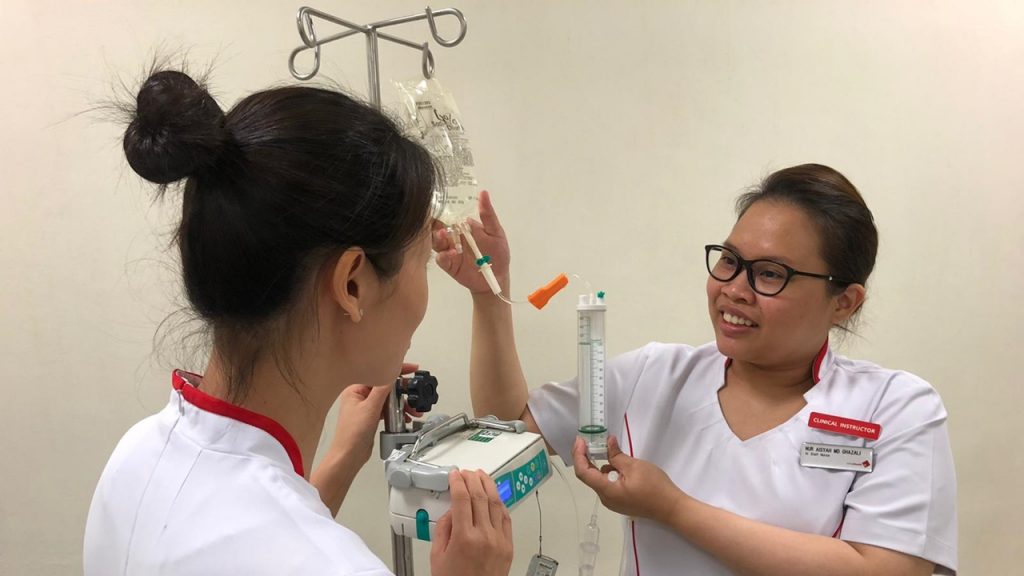 Aisyah joined as a staff nurse in 2011 and was subsequently posted to the Coronary Care Unit at the National Heart Centre from 2011 to 2019. Although Aisyah was devoted to her job, she was unable to continue working shift hours due to family commitments and sought non-shift hours.
Thankfully, Aisyah chanced upon the position of a clinical instructor at NTFGH. The role offers regular office hours and allows her to do what she likes most – teaching and imparting knowledge to the next generation of nurses. Today, she conducts training sessions and plays an important role in teaching others on how to provide the best possible to patients.
A Noble Profession
Our frontline healthcare workers are a special group of people who have dedicated their careers to caring for others. There is a pressing need to address the reasons why some leave service so that we can work at making nursing better for our workers to enable them to have a long fulfilling career in this profession. Additionally, with an ageing population, the demand for healthcare workers will increase and we have to work to reduce attrition and ramp up recruitment efforts to bring in more local talents in nursing.
COVID-19 has shown us the resilience and big-heartedness of our healthcare workers. Let us not only appreciate them during a crisis but recognise them as our everyday heroes who push on in making the world shine that much brighter!