This is a blog post by NTUC Assistant Secretary-General, Melvin Yong. Any extracts should be attributed back to the author. 4 April 2020.
Since the onset of the COVID-19 pandemic, our hawkers have seen businesses impacted significantly, with some seeing a more than 50% drop. With the latest circuit breaker with stricter measures announced yesterday, to close most workplaces and tighten restrictions on the movements and gatherings of people, hawkers' earnings will take a further hit and will only get more serious if nothing is done.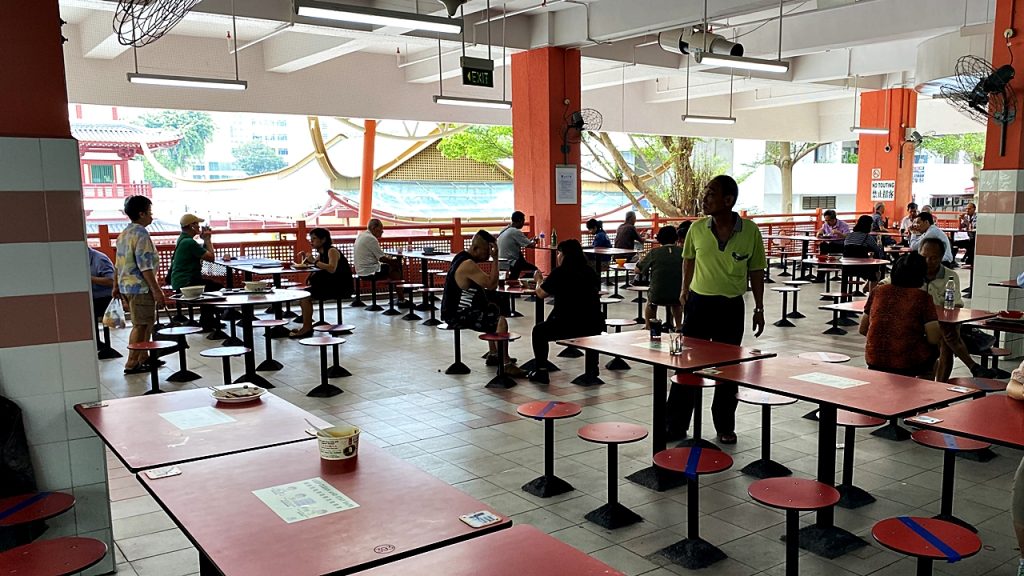 With over 13,500 hawkers in Singapore, the hawker culture is a beloved part of our social fabric. Therefore, we need to do more to help our hawkers survive this crisis and prepare for better days.
Beyond the short-term goal of survival, we should also turn this crisis into opportunity and provide hawkers with the tools to emerge with a stronger and more resilient business model.
To do so, we need the right combination of short-term and long-term measures.
Ensuring every hawker benefit
Hawkers that I've spoken to have welcomed the Government's announcement to extend rental waivers for three months under the $45B Resilience Budget. This will help to reduce business costs and provide hawkers with the much needed cashflow to keep them afloat during this difficult period.
However, with only 114 NEA-managed hawker centres in Singapore, not every hawker is able to enjoy such rental rebates easily.
Tsering Ng, a second-generation hawker, told me she was concerned that some non-NEA managed hawker centres have been slow in passing on the rental waivers announced in the Budget.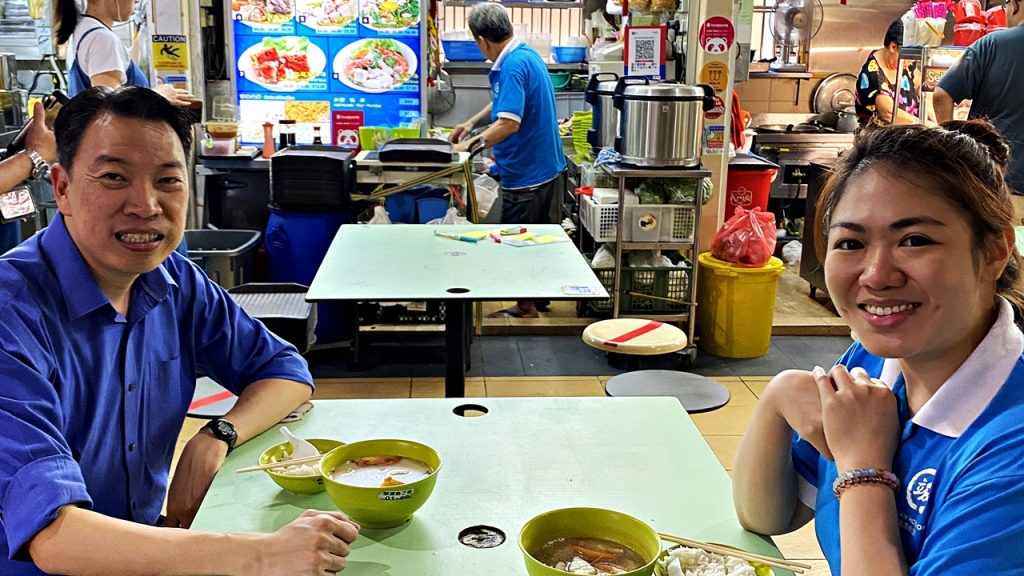 NTUC is aware that some stall owners and F&B businesses owners are facing difficult negotiations with their landlords. I hope the Government will take stronger measures to ensure that rental rebates are passed on to tenants.
But with COVID-19 potentially taking years to run its course, we need to look beyond short-term measures and focus also on how we can build a more resilient hawker culture in the long-term.
Forging a Digital 'Dabao' Movement
To help our hawkers overcome the economic challenges caused by COVID-19 and build a more resilient hawker industry, I urge hawkers, food delivery platforms, and the Government, to embrace the 'Dabao' (打包 – takeaway) Movement, which is what we should do in view of the latest safe distancing measures.
You can think of the 'Dabao' Movement as a dish with three key ingredients:
Hawkers embracing digital tools;
Food delivery platforms innovating their business model and fee structure; and
Government working with LM to curate and develop a structured SkillsFuture training programme for hawkers.
Ingredient 1 – Embracing digital tools – Food delivery platforms and E-payment methods
In the past, many hawkers have been resisting the adoption of new digital tools, such as food delivery platforms and e-payment options. However, these technologies can be the key to help them tide through the COVID-19 storm. This is especially so with the tightening of restrictions on gatherings of people in public places.
Mujidur Rahman, the stall owner of Syed Mee & Prata Place at Tekka Centre, is a good example of how the use of food delivery platforms has helped cushion the impact of COVID-19. His business has dropped by over 50% as less customers are eating out. Thankfully, he has signed up for various food delivery platforms, which helped to balance some of the drop in customer footfall.
Additionally, adopting e-payment platforms is another way to attract bargain-hungry customers, who make their purchase decisions based on promotions and deals.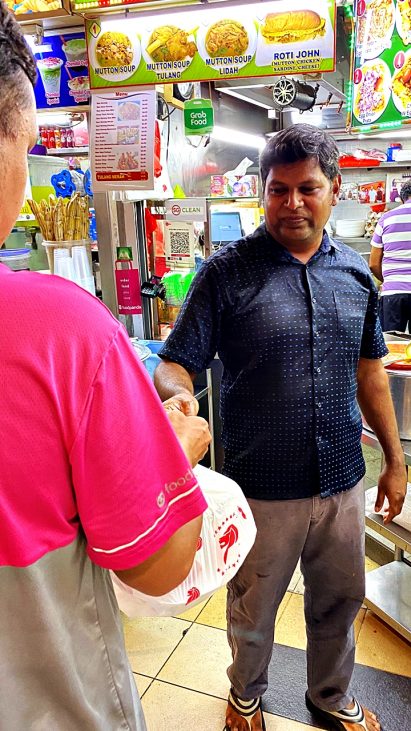 Adopting e-payment platforms is another way to attract bargain-hungry customers, who make their purchase decisions based on promotions and deals.
I encourage all hawkers to sign up for 'Nets', which has been appointed by the Government to unify the fragmented e-payment landscape. Through Nets, consumers can use up to 20 different payment schemes through its terminal and an all-in-one QR code. The best part? All the equipment will be leased to our hawkers at no charge for the first three years!  
Within my Moulmein-Cairnhill constituency, our grassroots leaders have brought Nets, Grab Food, and Food Panda together to engage and encourage hawkers to sign up for food delivery platforms and embrace e-payment methods.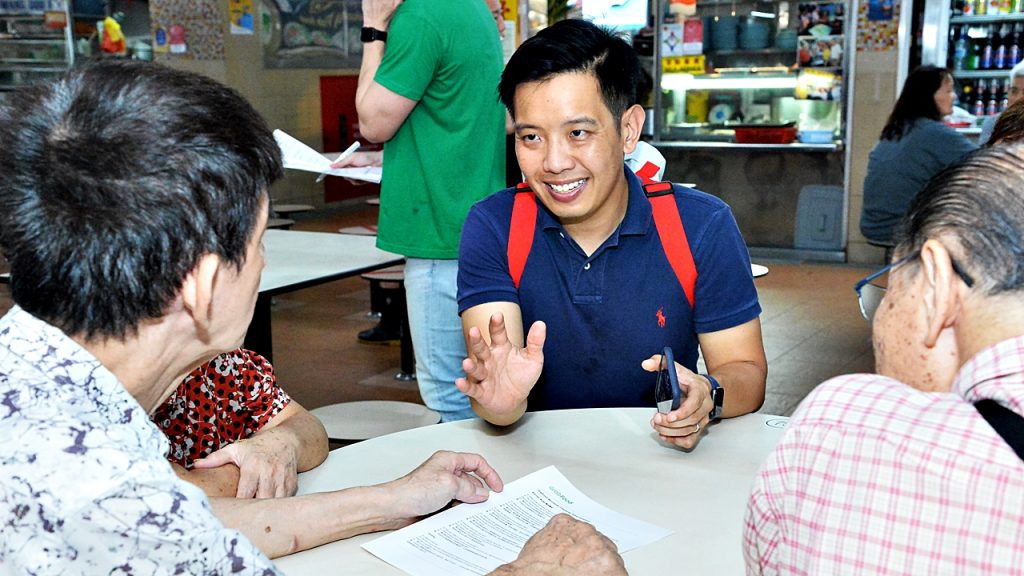 Ingredient 2 – Innovating business model of food delivery platforms
With an increased reliance on food delivery platforms, there is a need for platform owners to relook their commission fees as the fees levied are too exorbitant for hawkers.  
Food delivery companies typically levy about 30% and more in commission fees. During my engagement sessions, many hawkers have feedback to me that this is too high. In some cases, the commission fees exceed the hawker's profit margins!
Therefore, I call on all food delivery platforms to review and lower your commission fees, especially during such unprecedented times.
A lower fee can encourage more hawkers to come on board, providing wider food choices for consumers and encouraging them to order online. More hawkers, more choices, more orders!
To further offset the reduced commission fees, food delivery platforms should look at innovating their existing business models. They can perhaps take a leaf out of Melvin Chew's book.
Melvin is a second-generation hawker who runs Jin Ji Teochew Braised Duck & Kway Chap. To combat the drop in walk-in customers, he started his own delivery service on social media. To encourage more deliveries, he also took drink orders from customers and bought it from neighbouring stalls – helping not only his customers but also his fellow hawkers!
Food delivery platforms should consider ways to replicate Melvin's idea and innovate beyond single store orders. They could 'cluster' orders within a single hawker centre, or even within a pre-defined neighbourhood town.
Alternatively, platforms could provide a bundled meal concept and include drinks in hawker orders. By allowing their consumers to purchase orders from more than just one stall, we can benefit low-margin stalls, such as those selling drinks and desserts, which were previously excluded from food delivery.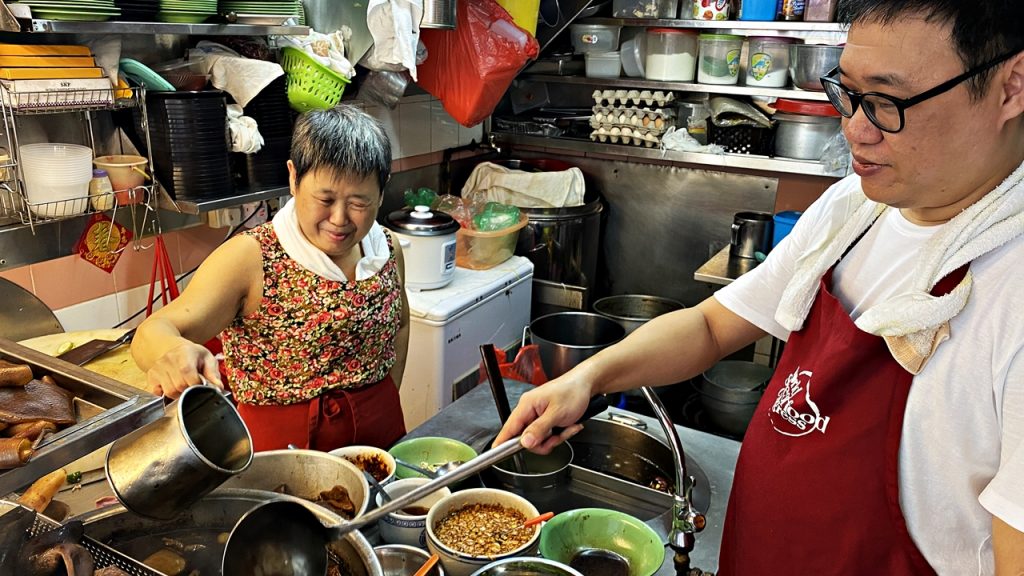 Ingredient 3 – Government and LM working together: Becoming Hawker 4.0
The final 'ingredient' in the 'Dabao' Movement is to provide a structured training framework, supported by SkillsFuture, to transform our hawkers into Hawker 4.0.
For our hawkers to fully utlise food delivery and e-payments platforms, there is a need to equip them with skills such as taking good food photos, writing proper menu descriptions and learning the basics of digital marketing.
I hope NEA can expand its Hawker Development Programme, beyond its current focus on providing culinary and business management to equip older hawkers with such basic marketing skills.
Within my own Moulmein-Cairnhill constituency, various companies have graciously stepped forward to volunteer their time to help our local hawkers.
Alicia from Pout and Chow, a professional food stylist, will be volunteering her time to share her experience in styling their dishes for camera. LAYERS, a production house, will be introducing hawkers to basic photography and lighting techniques, teaching them how to take attractive images of their dishes using just their phone cameras. Lastly, Happy Marketer, a digital marketing company, will be teaching basic digital marketing to our hawkers and guide them in creating their own Facebook pages.
I am heartened that many hawkers, young and old, are willing to embrace new ways of doing business to combat the slow-down in business.
Hawkers – the fabric of our food nation
Singapore is a nation of foodies and we cannot and will not let our hawkers fend for themselves during this COVID-19 pandemic.
Collectively, we can help our beloved hawkers; diversify their customer base through food delivery and e-payment platforms, reduce cost through the lowering of delivery commission fees and provide them with the right training to take their businesses further using digital tools.
While we take precautionary measures to keep ourselves and our family safe, let us not forget our hawkers who are struggling during this period and unite as one nation to 'Dabao' together. As Prime Minister Lee Hsien Loong mentioned yesterday "if any country can see this through, it is Singapore"
So, which hawker will you be dabao'ing from today? 🙂