Yes, the price of infant milk formula has increased. And yes, many parents of infants have given feedback that it is getting too expensive. "No choice lah, my baby needs to be fed." These words are all too familiar when we speak to parents who lug tins of milk formula out of shops and supermarkets month in month out, no matter the price. I don't blame them, it's their baby's staple. But why exactly are prices going up? There seem to be two main reasons.
All infant milk formula brands in Singapore must go through strict regulations and quality control by the Sale of Infant Foods Ethics Committee Singapore (SIFECS). So before the tins are available on shelves at your nearby supermarket, manufacturers must ensure the way labels on the tin are presented and packaged comply with these regulations. The milk formula is also tested to ensure it meets safety and quality standards.
On the manufacturing front, companies will constantly try to improve their products. With increased costs of research and development, as well as marketing expenses, an increase in the price of milk formula will undoubtedly follow.
So until these things are sorted out, milk formula prices are likely to remain high. Click to enlarge visual!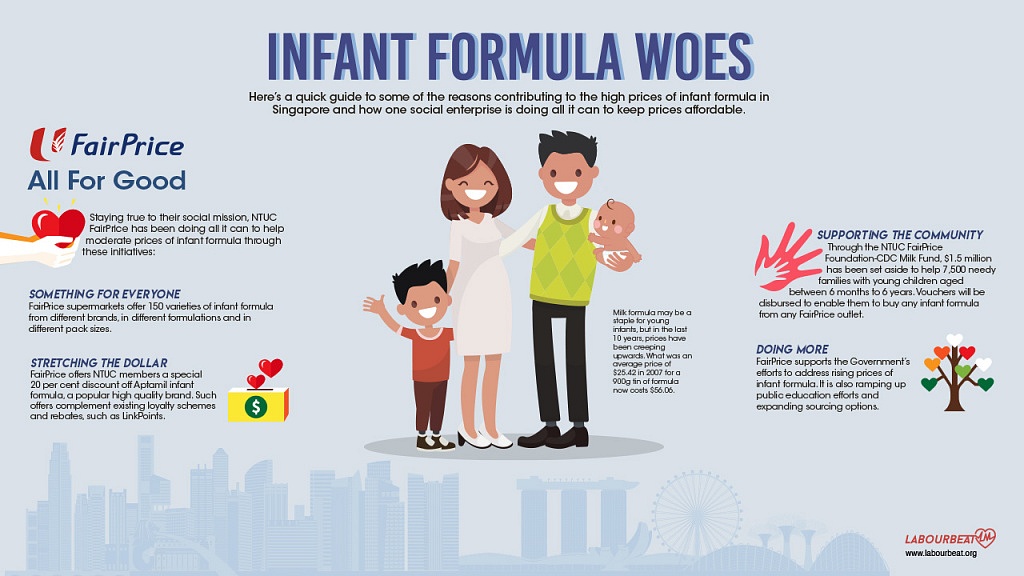 Affecting Families I imagine everyone is aware of who the price hikes in infant formula will affect the most – parents from low-income families. In a bid to alleviate their financial burden, NTUC FairPrice launched the NTUC FairPrice Foundation-CDC Milk Fund earlier this year. The new $1.5 million fund aims to help 7,500 needy families with children aged 6 months to 6 years. Parents with children between the ages of 6 months to 3 years – where the child depends on milk formula the most – will get vouchers worth $200, while those with children aged between 3 and 6 years old will get vouchers worth $100. Affordable Quality FairPrice also presents parents with more options. It offers 150 varieties of infant formula from different brands, formulations and pack sizes ranging from $30 to slightly over $100 per tin so there should be something to suit parents with different budgets and preferences. All parents want the best for their child. But given so many choices, it would be good if you understand exactly what your child needs, and compare like-for-like infant formula to avoid paying for more than what you actually need. While you don't want to compromise high quality for price, I'm sure you wouldn't want to end up paying for unnecessary items in the formula. Meanwhile, FairPrice is giving all union members a 20 per cent discount for the 900g Aptamil Gold+ Follow-on Formula Stage 2, Stage 3 and Stage 4. According to FairPrice, it specially sourced the high-quality range of Aptamil and brought it to its stores in 2016.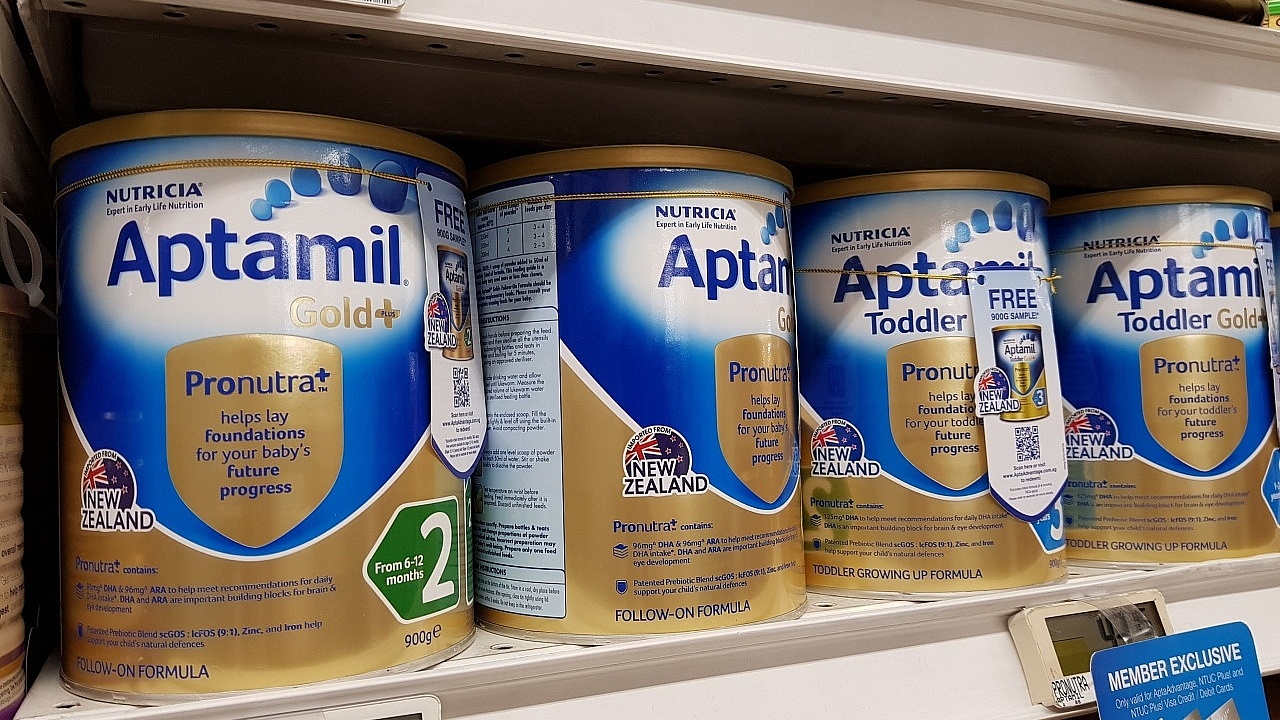 Imported from New Zealand, a country known for its pollution-free environment, lush green pastures and high-standards of milk production, parents are assured of feeding their infants with high quality infant formula by giving them Aptamil. Aptamil is currently the number one selling brand in countries like the United Kingdom, Germany, Ireland, Netherlands, Poland and Belgium. With its parent company, Nutricia, having over 50 years of research in the field under their belt, it's not hard to imagine why. So without further ado, here's a quick comparison of the prices before and after the discounts:
| Product |  Usual Price (with GST) |  Member Price (with GST) |  Members' Savings |
| --- | --- | --- | --- |
| Aptamil Gold+ Follow-on Formula Stage 2 900g |  $54.00 |  $43.20 | 20% |
|  Aptamil HA Gold+ Follow-on Formula Stage 2 900g |  $54.60 |  $43.70 | 20% |
|  Aptamil Gold+ Toddler Stage 3 900g |  $43.15 |  $34.50 | 20% |
|  Aptamil Gold+ Junior Stage 4 900g |  $37.50 |  $30.00 | 20% |
  If you happen to be an AptaAdvantage Programme member, you will also get to have 20 per cent slashed off the original price. Government and Retailers' Role Although these initiatives by FairPrice present a form of short-term relief, how will parents cope with the price hike in the long-term? This issue was raised in parliament on 8 May, and the Ministry of Trade and Industry (MTI) responded by stating that it shares the same concerns as parents and are currently monitoring the situation. MTI also said that if the Competition Commission of Singapore finds any evidence of companies working together to increase prices, they will not hesitate to investigate the anti-competitive behaviour under the Competition Act. And as we've found out on 10 May, the Agri-Food and Veterinary Authority (AVA) has come out to state that it will soon implement new regulations to not allow formula milk manufacturers to use nutrition and health claims on their labels as they may be misleading. This also includes not allowing them to use images on packaging to make milk formula look attractive. The SIFECS will also review its code of ethics to extend advertising and marketing restrictions on milk formula for infants below 6 months to up to 12 months of age. Hopefully, these will help parents make a better decision before purchasing a particular brand of milk formula. Let's just say that they wouldn't be too pleased to buy milk formula thinking that it helps with IQ only to find out it stands for Intestinal Quality rather than Intelligence Quotient now, would they? As a retailer, FairPrice has announced its support of the Government's efforts and will ramp up efforts on public education to choose infant formula and expand sourcing options to provide even more value for money options. This will complement the 150 varieties of infant milk formula FairPrice offers. FairPrice has also said that more initiatives are in store for parents. Well, I'm sure parents will welcome all the help they can get to cope with the cost of living, and if you're as curious as I am to find out what these initiatives are, watch this space for the updates.