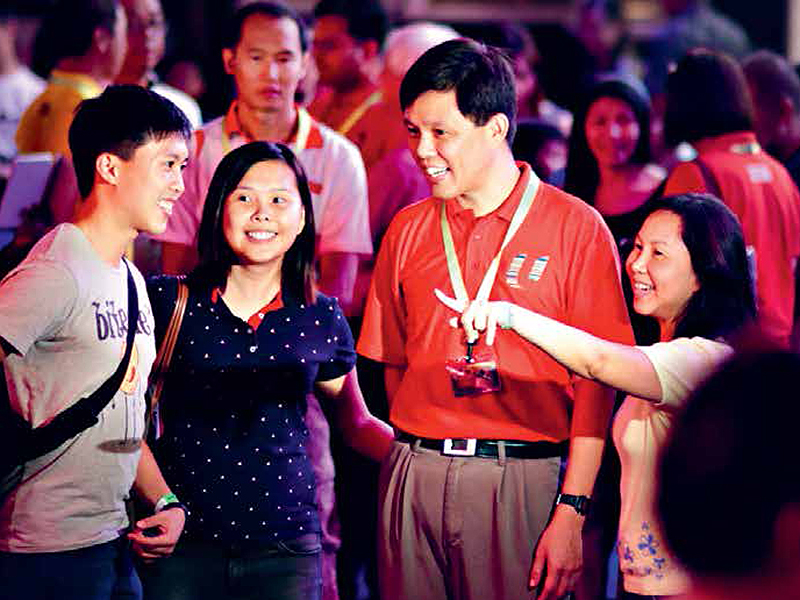 NTUC's priority is to continue to ensure that the tripartite relationship with its partners is strengthened in order for Singapore to have a unique advantage to compete with other economies in the world during difficult economic times. Doing so will allow the nation to bring in better jobs and wages for workers during both good and bad times.
This was said on 2 May 2015 by the then-NTUC Deputy Secretary-General Chan Chun Sing at the sidelines of the May Day Fiesta held at Universal Studios Singapore. He assumed the role of NTUC Secretary-General (SG) on 4 May 2015.
A strong tripartite relationship between NTUC, the Government and employers has enabled ordinary Singaporean workers to come together to achieve extraordinary results for themselves, their families and their country, said SG Chan.
"Without a strong, cohesive tripartite relationship and leadership, it will be difficult to achieve what we can as a nation. All of us might be individually strong, and we might be striving and working very hard for ourselves and our families, but at the end of the day, if we are not able to work together, we will be no more competitive than many other countries," he explained.
 Quality Jobs
SG Chan also said that NTUC is also concerned about the creation of quality jobs.
"We not only want Singaporeans to have jobs; we also want Singaporeans to have good quality jobs where they can upgrade and earn better wages to better care for their families," he said.
NTUC is currently monitoring long-term trends of not only the number of jobs created, but also their quality and types.
"We want our workers, especially the older workers to have the chance to upgrade themselves and also [provide] opportunities for younger workers to fulfil their potential," said SG Chan.
He added that NTUC will continue to work with the relevant economic agencies to realise these aims.
"Without a strong, cohesive tripartite relationship and leadership, it will be difficult to achieve what we can as a nation. All of us might be individually strong, and we might be striving and working very hard for ourselves and our families, but at the end of the day, if we are not able to work together, we will be no more competitive than many other countries."

NTUC Secretary-General Chan Chun Sing