Kobe Founder and Director Evangeline Leong, 32, has seen since several waves of change in digital marketing since she started the company in 2008, a time when many companies still contemplated the need for a professional corporate website.
Search advertising gain traction years later after websites became the norm and companies started looking at driving traffic there. By 2011, social media was everywhere – marketers flocked to invest in display and post advertisements on various social platforms to build their brands' fan base.
According to Evangeline, today it is all about engaging content, as audiences become desensitized to hard-selling. That is the ethos behind her agency, which seeks to meet marketing goals through social media influencers.
"They create content on social media that are pushed to their followers and all the other channels. It really helps businesses that don't know how to create content or don't have the budget to create video commercials and so on. It's authentic and generates word-of-mouth," explained Evangeline.
Weeding out Bad Decisions with AI
Kobe has over 4000 influencers in its database. To help advertisers select the best influencers based on reach, resonance and relevance, Kobe developed an artificial intelligence (AI) engine.
Kobe's engine, equipped with image recognition and natural language processing, crawls through millions of data on influencers' social media accounts. It is regularly updated to meet changing needs, and social media features.
Based on the analysis, the engine provides a break-down of an influencer's audience by gender, interests and location, as well as its performance forecast and credibility and engagement ratings.
"Rather than checking the profiles and contacting the influencers manually, now you can know with just one click. You get a lot more time to do value-adding, creative work. Also, different people have different opinions on each influencer. When you use AI, there's objectivity and accuracy," said Evangeline.
Since inception, Kobe has executed targeted campaigns for some 160 clients using the engine, which is currently patent pending.
For example, it was able to find influencers with eczema to review a skincare product, and artistic coffee lovers to create "instagrammable" coffee art for a coffee powder brand. Notably, the cash vending machine publicity stunt by telco Circles.Life in February 2018, which Kobe had engaged students in the town area to promote, gathered so much crowd that the police had to cut it short.
Despite the successes, Evangeline cautioned: "When marketers don't have sufficient knowledge about content, they will be making a lot of expensive mistakes such as trusting a vendor that over-guarantees and jumping on the wrong trends. You may invite backlash and hurt your brand image too."
Tips for Aspiring Marketers
Kobe's 20-strong team comprises sales, operations, marketing, and software departments. If there is one thing that Evangeline looks for in her staff, it is empathy.
She added: "Marketing is a lot of art. You need to understand what other people think."
While half of Kobe's team are fresh graduates, they are trained on the job and through internal lessons and talks that the company organises every quarter.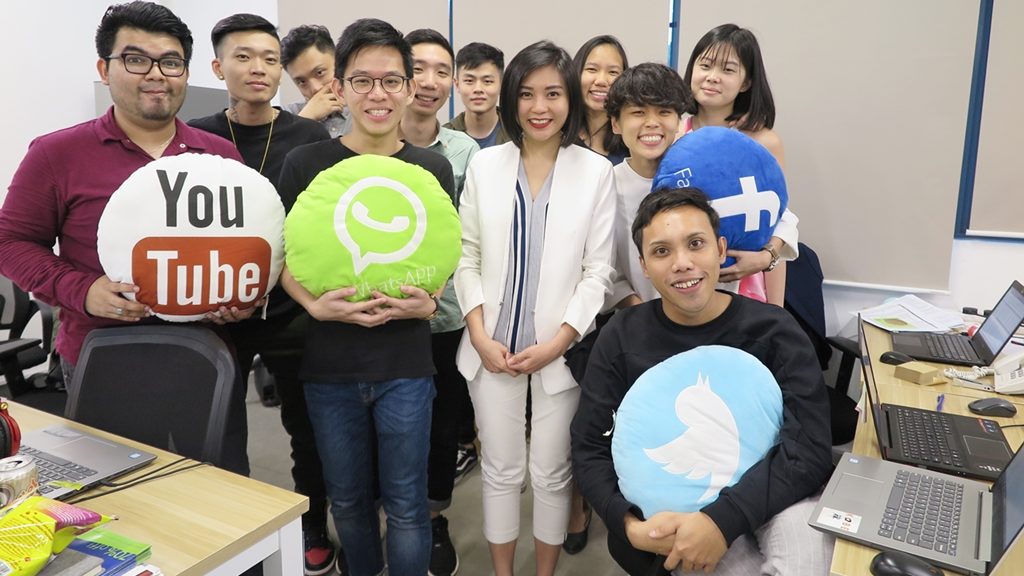 For new or aspiring marketers, Evangeline has these to share:
Formats will continue to change
"Sharing on social media used to be based on historic content, activities that happened days or weeks ago. For a time, a lot of posts were about what happened yesterday, your throwbacks on Instagram. Then, it became sharing about what happened today on platforms like Dayre. Then, with Insta-Stories and Facebook Live, we are sharing what is happening now.
"We have seen a content shift from words to images to video, because our attention span is getting lower. Things are happening rapidly. We digest content faster and are getting more impatient. Live streaming is potentially the next trend."
"The merger of online and offline marketing is still in progress. The real difference between the two is measurability. Online gave people reports and numbers, but they sometimes set the wrong expectations.
"Marketers sometimes wonder why there's one million eyeballs, but they only sell two products. You need to combine with other things such as storytelling and targeting the right channels. Not understanding and interpreting the numbers can be a pitfall."
"Now, digital marketing is so multi-dimensional. Consumers are at several touchpoints. A good digital marketer needs to study them and strategise where to put the right message in the right context. I have a lot of clients that ask me which platform is better. That question itself is very telling that it is a very wrong mindset. It should be about where is your customer at."
"Unfortunately, digital marketing is a double-edged sword. Last time it was very one-directional. You didn't have to worry about backlash, but the downside was that you never knew what you did wrong and where to improve. Because of social media, there is an introduction of this mechanism called feedback.
"Brands have got no choice but to walk the talk. Marketers have to believe in the brand and product they are selling, or they risk exposure. I think it makes the world a better place."