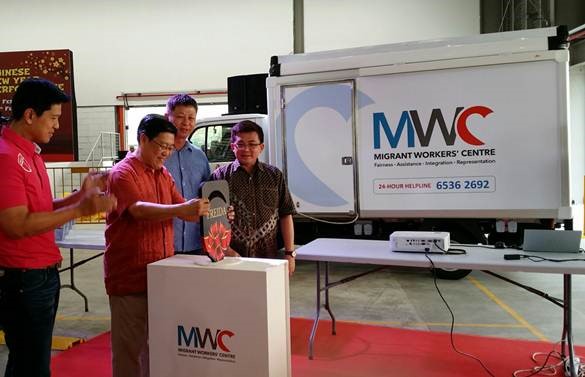 The Migrant Workers' Centre (MWC) unveiled its latest initiative in looking out for the interests of foreign workers –the Forward Response, Engagement & Intel Deployment Asset or FREIDA.
The unveiling of the mobile office took place amidst Lunar New Year celebrations at the Penjuru Migrant Workers' Recreation Centre on 22 February 2015 in the presence of some 5000 foreign workers from surrounding dormitories.
Strengthening Outreach
Speaking at the launch, MWC's Chairman and NTUC Assistant Secretary-General Yeo Guat Kwang stated that "with the mobile office, MWC can operate in more than just two physical locations … will now be able to reach out to migrant workers who are housed in smaller housing arrangements… and in less accessible locations."
Mr Yeo said that MWC's 24-hour hotline is getting increasingly popular with the Migrant Worker population, with calls ranging from 30 to 40 a day – a considerable hike from 20 mid last year.
The automobile will serve as a mobile presence and a visual cue for both workers and management, offering the former a reminder of help and assistance and the latter a reminder to keep with the standards in place.
Mobile Capability
FREIDA is a retrofitted Nissan Cabstar manned by two staff members, with all the gadgets and equipment in a physical office.
The initiative also aims to aid early detection of and intervention in any unfair treatment faced by workers. Conversion of the automobile into a forward centre of operations and its immediate deployment to remedy large-scale grievances can also now be realised with FREIDA.
"My friends and I think it is a very good idea as before, we would have had to travel a long distance every time we had problems to bring to attention, now, it is just there for us to go to," said Bangladeshi national Mr Shapkur Rahman, 42, a construction worker.
Quick Look
Migrant Workers' Centre Contact:
MWC Serangoon (Headquarters)
579 Serangoon Road
MWC Geylang
82 Geylang Lorong 23 #01-06 Atrix Building
Opening hours: Tues to Fri (9am-7pm);
Sat & Sun (11am-3pm)
MWC 24-Hour Hotline: 6536 2692
(Source: NTUC This Week – Original online article can be found here)