Additional Reporting by Jonathan Tan
When we first shared the news of Pasir Ris Central Hawker Centre's opening on 25 January 2017, we mentioned the 42 different hawker stalls serving up everything from local favourites to trendy, hipster fare.
As an excuse to mix work with pleasure, we dropped by recently to get a first-hand taste and to feel if the vibe on the much-hyped Fareground on the second-floor was as cool as it was made out to be.
Here are some highlights from having dinner at the new NTUC Foodfare-managed hawker centre.
Your Local Favourites Under One Roof
From classic favourites like soup tulang (mutton bone marrow soup), roti prata and satay to wanton mee, sliced fish soup, hokkien mee and economy rice from Rice Garden, diners who love their hawker fare will find their favourites at the first floor of the hawker centre.
Prices have also been kept low with each stall offering at least two 'Budget Meal' options, such as the $2.80 carrot cake.
Vibrant Fareground
With high tables and chairs, an eclectic selection of furniture and design fixtures and pop-art styling elements, Fareground on the second floor is redefining the notion of the dull and grimy hawker centre dotting many spots in Singapore. With views of Pasir Ris Park, the naturally breezy location buzzes with vibrancy when the crowds descend at mealtimes, leading to queues at many of the stalls operated by young hawkers.
Trendy Cuisines That Don't Break the Bank
With stalls serving Thai boat noodles, spicy hotpot, Korean bingsu (a shaved ice dessert), stew, burgers and even ramen-inspired prawn noodles, foodies will be spoilt for choice at the sheer range of offerings.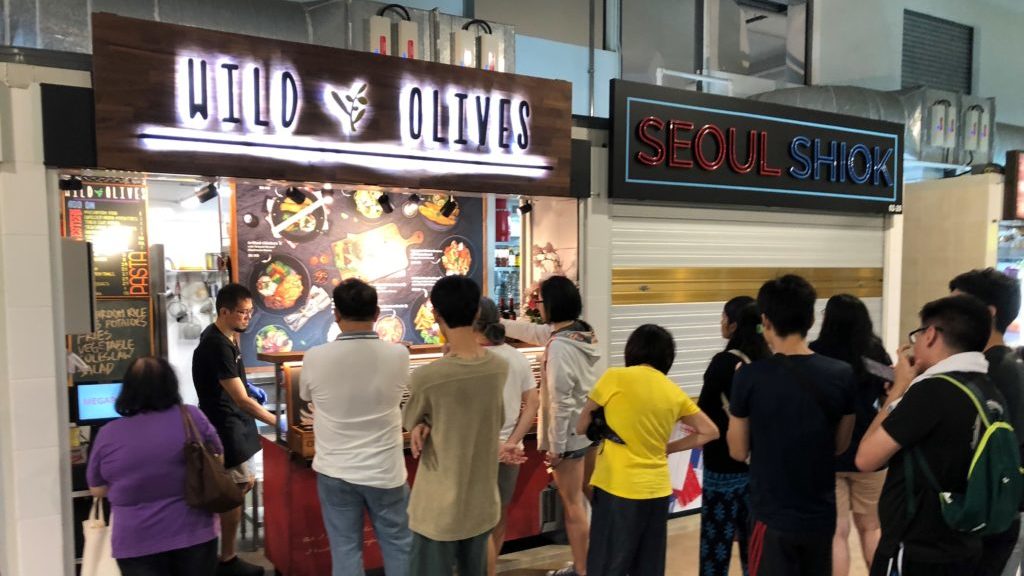 Prices also won't leave a hole in your pocket as our delicious serving of a wagyu beef rice bowl topped with vegetables and an onsen egg from Tasty Street set us back by $6.50.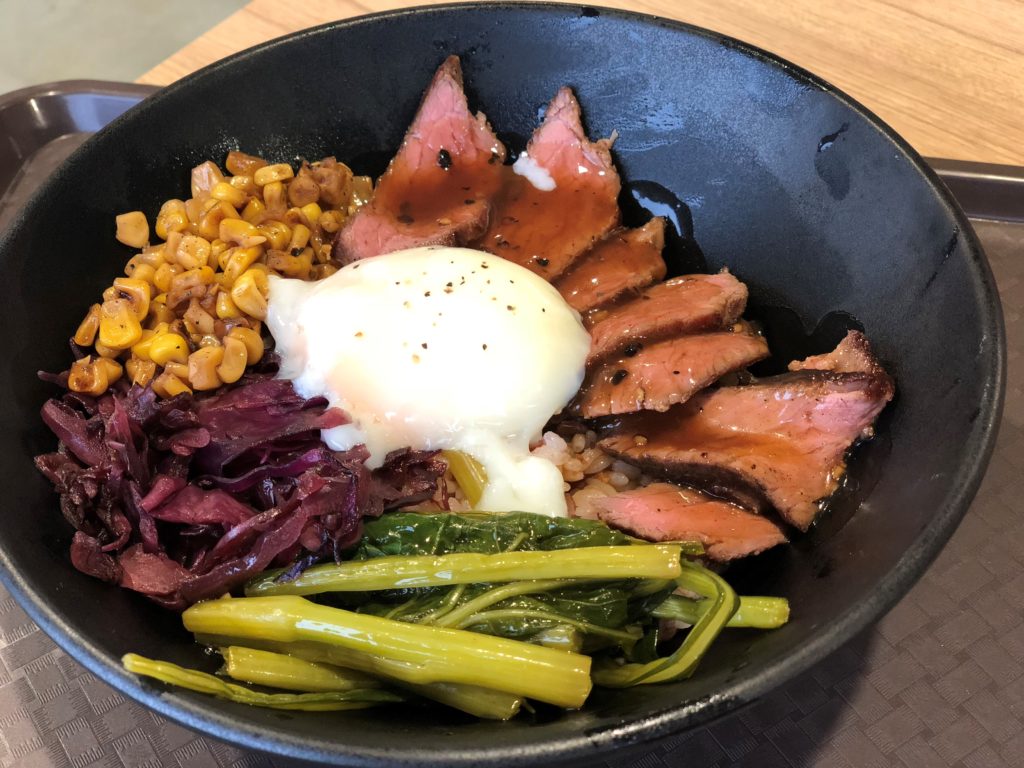 Lower calorie options, with sous-vide cooked chicken breast, are also available for just $3.50. I found the meat tender, juicy and with just the right amount of char at the edges to tantalise my taste buds.
Halal Options
The hawker centre also offers halal options. In fact, apart from the usual Malay/Indian Muslim food found on level 1, they have a whole section of about five stalls at Fareground catering to halal fusion food you would typically find in a restaurant rather than a hawker centre. However, most of the halal booths at Fareground were not settled in yet.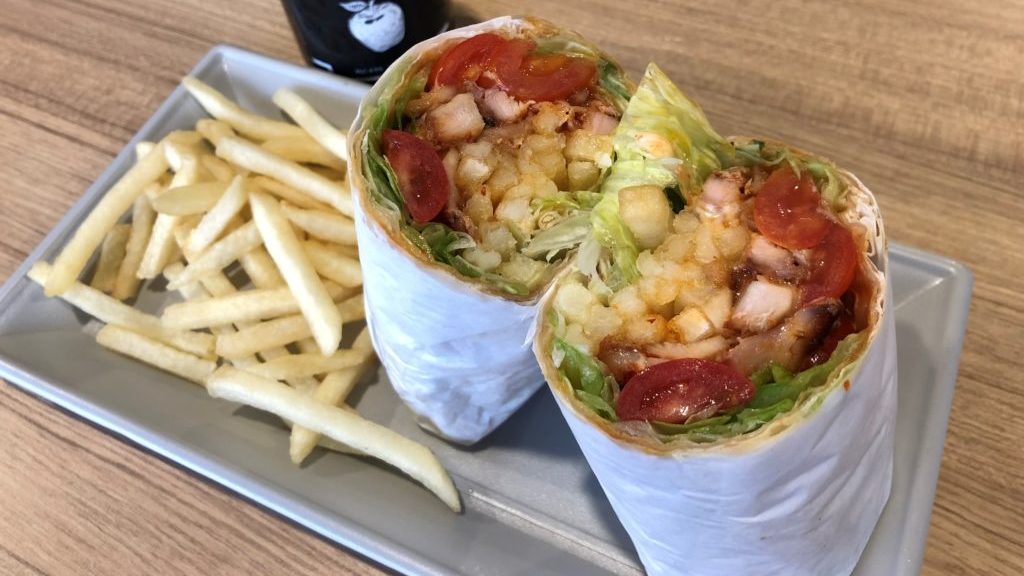 Given the limited choices we were faced with, we went for the kebab stall. The chicken kebab was affordable and cost less than $10, with fries. From the first bite, we could almost hear our taste buds thanking us for getting the meal. Honestly, we can't wait to see what other halal options are going to set up shop there.
Technology
And did you know that the hawker centre offers cashless payment when you purchase your meal? Just download the Foodfare app, and you can pay using the Plus! Card or Plus! Pay and even DBS PayLah!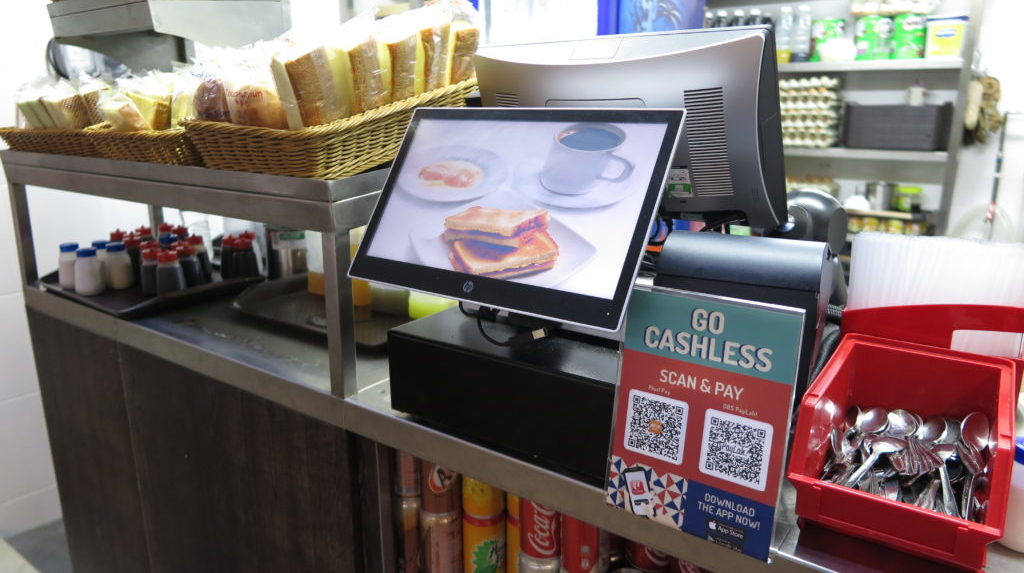 And thank goodness for that if you've forgotten to withdraw money because the nearest ATM is all the way at Pasir Ris MRT, across the road.
We also heard you will soon be able to order, pay and collect your food with just the app. That's innovative tech for the consumer!
We also found productivity initiatives such as the centralised dishwashing system. The tray collection point uses a conveyor belt that takes your used tray to the dishwasher, instead of having a worker to physically collect it from you.
Here's one of us trying it out:
http://https://youtu.be/J61JJnur6eI
Final thoughts: The food is great, affordable and the ambience is lovely. Would we go back to the hawker centre? Well, if we find ourselves in Pasir Ris again, it would be a wasted opportunity if we didn't.