When Thamarai Nagalinggam (above left) joined the early childhood care and education (ECCE) industry in 1988 at the age of 18, she was equipped only with a GCE O-level certificate.
Today, the 47-year-old has a Master's Degree in Early Childhood Education.
Besides her drive for skills upgrading and lifelong learning, it is also her progressive employer NTUC My First School (MFS) that supported her to pursue her upskilling ambitions.
Rai, as she is better known as, joined MFS in 1996 and climbed through the ranks as a teacher and principal. She is now a senior cluster quality manager.
For her passion and dedication to the ECCE industry and her drive for learning, Rai was awarded the SkillsFuture Fellowships by Singapore President Halimah Yacob on 31 July 2018 at the InterContinental Hotel.
Commitment to Learning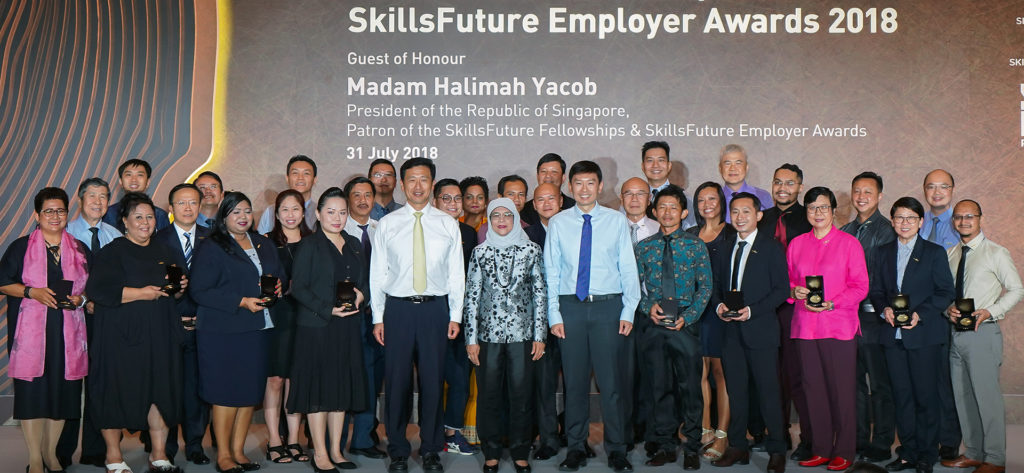 Rai was among a total of 29 Singaporeans who were awarded the fellowship. The fellowships recognise individuals' skills mastery in individual's respective field and commitment to mentorship and skills development of others.
Each of them received a monetary award of $10,000 to support them in their continued learning.

Some 27 companies – both small- and medium-sized enterprises (SMEs) and large companies – also received the SkillsFuture Employer Awards. The number of employers awarded is 13 more compared to last year's event.
They were awarded for their exemplary way of championing workers' skills development and for building a culture of lifelong learning.
Skills for the Future
The awards ceremony was also attended by Education Minister Ong Ye Kung and Senior Minister of State for Education Chee Hong Tat.
Mr Chee shared that as of 30 May 2018, over 11,000 individuals have participated in the SkillsFuture Series that was launched in October last year.
He added: "We will build on this initial momentum and bring in other partners, including employers and unions, to work together to expand the range of courses. This tripartite, whole-of-nation approach will be a key focus for the next phase of our SkillsFuture journey."
More employers are also being assisted in equipping their employees with the right mindset and skills to embrace new market trends and technologies.
The SkillsFuture for Digital Workplace, which was launched in October 2017 as well, has benefited over 12,000 Singaporeans as of June 2018.
Mr Chee added: "We also want to work with leading employers to provide training, not only for their own employees but for the industry as a whole."
As for Rai, she is not done yet with learning despite her master's degree. With the $10,000 award, she plans to take on courses such as how to work with different people with different perspectives.
She said: "I want to go further and understand the psychology behind people's thinking by observing people's body language.
"We may think we understand people very well, but that may not be true. How you perceive people, and how you think people perceive you, is different."
With her plans, she hopes to be a more sensitive, nurturing and better leader.
She also plans to attend learning journeys overseas to learn from other schools, to bring back and apply the best practices for her organisation.