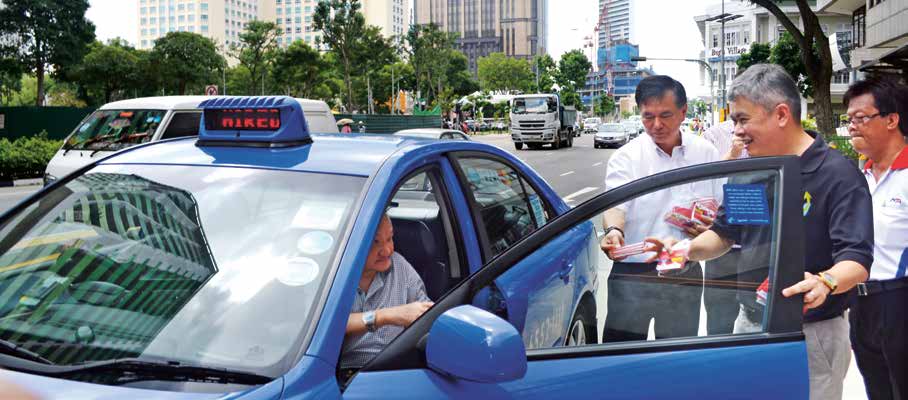 Jenny Hu is not alone when it comes to members of the public who are unaware of where taxis are allowed to pick up and drop off passengers.
An afternoon on a weekday at Fu Lu Shou Complex saw many taxis stopping for passengers next to the bus stop in front of the complex, despite the Land Transport Authority's (LTA) implementation of Closed Circuit Television (CCTV) cameras around the island to curb illegal parking and improve traffic conditions.
Promoting Awareness
The National Taxi Association (NTA) is looking to promote safety awareness practices for pick-ups and drop-offs among both taxi drivers and passengers.
Launched on 17 April 2015, the first of a series of campaigns saw taxi leaders led by NTUC Assistant Secretary-General (ASG) and NTA Executive Advisor Ang Hin Kee distributing 10,000 packets of tissue paper with printed information on how to safely hail a taxi or drop-off from one.
Taxi drivers caught flouting the rules will receive summons of up to $300 and three demerit points, with continued offences potentially leading to suspension of driving licences.
ASG Ang pointed out that drivers usually get caught waiting for call-booking commuters or if commuters take a longer time when they make cashless payments.
He said: "Many of us (taxi drivers) try our best to pick-up or drop-off passengers at locations that are of convenience to passengers. We try to explain why we cannot pick-up or drop-off passengers at various locations, such as CCTV camera-controlled areas, but it will definitely be very helpful if more people are aware of these regulations."
Moving Forward
ASG Ang also highlighted some of NTA's plans for future campaigns. Hotspots such as polyclinics and shopping malls, including the Orchard Road area, will be targetted.
NTA will also advise LTA to install taxi stands where there are higher instances of illegal parking. The union will also look into speaking to third-party taxi booking apps like Uber and Hailo to urge users to move to a safer pick-up point if they are within a CCTV camera zone.
The first campaign has been a success so far, with more passengers like Jenny becoming more aware of the rules.
"Drivers sometimes tell me they are unable to drop me off where I want to. I understand their situation, that they're earning a living and that these penalties will affect them. In future, I will no longer hail a taxi from these areas," she said.