In a local spin, fairytale classic Little Red Riding Hood turns into Merah's quest to rescue her grandmother, who's held captive at the Malay Heritage Centre. The key to completion involves a barter trade with the Big Bad Wolf, producing essential oils and sorting out traditional hats in the Malay culture.
This is the premise of a customised guided trail of Kampong Gelam designed by final-year Nanyang Academy of Fine Arts' (NAFA) Arts Management students for NTUC First Campus' My First Skool (MFS) pre-schoolers. This is just one of National Heritage Board's (NHB) partnerships with NAFA and MFS.
Earlier this year, NHB has started the Singapore's Little Treasures (SLT) programme to equip MFS' Mother Tongue Language (MTL) teachers with the skills and knowledge to conduct effective museum-based lessons.
Teaching the Teachers
Between June and August 2018, a selected group of 10 MFS' Malay teachers trained under the SLT, advancing the pre-school operator's goal of further developing their bilingualism programme and curriculum.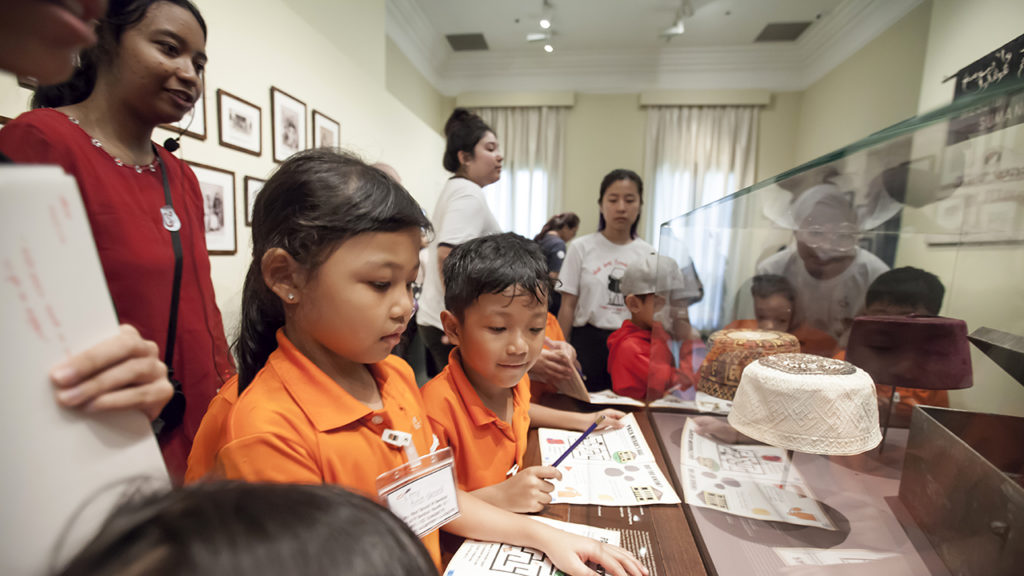 "The exhibits at the museums and heritage institutions will definitely augment their interest in mother tongue languages as they are more appreciative of their own cultural roots, and the rich and diverse cultures of Singapore. Going on trails to prominent landmarks in Singapore and being exposed to the sights and sounds immediately brings classroom learning to life for the children.
"Through the training, I've also learned new and creative methods to engage young children. The NHB trainers shared insights and examples on how to use various museum spaces meaningfully for heritage appreciation, exploration, and learning," shared Annisa Amin, one of the trainees.
As part of the training, the teachers designed lesson plans and resource kits with heritage themes, which were incorporated into the MFS Mother Tongue curriculum and made available to other MFS pre-school teachers as a guide.
Train-the-Trainer
Following a successful run, NHB signed a two-year Memorandum of Understanding with MFS on 27 October 2018 to formalise the partnership. To grow the programme, the trained teachers will be mentoring 20 mentee teachers.
MFS Cluster Quality Manager Rohayu Nabebe, who initiated the collaboration, added: "My First Skool is very keen to involve our Chinese and Tamil teachers to be part of the NHB and My First Skool's Singapore Little Treasure's Train-the-Trainer programme for them to reap the benefits that we had seen for our Malay Language teachers. This strategic collaboration with NHB is part of My First Skool's focus to strengthen educators' expertise and development of richer learning resources for the pre-school sector.
"A large part of the partnership gives attention to the professional development for our teachers. Besides learning methods to enrich learning experiences for the children, they also exchange good teaching ideas and practices with NHB's domain subject experts."