When Lim Kuanyi (above) started his job as a junior support engineer in an IT company last year, he never thought much about a few inconspicuous clauses he saw in his employment contract.
He did not have any reason to think the clauses would affect him in any way.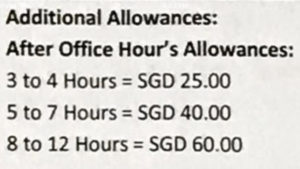 He was told he would not be required to do much overtime work. Thus, he paid little attention to this part of his employment contract.
Sadly, these clauses came to haunt him through a long-drawn-out process with his employer and the Ministry of Manpower.
Working Beyond Official Hours
His job started out fine but as the days went, he was given more projects to handle that required him to continue working on-site at clients' residences.
This caused him to work beyond official hours – to a point where he felt he should have been paid for it.
He was also not paid his overtime allowance as stipulated in his employment contract because he often only worked one to two hours of overtime per day. According to his employment contract, he can only claim his overtime allowance from the third hour onwards.
Kuanyi reckons he was not paid at least one to two hours of overtime work per week.
When he was browsing through the MyNTUC app (App Store and Google Play), he chanced upon the Workplace Advisory section.  He found out that he was covered under part IV of the Employment Act, and entitled to overtime salary as he was a non-workman earning up to $2,500.
Not only was he not being paid his "allowance", he also was not being paid overtime salary that he was entitled to.
Frustrated, he raised an enquiry through the app to NTUC. The enquiry was swiftly followed up by NTUC days later.
Disguised PMEs
Kuanyi's incident was one of those brought up by NTUC Assistant Secretary-General Patrick Tay in his blog post about disguised PMEs (professionals, managers and executives).
Mr Tay mentioned instances where rank-and-file workers earning below $2,500 a month have inflated job titles such as executives.
Despite the engineer title in his designation, Kuanyi is still entitled to overtime salary as stipulated in the Employment Act.
To make matters worse, Kuanyi was not the only one with this problem at work. He knew a few of other colleagues who were going through the same.
He explained: "Many of my colleagues decided not to bring it up for fear of their job security. They said, 'It's just one or two hours, we give and take.' But one to two hours is still a minimum of one day's owed salary every month."
Seeking Resolution
Besides numerous trips down to the Ministry of Manpower and the Tripartite Alliance for Dispute Management, Kuanyi has also had to make trips to the Central Provident Fund office.
He has since left the company. But now, he knows better and hopes more can be done so that workers are aware of their employment rights. His case is still ongoing.