This May Day in Singapore, some 1,600 leaders from the Government, Ministry of Manpower, National Trades Union Congress, Singapore National Employers Federation, unions as well as professional communities all stood together to sing a song as a pledge of their solidarity.
"In Singapore, our May Day tradition is for tripartite partners to come together for a Rally. It is peaceful; not an occasion to quarrel but to celebrate our shared successes, acknowledge our shared challenges and renew our shared commitment to progress together," described Second Minister for Manpower Josephine Teo at an event last Friday.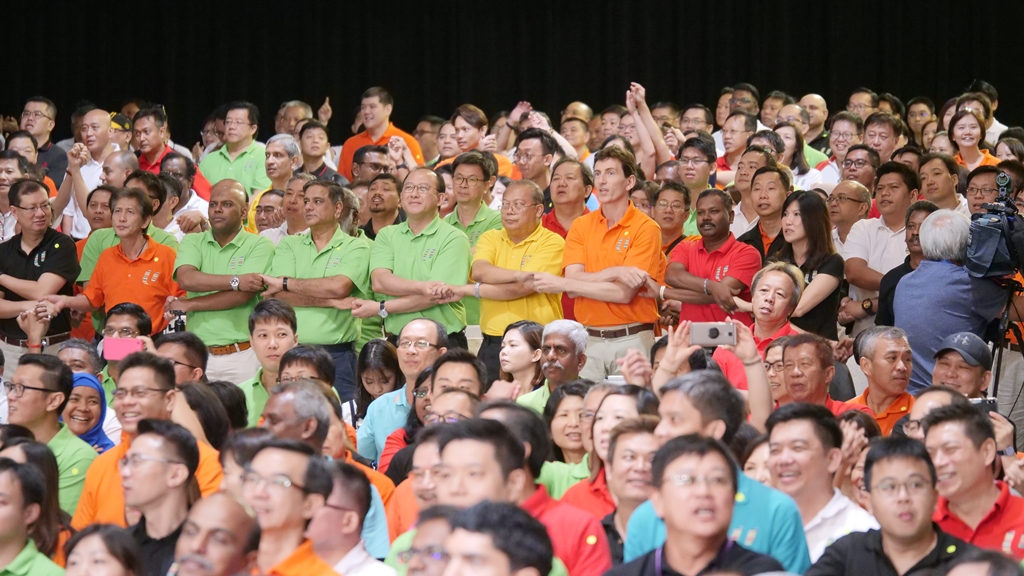 Born in conflict and still marked by protests in many parts of the world, May Day – known by some as Labour Day – has always been celebrated very differently in Singapore.
The longstanding peace amongst employers, workers and the Government is not something to be taken for granted.
Let us take a quick look at what went down on May Day in our neighbouring countries.
Hong Kong
Working hours are getting unreasonably long and employers are dipping into workers' pensions to cover other expenses. Fed up with all these, the Federation of Trade Unions in Hong Kong organised a march to government headquarters. Thousands of workers from more than 200 of its unions took part.
A few other groups also rallied separately on the issue of underpaid and mistreated migrant domestic workers.
Philippines
Outraged over Philippine President Rodrigo Duterte's broken campaign promise to weed out short-term employment contracts and errant employers who take advantage of them, thousands of protesters set a giant effigy of him outside his palace in Manila to make a statement. They also marched along the streets and waved red flags.
Myanmar
About 2000 workers took to the streets of Yangon with banners and loud hailers to make their voices heard.
Minimum wage raised earlier has not be approved by the Government. As living costs get out of hand, workers are calling for the minimum wage to be raised further still. They also called for the establishment of a worker's court, so there's an avenue for individuals to resolve labour disputes.
Cambodia
More than 100 police officers and security guards were reportedly present to control the scene caused by some 1,000 demonstrators in Phnom Penh.
The country's Trade Union Law has been drawing flak for seemingly curbing union activities. Minimum wage is insufficient and not applied beyond the garment sector.
Thailand
Workers from different unions held demonstrations across the country. Among the calls were raising of retirement age from 55 and protection against unfair dismissal for pregnant women.
Notably, some 70 members of General Motors (GM) Thailand Workers Union marched to the US Embassy in Bangkok to submit petitions to the US government and GM Company Head Office to raise the alleged unjust treatment of 116 GM Thailand's workers.
Singapore
So, why don't we see such commotion along our streets?
Thankfully, we have a structured channel for workers to escalate salary or employment disputes through the Tripartite Alliance for Dispute Management. Whether you are an employer or employee, there are mediation and advisory services available.
On the ground, there are also some 60 unions representing various sectors and worker segments to look after their welfare.
After knowing all these, one thing is for sure – we should count our blessings!