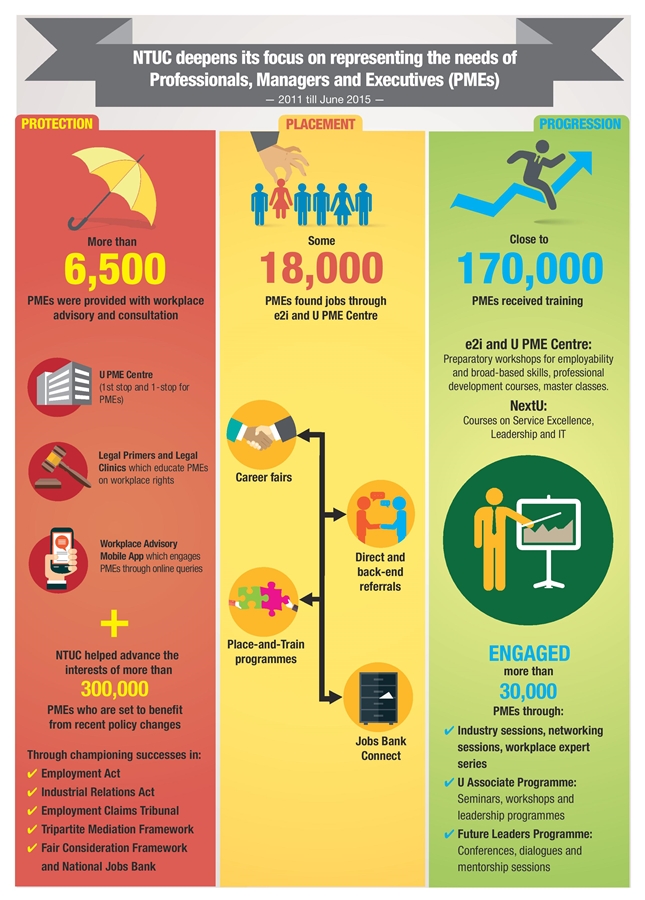 The Labour Movement announced on 29 July 2015 that it will set up a new NTUC Resource Group to work closely with unions to build up capabilities, and provide expertise and guidance towards recruiting, organising and engaging Professionals, Managers and Executives (PMEs).
The Resource Group will consist of 12 representatives from various NTUC departments such as the PME Unit, Industrial Relations Department, Membership Department and Legal Services Department. The group will be chaired by NTUC Assistant Secretary-General (ASG) and Director for PME Unit Patrick Tay and Membership Department Director Vivek Kumar.
The initiative will see more than 1,500 union leaders equipped with the necessary knowledge and know-how to better serve PMEs from next year.
ASG Tay said: "We recognise that PMEs at different career stages require different forms of assistance. In order to keep up to serve the PMEs well, our offerings have to be holistic."
IR Act: 100 Days Later
This comes as the Labour Movement marks 100 days after the Industrial Relations (IR) Act amendment took effect on 1 April 2015. The amendment was called for by the Labour Movement to allow rank-and-file unions to collectively bargain for PME members and represent them individually in the area of re-employment.
Currently, about 150 union branches from 20 unions have indicated that they have embarked on some form of expansion in the scope of PME representation, or have said that they are committed to do so.
Since 2014, the Labour Movement has conducted workshops and trained around 1,600 union leaders on organising PMEs.
Reaching Out To All
Present at the announcement was NTUC Secretary-General (SG) Chan Chun Sing, who reiterated the importance of reaching out to PMEs.
"The Labour Movement is about taking care of the working people. Working people do not only mean the blue-collared workers but also the white-collared workers. As our economy restructures, the increasing proportion in our workforce would be PMEs.
"It is also NTUC's responsibility to make sure that we take care of all these people [PMEs], including of course, the lower-income and blue-collared workers," said SG Chan.
The Labour Movement also released a report card on the numbers and ways PMEs were assisted since 2011 in areas such as protection, placement and progression.