It's been talked about for a while now that NTUC FairPrice will be revamping its online shopping platform to give customers a more intuitive shopping experience.
And… it's is finally here, with the official launch of a refreshed digital shopping portal called 'FairPrice On' on 28 March 2017 at the FairPrice Hub in Joo Koon.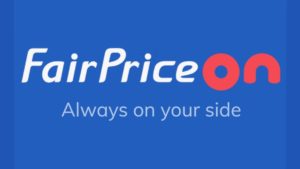 The key piece of 'news' for us avid online grocery shoppers is that we can shop and enjoy FairPrice's affordable prices through the FairPrice On online portal and mobile application. And thanks to enhancements to the system, browsing through a selection of 13,000 products, ranging from everyday essentials, groceries, fresh produce, personal care items and even electronics, has become even more intuitive.
The Shopping Test
Putting the new online and mobile platforms through its paces, we found the new interface a joy to browse, and a breeze to search for specific items. The payment process has also been streamlined with options for delivery timings. Deliveries now available 365 days a year.
FairPrice On also makes use of data analytics to share the most relevant promotions and offers to match your personal profile, interests and consumption habits.
Notable Details
To enjoy free delivery, customers need only spend over $59. Self-collection is also available for customers at 71 stores, dubbed Click&Collection outlets, when you spend over $29. Better still if you're a SCORE subscriber, you get to enjoy free deliveries once a month with no minimum spend.
For customers looking to make a difference by donating groceries, FairPrice On has partnered the National Council of Social Service to offer free delivery of purchased groceries to a list of 55 social service organisations, including Thye Hua Kwan Family Centres and Food from the Heart.
The Magic Behind the Scenes
Technology has been at the heart of FairPrice On, and with the use of a new online fulfillment system called AutoStore, productivity has increased by four times.
A high-density storage system, AutoStore makes use of robots to retrieve products that are stored in bins of customisable sizes. These are then delivered to FairPrice On staff who will prepare and pack them for delivery. There are over 20,000 customisable bins and 55 robots working simultaneously in the fulfillment centre.
Thanks to the unique goods-to-man system that complements the human pickers in the centre, FairPrice On will be able to handle up to 3,000 orders per day.
Highlighting FairPrice's efforts, Deputy Prime Minister Tharman Shanmugaratnam, who officiated the launch, underscored how FairPrice is an example of how a traditional business can use technology to transform themselves to be more productive and offer workers better quality jobs.
"FairPrice's journey is also reflective of Singapore's in the next phase of its development – which is about embracing technological change so as to maximise its benefits for everyone, but also keeping a watchful eye on how it impacts jobs and helping every individual adapt to change and do well," he said.
Watch the video below to see how it works.
Here's a closer look at the new features, in numbers.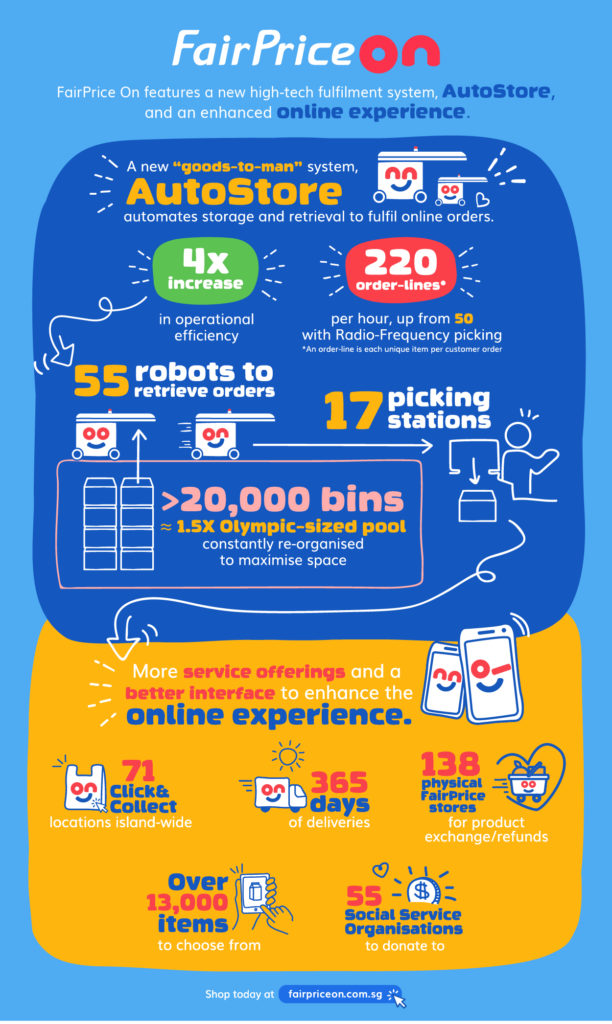 To sign up for FairPrice On and shop online, visit www.fairpriceon.com.sg. 
Download the FairPrice On mobile app on either the Apple App Store or Google Play.