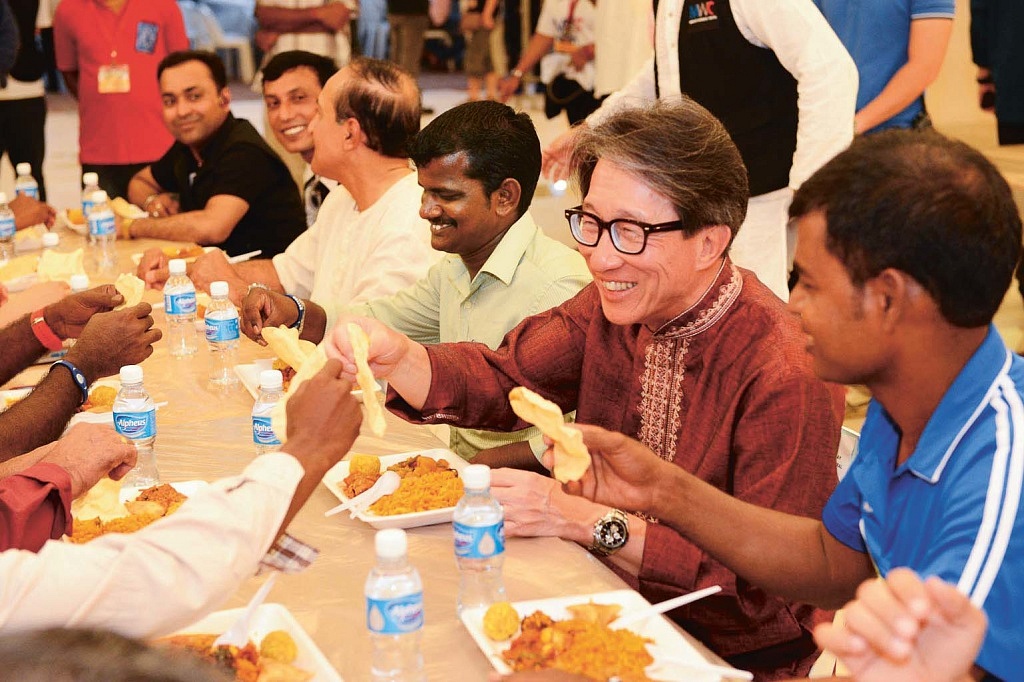 Many migrant workers' problems start way before they reach our shores. For some, the amount of money paid to agents and middle-men can be quite costly, while others come to Singapore without knowing the terms and conditions of their employment.
To curb this, the Migrant Workers Centre (MWC) produced a new pre-departure video which contains important work-related information such as workers' rights, illegal employment practices and local employment laws that will be screened to the workers prior to their arrival to Singapore.
The video was launched by NTUC Assistant Secretary-General (ASG) and MWC Chairman Yeo Guat Kwang at a Deepavali celebration at the Sri Srinivasa Perumal Temple on 26 October 2014.
At the event, jointly organised by MWC and the Hindu Endowments Board (HEB), Guest-of-Honour NTUC Secretary-General Lim Swee Say together with HEB Chairman Rangareddy Jayachandran and ASG Yeo served Indian vegetarian meals to almost 5,000 migrant workers.
TACKLING ROOT PROBLEM
ASG Yeo shared that the MWC is now targeting the root problem, which is the malpractices found in the workers' home countries.
"It is important now that we put in place this pre-departure video to let them understand more about what to expect when they come to Singapore," said ASG Yeo.
EDUCATIONAL VIDEO
The 15 minute pre-departure video was put together with the support of the Ministry of Manpower and will be produced in the workers' native languages of Tamil, Bengali and Mandarin.
The video will be made available in the home countries of workers at places such as the Construction Skills Testing Centre.
Here in Singapore, the video will be played at the workers' dormitories and on board buses that ferry workers to and from their dormitories and their work places.
(Source: NTUC This Week)