Keep these numbers in mind when you next ask for a plastic bag at the supermarket or straw to go with your soft drink at the fast-food outlet. Last year, about 164,500 tonnes of domestic waste disposed of were disposables like plastic bags and takeaway containers.
This amount is enough to fill 300 Olympic-sized swimming pools. According to the National Environment Agency (NEA), at this rate, land-scarce Singapore will need one landfill every 30 to 35 years.
A total of 59 companies and organisations covering 1,600 premises, reaching out to millions of consumers, took an active step to do their part for the environment with NEA's launch of Say YES to Waste Less nation-wide campaign in June this year. These partners comprise major food-beverage establishments, malls and retail chains, e-tailers, supermarkets, hotels, educational institutions, Community Development Councils and NGOs.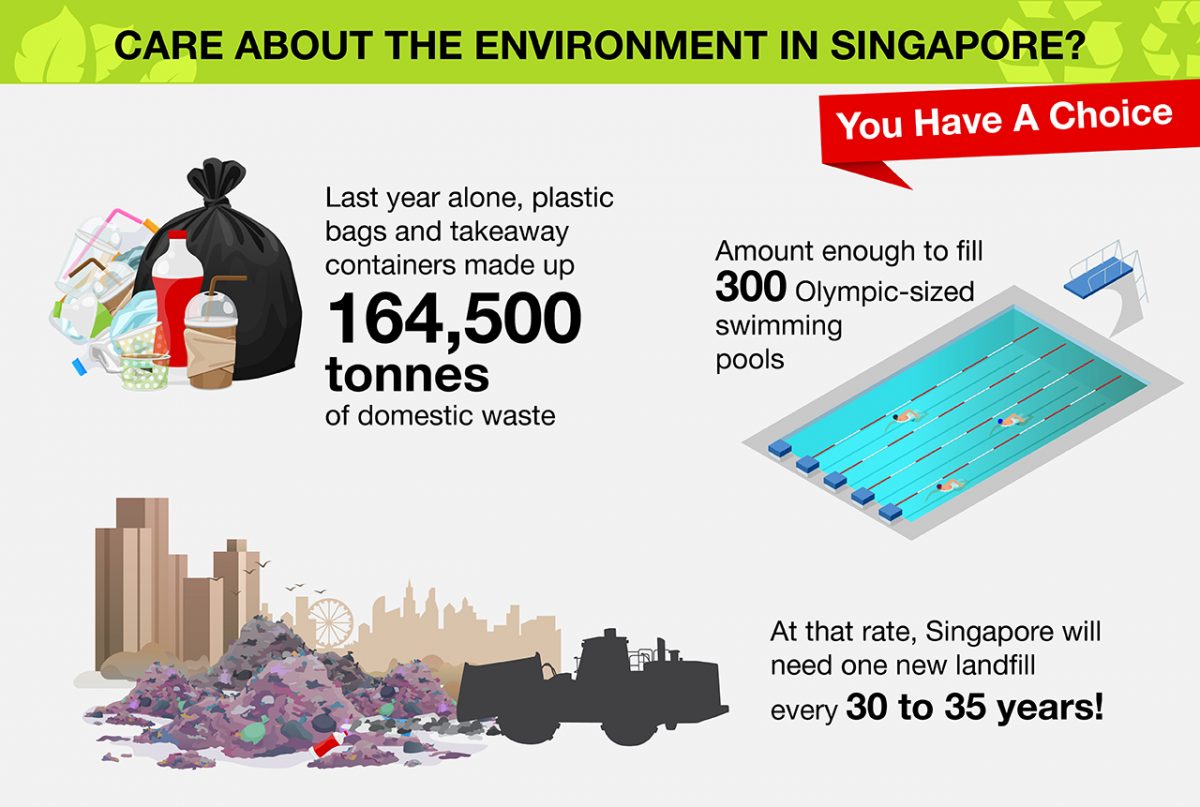 FairPrice Doing Good
One of NTUC's social enterprises is also no stranger to championing environmental sustainability.
NTUC FairPrice serves over half a million shoppers daily through its 370 outlets island-wide through Fairprice supermarket, FairPrice Shop, FairPrice Finest, FairPrice Xtra, Unity Pharmacy, FairPrice Xpress and Cheers convenience stores.
In one of its ongoing initiatives, NTUC FairPrice once again collected textbooks in 2019. At the time of writing, the supermarket chain said it had collected about 550,000 textbooks when the Share-a-Textbook project ended in November. This was the highest number ever since the project started 37 years ago. About 25,000 students between the ages of 7 to 16 benefited from the scheme.
Apart from engaging the community to support the less fortunate, the effort aims to promote the reuse and recycling of books.
The project has collected, redistributed and recycled over 5.3 million books since 1983. This is equivalent to more than 30 times the distance of Singapore from east to west, when the textbooks are laid end-to-end of Singapore.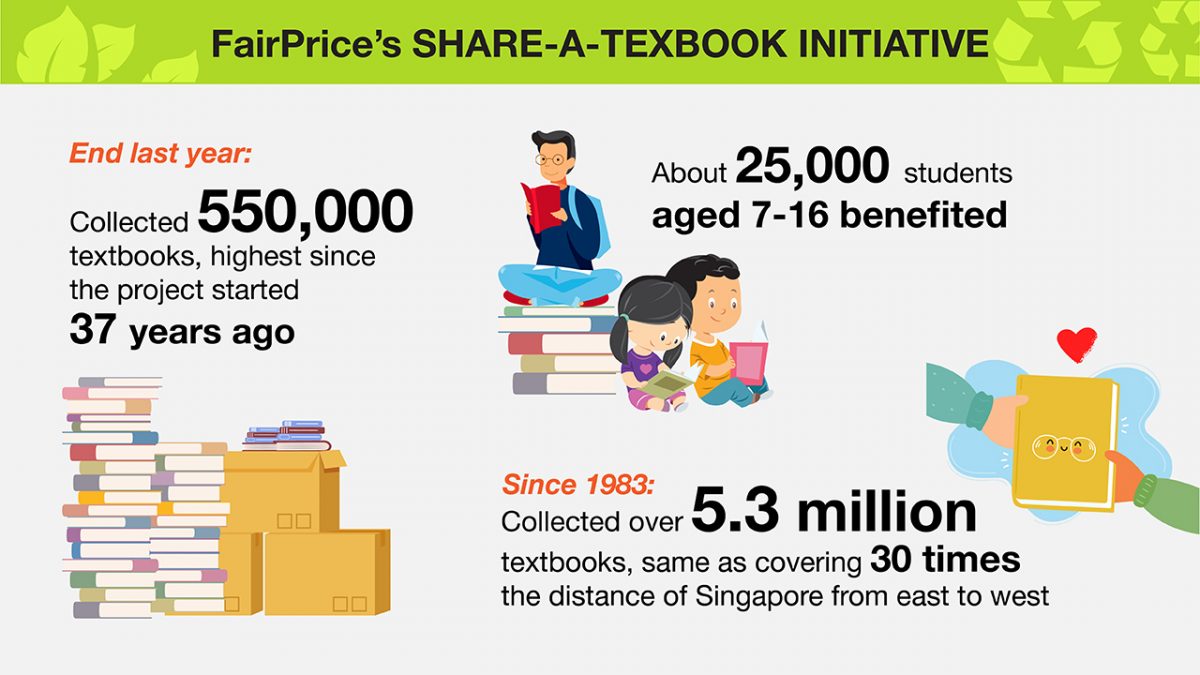 No Plastic Bag
Over onto plastic bags – FairPrice concluded its month-long "No Plastic Bag" trial at seven outlets in October this year. The initiative has been extended to 25 stores for a year from November 2019, and customers will have to part with $0.20 and $0.10 per transaction for plastic bags at selected supermarkets and convenience stores respectively.
Remember, it's all for a good cause and to make you feel even better, the money collected will go towards sponsoring environmental and community concerns.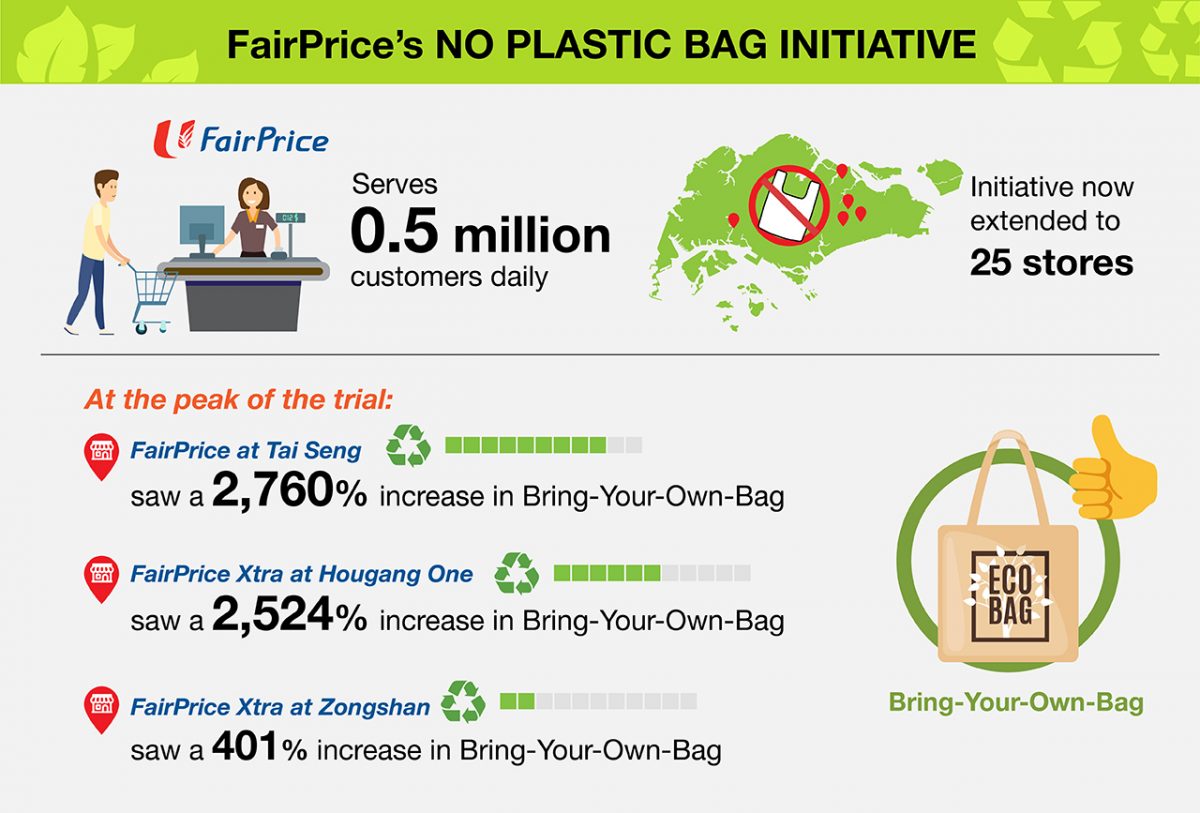 Customers' Feedback
FairPrice also surveyed 1,745 customers during the trial and here were the results: In total, 78 per cent shared positive responses to the trial; 34.4 per cent revealed they do not bring their own bags and only 14.6 per cent brought theirs all the time. About 71 per cent expressed support for plastic bag charges at supermarkets.
At the peak of the trial, FairPrice at Tai Seng saw a 2,760 per cent increase in bring-your-own-bag (BYOB) by customers while those at FairPrice Xtra at Hougang One and FairPrice at Zhongshan Park saw a 2,524 per cent and a 401 per cent increase respectively. It was also noted that BYOB transactions fell significantly during the final week of the trial compared to the peak.