Safety remains one of the top concerns in the construction industry. Out of the 66 workplace fatal injuries in 2016, 24 of them were from construction.
But what can you do when scaling heights and walking through rubble are part and parcel of the job? The Government thinks robotics can be one solution.
In the recent Budget 2018 speech, Finance Minister Heng Swee Keat announced that the National Robotics Programme will be expanded to help the built environment and construction sectors transform their work processes.
More details will be addressed by the Ministry of Trade and Industry Singapore at the Committee of Supply.
According to consultancy firm Frost & Sullivan (F&S), construction companies such as Komatsu in Japan and Wowjoint Holdings in China have been active in adopting robotics.
F&S Singapore Public Sector & Government Director Abhineet Kaul said robotics is used for aspects such as information gathering, analysis and optimisation, as well as execution of manual tasks such as welding and painting.
So, not only is it safer to work with robotics, but also more convenient and efficient! But, robots sound expensive and difficult to implement… Where can you start?
Look no further than those flying objects you see so often at parks. You got that right – drones. Don't underestimate them.
Can a Drone be an Industrial Robot?
Of course, these are super drones we are talking about, not the kind that you buy off the shelves. Good news is, there are techies out there who can help you.
Local advanced robotics company H3 Dynamics, who is developing a drone solution to enhance the quality and productivity of building inspections in collaboration with the JTC Corporation, told us a bit more about what they do.
"Our first team builds the hardware to support automation, battery charging and handling of remotely deployable drones. They are designed to act as remote sensors that can scan large areas of terrain or structures. The second team develops a suite of cloud-based software capabilities to collect and process the data collected. Our third team creates accessories to power them for a long duration in the field, which involves solar, battery and hydrogen fuel cell technologies," said Vice President of Engineering Shaun Koo.
"A drone, when being utilised for any industrial applications, and which is equipped with artificial intelligence and software features, should qualify as a robot in such a way that it simplifies difficult tasks and makes work easier. H3 Dynamics has been working to increase the autonomy of drones in all aspects – power, communication, missions, deployment, re-charging, sending and receiving data – till drones truly start taking on the form of robots."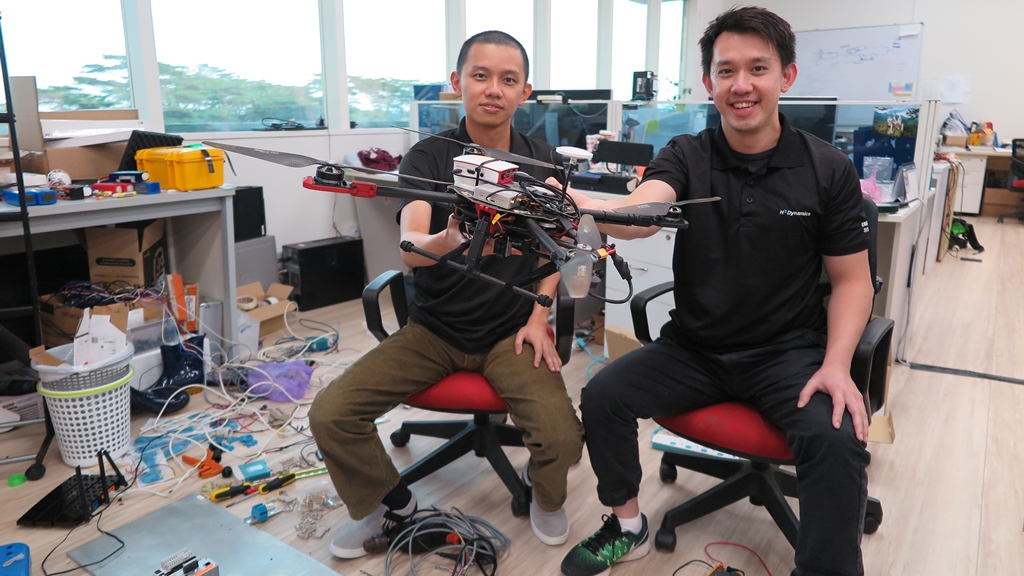 Safer Environment, Lower Costs, Higher Productivity
H3 Dynamics' solution, which is currently being test-bedded at Singapore's first Drone Estate, is able to scan buildings for anomalies or defects, generating fast and accurate reports.
We think we know who will be the most interested when this is out in the market later this year, since the Building and Construction Authority is funding relevant projects and calling for submissions.
Honestly, the appeal is too strong to resist – think of all the $kaching$ you get to save on scaffolding, gondolas, boom lifts and more!
Workers, too, will benefit from higher-value roles and safer work environments. According to Shaun, they can be reskilled to become drone pilots, robot operators, software engineers or technical maintenance personnel.
With less human errors and more job satisfaction, the quality of deliverables will also be raised. Some of other industrial applications to think about include bricklaying, 3D-printing of buildings, painting, demolition and building maintenance.
As witnessed in sectors such as healthcare and cleaning, robotics has also been known to ease manpower constraints. For the construction sector, it is one way of reducing the dependency on foreign manpower and building a stronger Singaporean core.
If you face any of the above challenges, perhaps it's time to partner a tech company and get them to make full use of the National Robotics Programme to develop the solution you need. Don't miss the boat!