The Centre for Domestic Employees (CDE) has cemented partnerships with four organisations to further benefit the lives of foreign domestic workers (FDWs) in Singapore.
The organisations are DBS, International Institute of Mediators (Singapore) (iiM), Lutheran Community Care Services (LCCS) and Alliance of Guest Workers Outreach (AGWO).
The signing of the partnerships took place at CDE's fourth-anniversary event on 19 January 2020.
Strategic Partnerships
DBS has gifted $35,000 to CDE as part of its support to sheltered FDWs. The money will go to building a 'Fruit and Vegetable Garden' and a 'Herb and Garden' at CDE's shelter.
According to CDE, many FDWs staying at its shelter expressed interest in spending their time meaningfully by growing fruits and vegetables.
DBS' People of Purpose are also involved in the project as consultant and volunteers.
LCSS and iiM, on the other hand, will work with CDE as mediation partners.
iiM will provide mediation services for contractual disputes, while LCSS will assist in de-escalating conflicts and restoring relationships between employment agencies, employers and FDWs during disputes.
Meanwhile, CDE will partner eight social services, organisations and corporations under AGWO to provide services ranging from legal counselling to life-skills equipping programmes for all FDWs.
CDE Chairman Yeo Guat Kwang said: "CDE's vision is to be the go-to NGO [Non-Government Organisation] of choice for the FDWs who work in Singapore. In our journey towards actualising this vision, we wish to be the NGO that can effectively assist FDWs when they face employment-related issues, while also looking after their welfare in the areas of live and play while they are in Singapore.
"We are cognizant of the fact that they are individuals who have personal aspirations and life goals, and therefore we aim to upskill them in relevant skills during their work stint here. We are grateful that many partners have pledged to support us in this long-term journey because all of us share that same passion in caring for, developing and engaging our FDWs."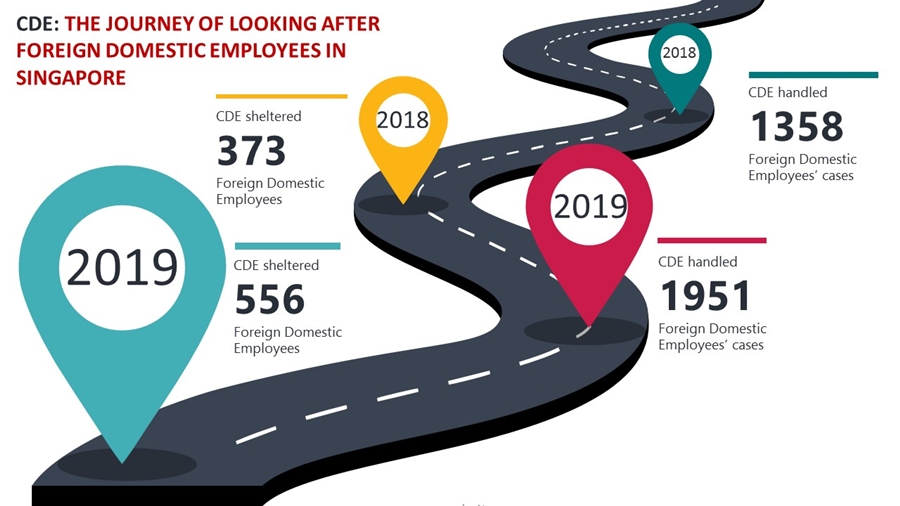 Fourth Report Card
The anniversary event also saw CDE release its fourth social report card since it was set up in 2016.
In 2019, CDE handled a total of 1951 cases, up from 1358 in 2018. Its shelter also housed 556 FDWs in 2019, up from 373 in 2018.
According to CDE, the increased cases can be attributed to a rise in the number of volunteers who have helped raise awareness on CDE's existence and the services it provides.
To date, more than 800 individuals volunteer with CDE. The number consists of both FDWs and non-FDWs.
Additionally, there are 276 ambassadors across the island – an increase from 151 in 2018. Ambassadors are volunteer leaders who are trained to identify issues such as employment disputes and illegal employment.