We know Bosch for their household appliances but did you know that they are also behind industry power tools, automotive components and even large CCTV installations at Changi Airport, Changi Prison and the upcoming Thomson-East Coast MRT line?
Worldwide, they produce a million devices everyday and a lot of them are connected, smart devices that talk to one another.
Essentially, that is what the Internet of Things (IoT) is about, a topic that Bosch Software Innovations Asia Pacific Regional President Thomas Jakob will be touching on as a speaker at the U Future Leaders Summit (UFLS) 2018 on 4 October 2018.
Bosch, which started its IoT journey a decade ago, is considered to be one of the pioneers. In Singapore, it currently has 50 out of its 700 employees dedicated to IoT solutions alone. Most of them are software engineers.
Applications and Benefits
IoT is mostly adopted in factories, where they can report about 30 per cent increase in efficiency through the use of data.
"For example, for Industry 4.0, we have a product that is relatively efficient and inexpensive that can be applied in a couple of days. It connects to the machines, extracts the data and makes the data visible to the user, who can use the information to do predictive maintenance. Years ago, that would be a project that takes a year or two to implement," shared Thomas.
According to him, another industry that can benefit from IoT is agriculture.
Broccoli fields for instance, are often treated as homogeneous surfaces and irrigated throughout in the same fashion. However, there are actually six to seven micro plants per hectare, with different soil conditions and climate requirements.
Thomas explained: "Now with inexpensive sensors and communication means to transmit that to a backend platform to analyse the data and apply machine learning and artificial intelligence, we can understand this much better and adapt the input factors like water and fertilisers. That means ultimately, the yield per hectare is going to be much higher.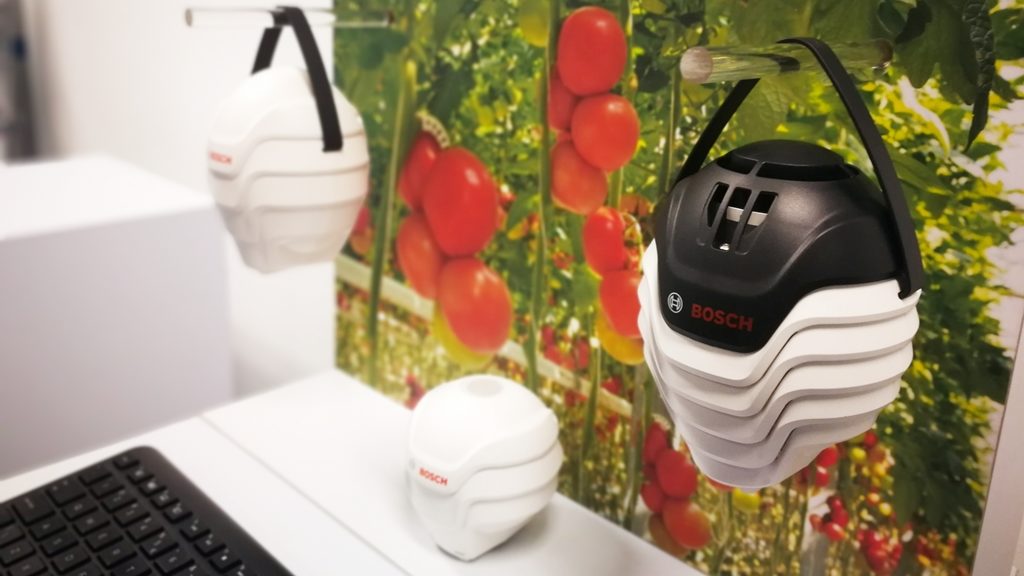 "We are doing the same thing in Japan with tomatoes. We can understand the conditions in greenhouses in real time, at any given moment in time. We can identify risks of certain diseases spreading using artificial intelligence and tell the farmers what they can do to prevent them before they even start."
Jobs and Training
For companies, Bosch runs numerous IoT courses at its training centres worldwide and is bringing them into Singapore to upskill local working professionals. Last year, it ran a IoT masterclass co-funded by Workforce Singapore to train people to apply the IoT Business Model Builder 2.0, a structured approach it has developed in collaboration with University of St.Gallen and the Industrial Internet Consortium.
While labour-intensive and manual tasks are being automated, Thomas thinks there will be no lack of jobs.
"What we are seeing is that there are a lot more jobs being created to develop and manage these solutions. Decision-making ultimately will not be taken away. Farmers don't have to toil in the field now, but can focus on improving their operations.
"Bosch now has about 400,000 people globally. We are hiring 25,000 software engineers this year alone. We cannot find enough people doing that in the market actually. It points to the fact that we need to reskill and upskill workers," said Thomas.
"Coding," stated Thomas, when asked what is one future skill workers should be picking up to join the IoT movement.
Opportunities in Singapore
Bosch has been in Southeast Asia for 99 years, with Singapore as its regional headquarters.
"Singapore is very important not only as a market but as a springboard for innovation into the region. That's where we really see the value of Singapore – to provide the right kinds of input factors in terms of skills, people, education and an environment which we can do our research and development," said Thomas.
It has recently signed a memorandum of understanding with Singapore Polytechnic (SP) to develop the SP-Bosch Smart Connected Solutions Lab and SP-Bosch Rexroth i4.0 Innovation Lab on SP's campus. The labs will advance Singapore's manufacturing eco-system.
When it comes to what is critical in IoT, Thomas highlighted two things – user experience and gamification.
He explained: "Whatever we do has to be simple as possible. There are many people out there for whom digital transformation is something very difficult. They are not familiar with it and they don't like to deal with it because it's complicated.

"Technologies need to be attractive, and even engaging. If we are able to make the mundane kind of applications also fun, then we will get a lot more success and take-up in the market."
Upcoming UFLS 2018
At the event, Thomas will be sharing Bosch's experience with IoT, highlighting the lessons and "shortcuts" they have learned over the past 10 years. He will also be giving a comprehensive overview of what IoT and digital transformation is, and how companies and the society at large can apply them. Thomas will give insights on where the new jobs will be and how people can be re-skilled to take on more strategic roles. Hear more from him at the upcoming UFLS in October.
Date: 4 October 2018
Time: 9am to 5pm (After-Summit Networking Reception: 5pm to 7pm)
Venue: The Star Performing Arts Centre, 1 Vista Exchange Green, Level 3, Singapore 138617
For more information or registration: http://www.ufls.sg