"In Singapore, we are doing everything we can to keep you and your families safe," said Deputy Prime Minister Heng Swee Keat in Parliament on 26 March 2020 when announcing the Government's proposed measures in a second assistance package to combat the far-reaching effects of Covid-19.
"Last month, I committed $6.4 billion in the Unity Budget towards the Stabilisation and Support Package, the Care and Support Package, and to support our frontline agencies.
"Today, I will introduce measures worth over $48 billion in this Resilience Budget, to deal decisively with the situation at hand. This is over seven times of the first trance," said Mr Heng.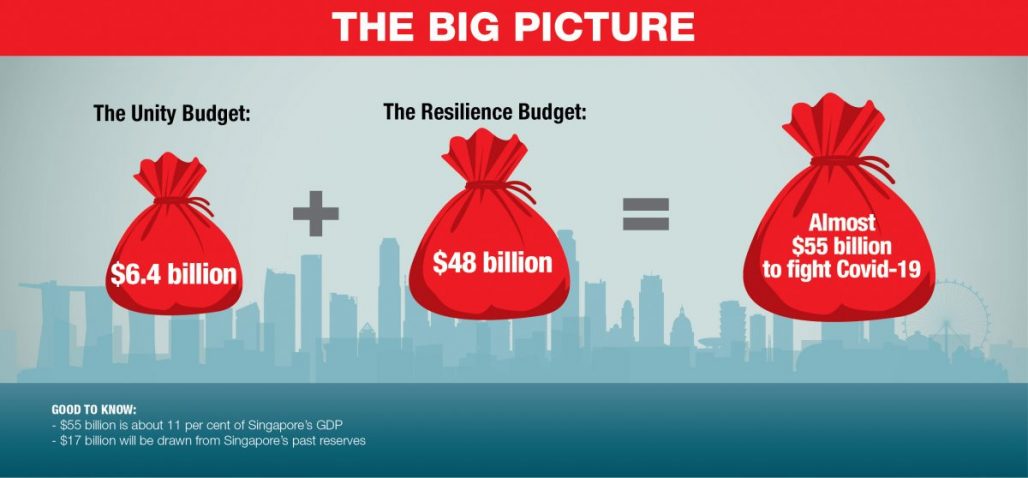 The Resilience Budget
The Resilience Budget focuses on three key areas. These include protecting jobs, supporting workers and protecting livelihoods; helping enterprises overcome immediate challenges; and strengthening resilience across Singapore's economy and society and help the country emerge stronger. We zoom in on the workers' portion.
1. For Workers to Stay Employed
For every local worker in employment, the Government will raise co-funding of wages from 8 per cent to 25 per cent.
Firms in the food services sector will receive higher support at 50 per cent of wages, and firms in the aviation and tourism sectors will be supported with 75 per cent.
The monthly qualifying wage ceiling will be raised from $3,600 to $4,600. The Jobs Support Scheme will be extended till end 2020. Employers will receive the payouts in May, July and October this year.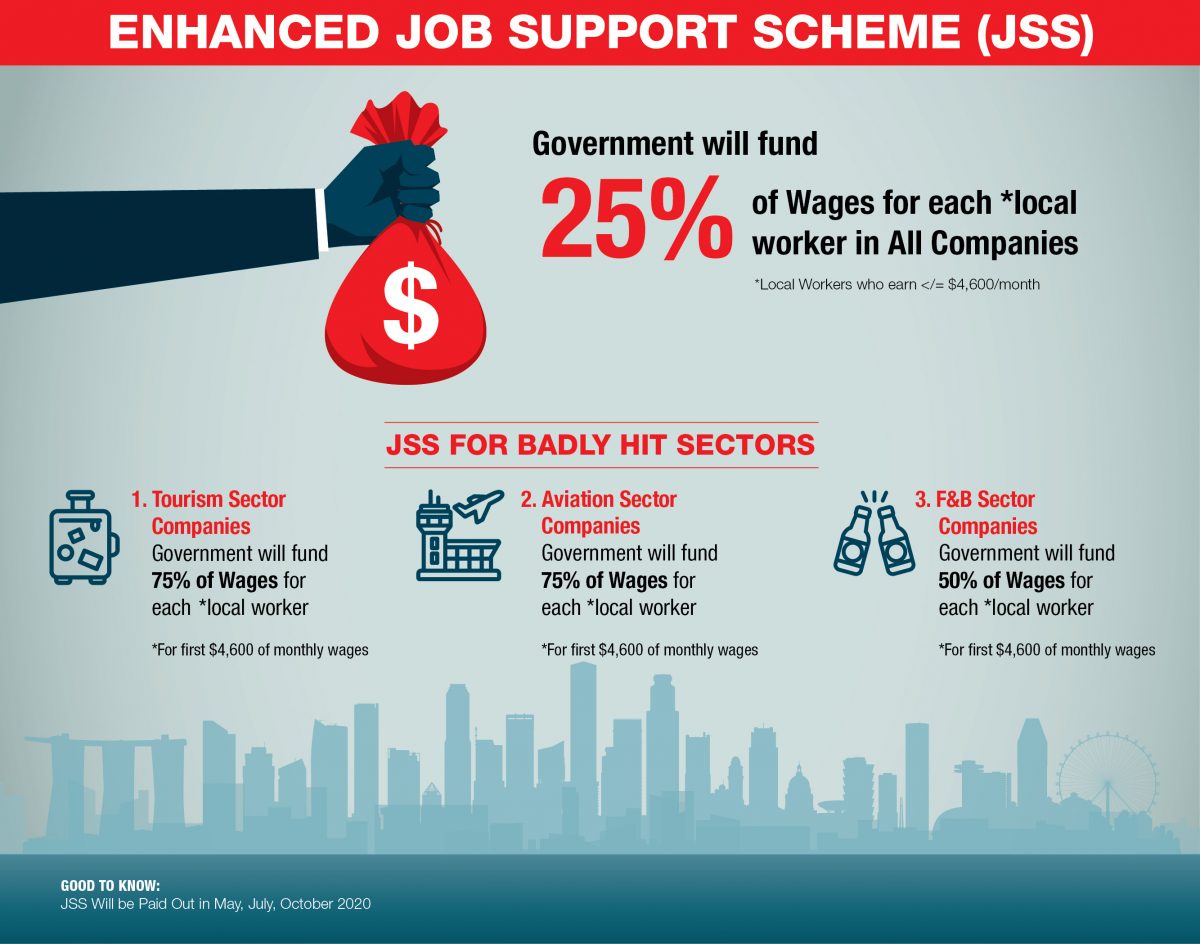 2. For the Self-Employed
Eligible self-employed persons will receive $1,000 a month for nine months under the Self-Employed Person Income Relief Scheme. (The Ministry of Manpower will share more details soon.)
The Self-Employed Person Training Support Scheme will be extended to December 2020, and the hourly training allowance will be raised from $7.50 to $10 with effect from 1 May 2020. ($11 for an existing NTUC member who joined on or before 1 March 2020. $10.50 for an NTUC member who joins after 1 March 2020.)
Trainees will be able to tap on their SkillsFuture Credit to offset course fees. All Singaporeans will also be able to use the base $500 SkillsFuture Credit top-up from 1 April 2020, ahead of the full implementation in October.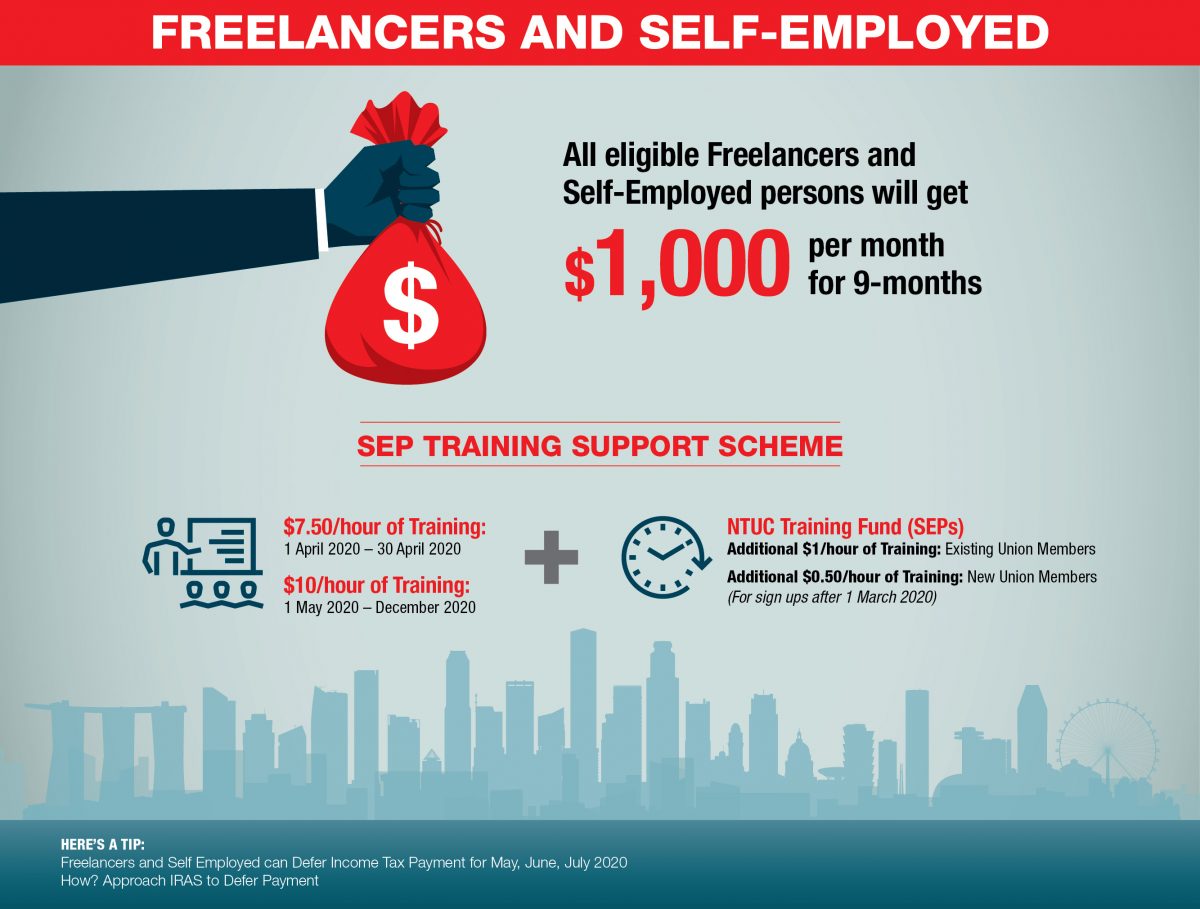 3. For Lower-Income Workers
Workfare Income Supplement Scheme recipients will receive an increased cash payout of $3,000 each.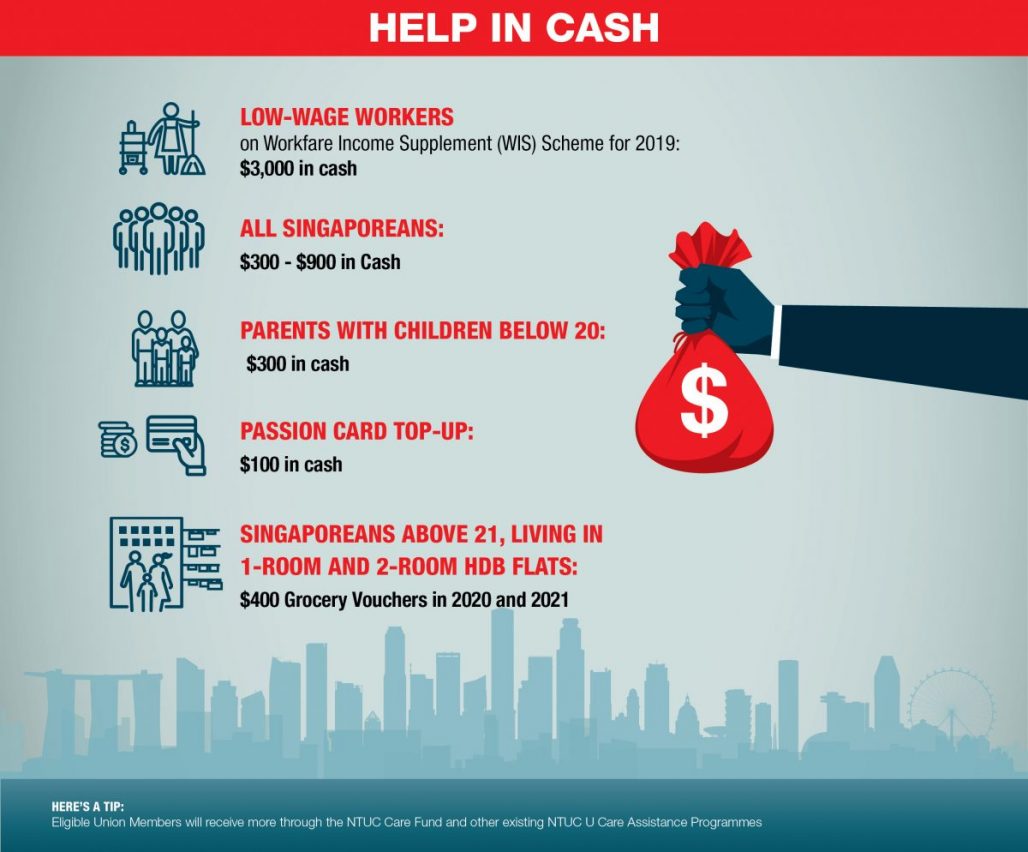 4. For Jobseekers
Workforce Singapore will co-share manpower costs with enterprises that offer traineeships for local first-time jobseekers under the new SGUnited Traineeships programme.
The programme aims to support up to 8,000 traineeships this year across large and small enterprises, including areas in science and technology in R&D labs, deep-tech startups, accelerators and incubators. (The Ministry of Manpower will share more details soon.)
A newly launched SGUnited Jobs initiative will create about 10,000 jobs over the next one year. Recruitment in long-term roles will be in areas such as social services, early childhood education and ICT.
Short-term and temporary jobs will also be made available to handle the increase in Covid-19 related operations such as health declaration assistants, temporary management support officers and transport ambassadors.
The Government will also work with the Singapore Business Federation and Trade Associations and Chambers to identify private sector job opportunities. (Note: Micron and SMRT have already come on board the SGUnited Jobs initiative.)
5. For the Unemployed
There will be more flexibility given to applications for ComCare to ensure Singaporeans are helped during this period.
A Temporary Relief Fund will be set up in April this year to assist with financial help and will be available at Social Service Offices and Community Centres.
A new Covid-19 Support Grant, to be made available from May to September this year, will help workers who become unemployed due to Covid-19. Low- and middle-income employees who lose their jobs due to Covid-19 can receive a grant of $800 per month for three months while going for training or finding a new job.