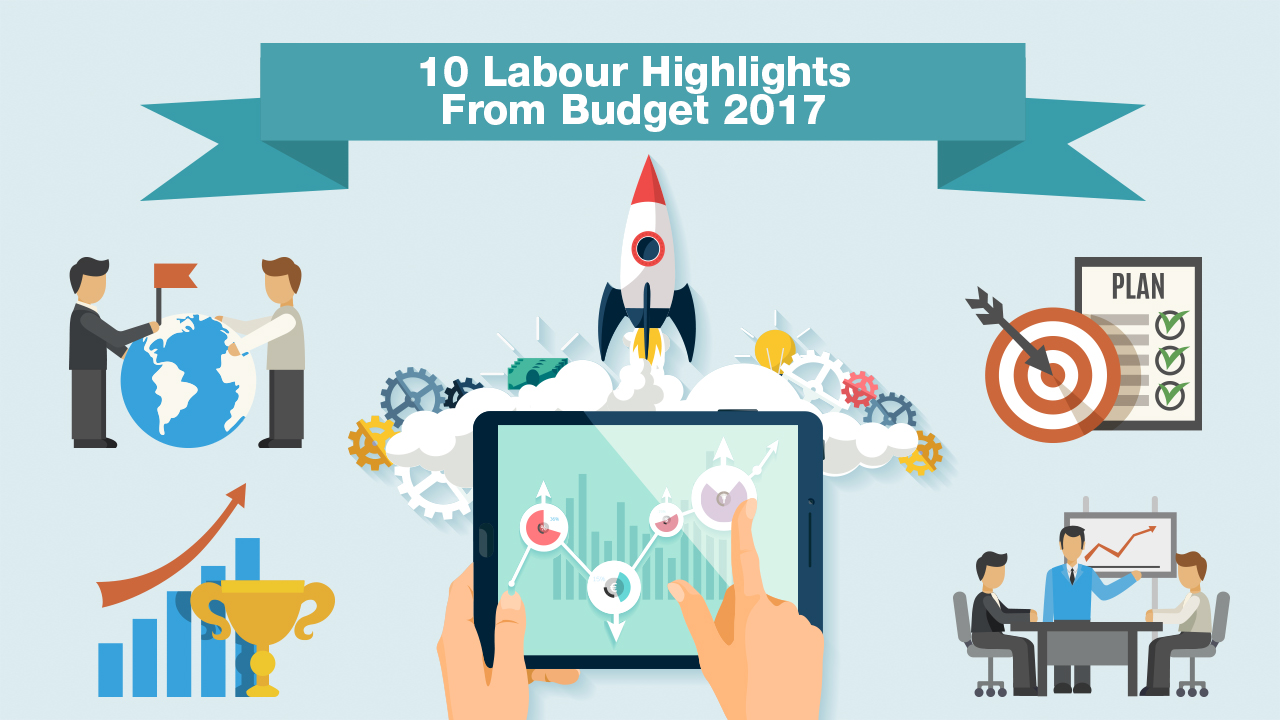 Against the backdrop of the Committee on the Future Economy report released on 9 February 2017, the Singapore Budget speech on 20 February 2017 continued to build on the theme of helping Singapore, and Singaporeans, progress.
Poignantly, Minister for Finance Heng Swee Keat emphasised the need for Singapore to develop strong capabilities in both businesses and its working people so they will not just adapt and transform, but also thrive in a fast-changing global economic landscape.
To enable that transition to happen effectively, he also called for a sustained tripartite effort between unions, employers and the Government to realise the change – a fundamental which the Labour Movement has always believed in.
And while the actual Budget 2017 announcement touched on a wide range of issues, here are 10 highlights on the Labour Front that stood out for us.
For our Employers
Wage Credit Scheme extension
Great news for companies here as the Government has set aside over $600 million to be paid out in March 2017 as a means of helping firms cope with the costs of wages.
Special Employment Credit (SEC) + Additional SEC extensions
Older workers who are willing and able to contribute to the workforce should have the opportunity to do so. Extensions to the SEC and Additional SEC will encourage companies to continue hiring older workers by offsetting some of their wages.
SMEs Go Digital Programme
In an increasingly digital world, embracing technology will be central to the success of small and medium-sized enterprises (SMEs) in our fast-changing economy. The new SMEs Go Digital Programme will not only help SMEs adopt new technology, but also offer advice and technical support to maximise the potential it brings to their businesses.
For our Working People
Global Innovation Alliance
The phrase 'the world is one's oyster' rings truer now than ever before as international exposure and experience is central to the development of careers and opportunities. This new initiative aims to serve as a platform for Singaporeans to build up international connections, capabilities and harness opportunities internationally.
Enhanced Adapt and Grow
To help working Singaporeans remain nimble, agile, and able to transition into new job opportunities quickly, Adapt and Grow initiatives such as the Career Support Programme, Professional Conversion Programme and Work Trial Programme will be enhanced.
A new Attach and Train initiative will also be introduced to help jobseekers build useful experience in new growth sectors.
SkillsFuture Leadership Development Initiative
Companies will soon be able to receive more support in growing their leadership development programmes. With an eye on developing Singapore's next generation of business leaders, some 800 potential leaders will be groomed over a period of three years.
Accessibility to Training
To help working Singaporeans better manage the demands of work and training, the Government will be working with institutes of higher learning to develop short modular courses and e-learning modules to make upgrading more accessible to the time-starved.
Enhanced National Jobs Bank
A more intuitive National Jobs Bank will make it easier for jobseekers to be matched to jobs and for employers to list their opportunities.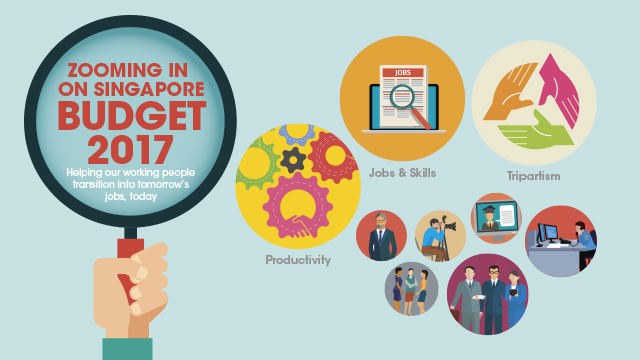 For Unions/Union Members 
Industry Transformation Maps
To date, six industry transformation maps have been launched, and the remaining 17 out of a total of 23 ITMs will see the Government, unions, trade associations and chambers, as well as businesses work together to transform the different sectors of the economy. The outcome is to help these industries become more competitive in the areas of productivity, jobs and skills, innovation and grow both locally and internationally.
NTUC-Education and Training Fund
Some $150 million has been set aside to match donations to the Labour Movement's training fund which union members can tap on to support their training and upgrading needs.
Visit our Singapore Budget 2017 Features Page to find out more on the Labour Movement's Budget recommendations as we zoom in on the 4Ps (Placement, Progression, Productivity, Protection) and continue to stand by the side of our working people as we journey into the future economy.
Click here for the Recommendations Paper in a new window!