Do you have papers scattered all over your desk? Files filling up your desktop and over a thousand unread emails in your inbox? We all have been there and realised there is not really a method to our madness. Guess what, there are methods to stop the madness.
The Princeton Neuroscience Institute has found actual evidence that clutter competes for the limited processing capacity of the brain, causing you to be distracted and unproductive. In a survey by office supplies retailer OfficeMax more than 500 adults said being disorganised impairs their state of mind and motivation levels.
It is estimated that an average person wastes 4.3 hours per week searching for papers and one hour per day searching for missing information.
Why not try having a clutter-free 2018? We show you how, and yes, we are going to try it too.
Consolidate the Namecards
It is unlikely that you will remember the name of every acquaintance over the course of your career. That aside, it is going to take a long time for you to search through hundreds of namecards – if they are all in one place – to find a contact.
There are many mobile applications out there that allow you to scan namecards in batches, digitise them and upload contact information into your preferred electronic device. A lot of them are free, with options to upgrade for more features.
Those more traditional can first categorise the namecards in the way that is the most helpful such as by industry or job type. Then, lay each category of namecards in batches on the photocopier. Make hardcopies or scans and file them under the right section heads. You can now say goodbye to the mountain-pile of namecards.
Compartmentalise your Stuff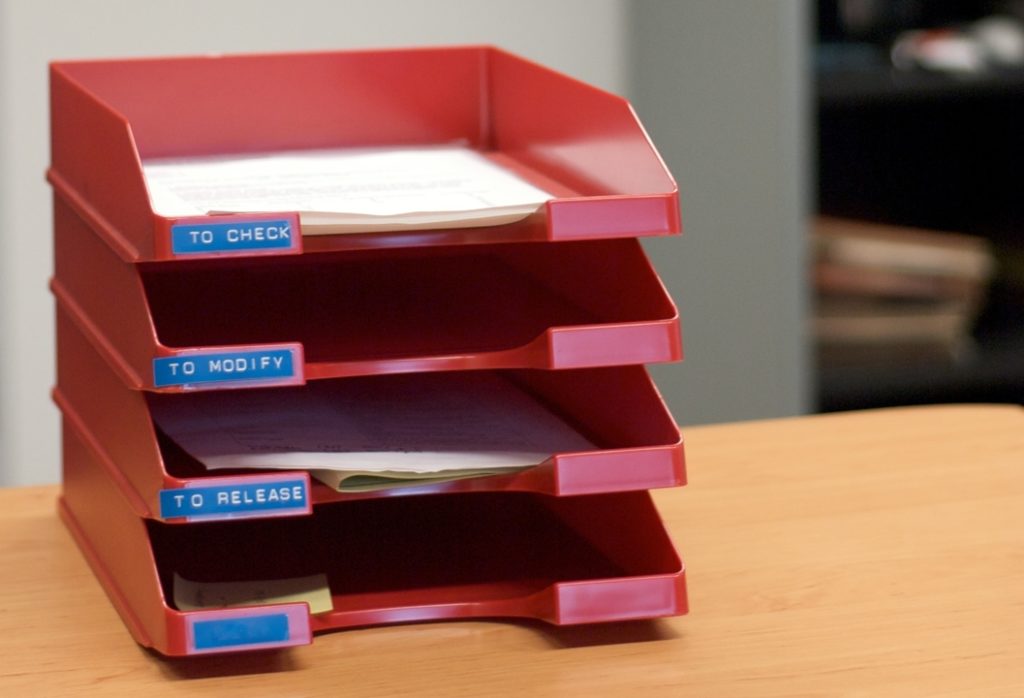 The trick to many neat desks is a physical inbox. Take your pick, whether it is a stack of paper trays or a hanging open folder, colour-coded or plain and simple. One of the most effective ways to structure your physical inbox is by action items. Here are some suggestions:
Just received – for colleagues to pass you documents when you are absent or occupied
To do – your priority task list
To read – materials that you want to read when you have more time
To refer – important notes, organisational charts, mindmaps and masterplans
To process – paperwork such as claims and signatory approvals
Miscellaneous – to keep or look into later
As you sort through your piles of papers, remember to move heavier items like books and objects into the cabinets and most importantly – purge, purge, purge! Do not hog on to things that are outdated or redundant.
Invest in Organisational Tools
Inconspicuous, everyday items can work miracles and bring order to your desk.
Still lack of ideas? Do what we do and consult Pinterest. Here's something that caught our eye – jazz up your cubical wall with a pegboard and you will be surprised how many things you can put up there with the help of some hooks.
Tidy Up your Virtual Workspace
There is no need to panic if you have thousands of newsletters and unread emails from ages ago to clear. Automate the process by making use of the "Rules" function in your Outlook to shift specific emails to their assigned subfolders.
We know all emails are important but your mailbox is finite. Set up your "auto archive" so that you can pull them out only when you need to. Also, take the chance to unsubscribe from any marketing newsletters that are no longer relevant to you.
Mark all your outdated emails as read, so the next time when you see a number next to your notification, you know that it is for real. Beyond subfolders, make use of colour categories and flag functions to further classify your actionable items.
Lastly, clear the top two dumping grounds on your computer – desktop and downloads. Group the files into the right folders and you will never run out of screen space on your desktop or forget where your research has gone.
Form Good Habits
Spring cleaning your workspace is tedious but definitely worth it. To maintain that cleaning effort, ensure you do one round of check at the end of each work day and leave nothing lingering around.
For the less disciplined, schedule a regular cleaning time at the very least. Say, once a week? We all start somewhere and trust us, it gets easier as time passes. Try it!
Related Topics: